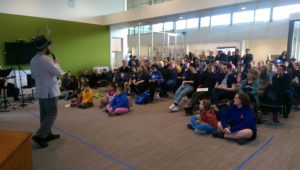 For those who are new around here, there's this thing called #ComicsCamp, run by the fine folks at Alaska Robotics (which is a comics shop¹, game shop, art supply shop, and gallery) in Juneau, and it involves bringing creative folks into schools, public events, and a one-day convention before giving them a weekend of recharging and also s'mores. I've been privileged to attend three times now, and you can read about my previous experiences at Camp here, here, here, here, and here. Those two series will read differently from each other, and from the one that's starting now — Camp's a living, breathing thing, and it changes.
It started for me a couple of days before my travel with a bit of a panic — the SSD in my laptop decided it had reached end of life and bricked itself good; there's a hard drive in there, too, but it was a tense couple of hours getting Linux reinstalled and data salvaged. Fortunately, I keep a bootable USB drive attached to the power converter cable, so I didn't have to go searching too far. The whole thing's a lot slower than it used to be (or should be), but that's an issue for later this week; it got me through what it needed to, which was ensuring that the creator presentations for one of the public events — about which more momentarily — were tested and projectable.
In addition to seeing a swathe of Campers arrive, Thursday 25 April also saw public events: storytime and a 'zine making workshop at one of the Juneau public libraries², the Juneau Makerspace got some hands-on puzzle-cutting knowledge from the master, and a lecture by Ryan North on How To Invent Everything which he should know, on account of he wrote a book that tells you how to do exactly that. In case you're looking for the high points, they include:
Young Ryan first became aware of the notion of time travel when he was six and saw Back To The Future for the first time; it made an impression³ and he was particularly struck by the Chuck Berry scene and thus had an appreciation of the Bootstrap Paradox at a far younger age than most of us.
Having decided to write what is surely The Most Dangerous Book In History, North found himself staring down literally years, plural, of research4 to determine not only what the key technologies of human history are, but also how to create them from first principles while simultaneously not imparting knowledge that might hurt or kill his readers. This led to what may have been the most existentially self-evident question of all when North asked himself (and I quote):


Have I accidentally decided to do something impossible?

Again??

But he persevered, and found within all that research to find a key thought re: human inventiveness and creativity; namely We are not as smart as we think we are. He rattled off a series of key inventions in history — human flight, or the stethoscope5 — and found that they came about centuries or millennia after we had the basic parts and just failed to put them together6. In the case of arguably the greatest invention in human history7 — written language, which allows us to preserve knowledge across time, space, and culture — we were about 200,000 years late.
The more basic the technology, the later we were, and the further back in time you go, the worse things get. Now-ubiquitous crops were terrible, people died because they didn't know to wash their damn selves, and the only positive of the past is that if you do end up there, you can name things after yourself.
_______________
One thing you should know about Juneau is that it's basically the same as Portland or Seattle, just smaller; you've got great food (shouts-out to The Rookery Cafe and In Bocca Al Lupo, who both fed more than their share of Campers before and after our time off-grid, and the astonishingly good Coppa Ice Cream), great cultural institutions, and great people. Give them something fun to do, and they'll arrive in droves, as they did for the Kickoff Event at the Valley branch of the JPL. In addition to music from the Marian, Seth & Maria Rockin' Teenage Combo, you had:
Afterwards, local Camp helper-organizers Rob & Pagan volunteered their lovely home for dinner and dessert supplied by Coppa. At Pat Race's request, they came up with a Squirrel Girl-themed ice cream called Eat Nuts And Kick Butts (peanut butter with salted caramel ribbons and a chocolate layer on top). Ryan North, naturally, was given the honor of the first scoop which turned out to be necessary, as the solid-frozen carton required a Ryan-sized man's strength to break through. It took some doing, but he ultimately succeeded; it was a good omen for the days to come.
Pictures:
Juneau is a fabulously beautiful place, and given the landscape found all around, there is little surprise that it's a vertical city. I once made the mistake of trying to go to a restaurant by the most direct route and wound up taking four separate sets of outdoor staircases.
Remember what I said about arriving in droves? This crowd came out at 6:00pm on a Friday night.
Remember what I said about Coppa's ice cream? Here's the Peeps flavor, with real decapitated Peeps throughout. And here's the ENAKB variety being duly selfied by North, who then did his best ceremonial ribbon cutting pose for the crowd. It proved to be a hard-frozen challenge requiring mighty struggle, but in the end it was worth it.
_______________
¹ And a damn fine one, too. So fine, in fact, that they've been nominated for the Eisner Spirit of Comics retailer award this year. If you're an Eisner voter, Pat Race, Aaron Suring, and everybody at AK Robotics are stellar human beings with a real sense of service for their community.
² The one on Douglas Island, one of three in the Juneau Public Libraries system, all of which saw events.
³ To the degree that he wrote an e-book that is a page-by-page deep reading of the novelization of Back To The Future, which among other things has Opinions on the subject of Mr Strickland. What I am saying is that Ryan North has probably thought a lot more about time travel — real and fictional — than you or me.
4 He was maybe halfway into the process when we spoke about it at Camp 2017.
5 The only time something was invented, North reminds us, because somebody was too horny to otherwise do their job.
6 Or, in the case of the compass, neglected to put it to its practical use. Rather than navigation, the Chinese originally used compasses for fortune telling.
7 No, not dogs. Humanity has domesticated about 16 different species, and only dogs are workmates, guardians, helpers, and friends that know our minds and read our expressions. Given how thoroughly and completely they have tied their lives to ours, it's reasonable to say they domesticated themselves, or at least deserve credit for the assist.