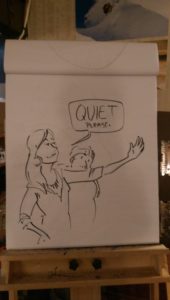 For anybody that's read this page, you may recall that Comics Camp was a major formative experience for me in 2017; if you wish, you can read about 10,000 words on it here.
The first I realized I was truly on the verge of Comics Camp this year was 26 April, early afternoon in Juneau; I was 13 hours and four time zones from when I started my day at Oh-Stupid-Thirty, and I stared out of my fourth floor hotel room and pretty much directly into what looks like the kitchen of a house not that far behind the hotel. Juneau is a very vertical city, populated at all times by ravens, at some times by wolves and/or bears, and pretty much nonstop by eagles if you're near the dump. A raven alighted on the roof of the house whose kitchen I was staring into, nonplussed.
_______________
The thing about Alaska Robotics, the one-day con they put on, the myriad of school visits by creators they arrange¹, and the Camp associated with all of the previous, is that it's run by the very best people, attended by even more of the very best people, in a location that is almost as far as it could be from my home. As I find myself past the half-century mark, the travel necessary to attend these marvels is taxing in ways it would not have been ten, or even five years ago. And as I find myself in an increasingly chaotic society, those rigors of travel become a price I am increasingly willing to pay.
_______________
Thursday is the travel day for most who are making their way to the Mini-Con/Camp², so the afternoon is largely open; I dropped by the Alaska Robotics Gallery (a comics/game store, with art supplies and magnificent works of local artists) to get my volunteer assignments for the Mini-Con, as well as my staff t-shirt. I also make arrangements for my assisting gig at the kick-off event of Comics Time in Juneau; the musical cohort of Camp — Marian Call, Seth Boyer, Molly Lewis — will be playing at local cafe The Rookery³ and there's seating to arrange and a door to watch.
The show is the latest iteration of Call's Space Time series, which often involves writers, scientists, Flight Controllers and Directors … you get the idea. Tonight, it's Three musicians and a series of comics artists that will be livedrawing along to the music. There's a local poet, Catherine Hatch, talking about relationships and fighting and compromise If You Want Your Laundry Folded. There's a reading from The Little Prince (the meeting with The Businessman); the tone slides from earnest to silly to contemplative and back.
Lewis sang her ode to Juneau hirsuteness, The Year Of The Beard. Boyer brought the room to tears with the saddest, most melancholy song in English. Call shared the story of how her signature tune got turned upside down and backwards via a musicbox and a Moebius strip, and became a tribute to last year's eclipse. Georgia Patton, Lee Post, Lucy Bellwood, Lucas Elliott, and Kerstin La Cross took inspiration from the songs and created Art.
And through it all one thought resonated, but was finally brought to voice in the refrain of the second to last song of the show, which is also the last song of Call's latest album:
Beggar, Banker, King, and Pawn
We're only bones with stories on
We are the sum of our stories, the ones we tell each other and the ones we tell ourselves. The storytellers were gathering, and Juneau was poised to listen.
_______________
Pictures:
The crowd gathers, and the performers perform. Pictures drawn to Good Morning, Moon, No Paper, The Year Of The Beard, Pantsuit Sasquatch, Frozen Man, the story of The Businessman, Good Night, Moon, I don't recall which song, Mediocre Algorithmic First Date, The Avocado Song, don't recall again but man, it's pretty, All Star, Like This, Grandpa Had It Right, and Space Weird Thing.
Music:
---
Spam of the day:
Sent away until Camp recaps are done.
_______________
¹ More than 50 of them this year; last year, it was closer to 35.
² At least, those who are coming on the exhibitor side of things; attendees will be making their way to Juneau from across Alaska, but not until after work on Friday in many cases. Alaskans think nothing of hopping down to the local airport and flying for hours in this fashion; organizer Pat Race would recount stories of traveling a thousand miles or more in order for his high school soccer team to play in an away game. Things are just bigger up there.
³ Run by lovely people, and home to some of the most outrageous cookies known to humanity. Try the Chocolate Chip, Cornflake, and Marshmallow cookies.