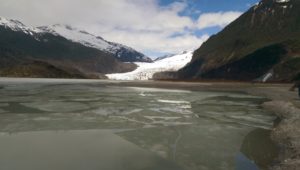 The thing about Pat Race is, he's been bringing creators to Juneau to meet local fans and generally be available in a place not on the general tour circuit for years; the oldest story I've written on the topic was from April of 2013, and I'm pretty sure he was well into the habit by then. Small wonder, then that Friday of Camp Weekend would feature all of the invited guests (and anybody else with a clever enough hook — Jason Alderman wound up teaching kids how to make pop-ups from bits of paper and glue) heading out into the public schools to bring their insights to students.
It was an all-day affair, with creators being driven all over, from start of day until end, averaging two different sessions each. As a result, it was possible to run into people pretty much all day long, either waiting to make their way to a school, or coming back from one, or in some other in-between state. I wound up having breakfast with a rotating cast of creative types¹ and then hanging about the AK Robotics offices with Katie Lane — who had some contracts to work on, which for her is a legitimately fun morning — for a bit before grabbing a nap. Lunch meant tacos and then an impromptu vibe settled among the Camp folks in downtown — there's a glacier in Juneau, and by gum we were going to see it.
Eventually, three taxiloads (taxis-load?) of us were deposited in the parking lot of the Visitors Center of the Mendenhall Glacier in the Tongass National Forest and we started out for the big hunk of ice across the sandy beach. Here's the thing about Mendenhall, because I've been there before: you have no idea how far away it is. There's no scale, and after walking for 30 or 45 or 60 minutes, you may have come significantly closer to, say, a waterfall on the way, but the glacier itself is no closer and no larger. It is still impossibly far away, and it's getting time to head back to town (some of us had obligations to help with prep for the library event that night), and anyway, what are those tracks in the sand?
Bear. Definitely bear, except for the ones that were clearly wolf. They probably don't feel like coming out in daylight, and there's a good 300-400 meters of clear land in all directions so nothing can sneak up on you², but still … finding bear tracks is an excellent way to focus your mind on the general topic of being elsewhere.
The library event would involve all of the musicians, and ten or so of the comics folks, each getting five or ten minutes to play, or tell a story, or demonstrate an aspect of their work; I was asked to help make sure each knew when to make their way to the microphone, and to ensure that their presentations (if any) were loaded. It was a terrific success, with the standouts being Jason Caffoe's demonstration of exactly how much his colors add to Kazu Kibuishi's inks³, Ben Hatke's reading of Nobody Likes A Goblin with all the voices, and Lucas Elliott's series of mer-men portraits, ending with a loving tribute to Pat Race and Aaron Suring.
Breakdown was followed by a trip to Fred Meyer for camp essentials like earplugs, cocoa, and hand warmers, and then back to downtown where Race had arranged a party at Juneau's about-to-open distillery (about two weeks from the time of this writing) for Moscow Mules and much good conversation. If you get into Juneau, it's right across the street from the Baranof Hotel, and the wallpaper is both distractingly random and oddly beautiful. It's going to be the PDX carpet of southeastern Alaska.
The gin, by the bye, is excellent and hasn't been proofed yet, so on the night it was somewhat north of Navy Strength; the distillers are passionate about their craft and attentive to detail (I walked by four days later and they noticed me, grinning and waving), and they are going to be making some excellent stuff. But four time zones and strong gin make for a tired Gary, with an early start to the mini-con the next day.
Photos
_______________
¹ Including a lengthy discussion with Ryan North as to whether or not a complex document like a college thesis could be written entirely in emoji. I contended you could, drawing an analogy to Chinese ideograms. He argued that emoji don't necessarily have specific agreed-upon word meanings. I countered that ideograms could change meaning or pronunciation depending on context.
He landed the decisive blow in pointing out that different vendors draw different symbols with the same Unicode address, so you don't have the uniformity necessary. We both agreed that it's simultaneously a tragedy and awesome that Unicode's language specification is never going to be finished at least in part because it has to deal with petitions for inclusion from the likes of the Klingon Language Institute. Ryan's always a rad dude to talk to.
² Except ravens.
³ To the extent that sometimes he's given a two-page spread with the instruction Give me a floating city in the sky or Make this mountain look treacherous and not much else. Sometimes it comes together in a single image, sometimes there's multiple revisions to get exactly what both of them want.