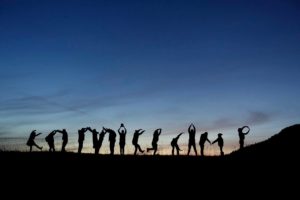 The word started filtering back to me about a year ago; the Comics Camp that Pat Race, Aaron Suring, and the rest of the Alaska Robotics crew staged had been invigorating — even life changing — for those that had attended. When Pat was kind enough to extend an invitation to attend the second iteration of Comics Camp, I filed it away for future recall. When he emailed me after the application form went live and prodded me with a polite No, really, we want you to come, my course was set.
When he sent the list of guests and camp attendees — some 20% of whom I knew personally, another 15% or so from their work, but for the most part intriguingly-described strangers — I began to suspect I'd made a very good decision. I was pretty certain about the time I wandered off my Newark-Seattle flight and realized that my Seattle-Juneau flight would be the same plane and hunkered down for the layover.
About half an hour later, while wandering somewhat aimlessly, I was tackled from the side by Lucy Bellwood calling Gary, Gary, Gary!¹ followed by a high-speed drag-over to where a crew of camp-bound folks had assembled; a time zone away from Juneau, I was already meeting people for the first time (Jason Caffoe, Jeremy Spake, Andy McMillan) and renewing acquaintances (Kazu Kibuishi, Vera Brosgol²). Queuing up on the jetway, I noticed a tell-tale shock of hair and a shoulder-slung ukulele, and introduced myself to Molly Lewis, who in turn introduced me to Ben Solieu. Coming off the plane in Juneau, I received a text from Jason Alderman, who excitedly³ informed me he'd just figured out I was on his flight and he'd be along shortly.
Pat and Aaron and various local helpers with cars met us at baggage claim. Rides were sorted out4, plans were made for the remainder of the day; it was not quite 1:00pm (plus four time zones difference) and the afternoon was free for several hours. Alderman and I made plans with Kibuishi and Caffoe to grab lunch after checking into the hotel and calling our various families. We had Indian food and extensive conversation about the state of primary education in America and why Speed Racer is the most underrated film of the past twenty years5. Alderman and I peeled off for a mini-con volunteers meeting at the Alaska Robotics shop6, and eventually made our way out to dinner.
Gary! I heard from the street, and found a grinning Raina Telgemeier walking towards us. She'd heard about a larger group of folks who'd just gotten in and were gathered nearby; Alderman and I altered course to join her, and found ourselves enjoying excellent fare with just about everybody from earlier, along with Kate Beaton, Dylan Meconis, Katie Lane, and others I'd not yet met. I was on about hour 22 since I'd gotten up in New Jersey to start my travels and fading fast.
Fortunately, unlike most everybody else at the table, I'd have Friday mostly free while they visited school assemblies and classrooms (if memory serves, nearly three dozen visits took place, in every public school in Juneau). For me, things would kick in again at a welcome party at the main branch of the Juneau Library. It was going to be a hell of a weekend.
Photos
Normally, I scale down photos for compactness, but I'm keeping all of these at original resolution. Embiggen to get the full effect.
---
Spam of the day:
On hiatus while I talk about Camp.
______________
¹ She may describe it as a polite hello, but the enthusiasms of Lucy Bellwood are such that even simple greetings arrive with the force of F5 weather events.
² She looked at me slyly and asked Do you remember me? as if anybody could forget. For the record, the last time I saw Brosgol in person, I had just dropped her off at the SPX Sunday-afternoon softball game (when that was still a thing) having given her a lift in a car that I haven't owned for seven and a half years now. So, fair question.
³ Jason does everything excitedly; small yip-yip dogs with quad espressos look calm next to Jason when you offer him a project that strikes his fancy.
4 In my case, courtesy of Rob Roys, Alaskan abstract artist. A query about seeing bald eagles evoked a snort from Roys, the essence of which was: Want to see bald eagles? We'll be driving by the dump, they're all there. Trash birds. Now the ravens, they're cool and very smart. Don't piss them off, because the particular raven that you piss off will remember your face and attack you later.
His opinions on both eagles and ravens were corroborated by other Juneauans — Juneauites? Junevers? what's the demonym for Juneau, anyway? — on multiple occasions, and I got close enough to some ravens to decide that they is damn big birds and I would not be pissing any off. More about them when we get to camp.
5 If you ever get the chance to talk movies with Kibuishi, bring your A-game because I can promise you he's thought more about the structure and symbolism of film than you have. It was an education.
6 Where Jason was thrilled to hear he'd been placed in charge of setting up the snack table; he ultimately led the construction a friggin' castle made out of cardboard, complete with portcullis, gatehouse, murder holes, arrow slits, and cannon. I, foolishly, did not get any pictures of it.
Update to add: But another camper did. Enjoy.