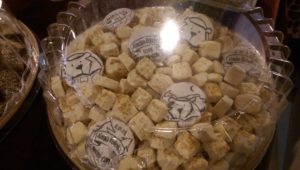 I feel I should say that one of the neatest things that Pat Race did with respect to the Mini-Con this year was to have his little logo bear redrawn by an indigenous artist in a traditional style; it's a small thing, but it's meaningful. Not sure it would have fit on the cookies, though.
I also feel I should say that if you can start your day (a very busy one, packing up your hotel room an delivering them to a U-Haul; setting up, conducting, and tearing down a convention; traveling to a campsite) by having tea and yogurt parfaits with a pair of very skilled (and colorfully coiffed) creators, you should do it; it even better if one of them can tell you all about power tools and her plans to construct a killer Halloween haunted house.
Thus fortified for the day, we made our way to the Juneau Arts & Culture Center on a somewhat overcast, somewhat brisk day. The weather was fortunate — last year Mini-Con feel on the first really gorgeous day of the year, sending a large portion of Juneauites into the Great Outdoors for recreation; a slightly blah day increased the turnout in our corner of the Great Indoors.
Speaking of which, if you ever get the chance to exhibit at Mini-Con, take it; the JACC features a nice green room away from the con floor for when you're feeling like you need a break or a snack. If you really need isolation for a little while, there's even a recording studio, so there's a place that completely soundproof to hide from the hurly burly. Setup ran smoothly (it is, after all, a small space), and the Snack Castle rose once again under the watchful stewardship of Jason Alderman.
It occurs to me I didn't mention Snack Castle last year, and neglected to take any pictures of it either year … Alderman, tasked with running the snack sales, built a castle out of scrap cardboard. It had turrets, battlements, crenelations, murder holes, and a working drawbridge. This year, there was talk of converting it to a Snack Mastaba¹, in honor of the Egyptian pyramid precursor that Spike taught us about the prior night at the library. Alderman kept all who would have sacked the Snack Castle at bay and oversaw peaceful trade, save for when he was sketchnoting (more on that below).
In addition to the vendors on the floor and the regular signings at the Alaska Robotics table, there was a steady stream of programming across the road in the meeting rooms of public broadcaster KTOO. Jon Klassen, Michaela Goade, and Andy Runton spoke about making children's books; Ben Hatke and Lucy Bellwood argued over whether longbows (bows!) or tall ships (boats!) are better²; Molly Ostertag, Spike, and Ryan North talked about achieving social change in (and via) comics.
Raina Telgemeier and Vera Brosgol talked about their autobio comics; Georgina Hayns and Jeremy Spake talked about puppet fabrication; Dik Pose and Tony Cliff MacGuyvered together a Mac, a webcam, and a chair to make a stop-motion animation rig; Molly Lewis lead a uke jam session; unstructured hangout sessions were held where attendees drew (with Ostertag and Dylan Meconis), talked publishing (with Spike David Malki !, and Anne Bean), wrote songs (with Seth Boyer and Marian Call), drew some more (with Hatke and Scott C), and talked writing (with North and Molly Muldoon). What I'm saying is, if there was some aspect of creativity that struck your fancy, you either got to listen to very accomplished people talk about it, or got to hang with them and do it; it's a very street-level kind of convention.
And in the middle of it all, a platter magically appeared in the green room, filled with local jerky and salmon spread and crab dip. And lo, the cartoonists did descend upon it, scooping great swaths up into their hungry maws. Weirdly, the amount of crab dip never seemed to diminish, but instead fed them all. And they left the green room saying A miracle occurred here.
Okay, probably not and I don't really like crab, but I'm assured that the dip was delicious.
Back on the floor, Raina spent well over her allotted hour doing portrait sketches in support of a local bookstore on Independent Bookstore Day; her line eventually was cleared, and a bunch of kids went home with pictures of themselves all Raina-style. Dylan Meconis was doing watercolors of pets and OCs, because she's been that kid wandering the con floor, working up the nerve to approach a creator, and will always pay back the kindness she was shown. Story times were held in the local branch of the library, with Klassen, C, and Brosgol reading from their books to assembled families.
And then it was time to break down, load up, and head out to the Camp; there were intros, and kids (both Ben & Anna Hatke and David and Nikki Rice Malki ! brought offspring, who were both remarkably even-tempered and delightful for being 3 and 1 years of age, respectively), and dogs (many skritches were had by Pippin and Brio and Nova). Gear was packed out to cabins, a light dinner was had, and Camp chef de cuisine Jeste Burton³ let us all know that she had a requirement — about which more later. The last bits of structure for the evening involved the Science Fair — people formed into impromptu groups, and then giving a topic on which to produce an informative poster. Don't call it an icebreaker, don't call it a teambuilding exercise, call it an excuse to get weird with new friends and very possibly the contents of the booze table.
Come to think of it, the act of physically creating things outside the typical comics wheelhouse would become a theme for the weekend, with a heavy dive into the fabric arts to start. But we'll talk about that tomorrow.
_______________
Pictures:
The JACC main hall is not very large; think the combo auditorium/gym in a typical elementary school. The meeting rooms at KTOO for panel talks (Childrens Books with Goade, Klassen, Runton from left; Lucy "Boats" Bellwood and Ben "Bows" Hatke locked in intellectual combat) and hangouts (Malki ! and Spike on publishing) were very comfortable.
The exodus of exhibitors made their way to the U-Haul to move stuff to Camp; this was a considerable improvement on last year's transport, where the last 5-6 rows of the bus were taken up with luggage and people were crammed in. Look at the spacious luxury! A mere 45 minutes later these smiling folks would be taking stuff to their cabins and deciding what to do in the coming days.
Did you want to learn about shoes? Or perhaps the duct tape that might hold shoes together? How about berries, or the door that leads to the stairs that leads to underground. Sure some of those other projects might have had "better composition" or "prettier art" or "actual facts", but did any of them have rats running around on a corpse in a murder hole that's populated by godsdamned mole people? I think we all know which one was best.
_______________
¹ Just a big ol' pile of cardboard, with the actual for-sale snacks buried in a secret chamber far underneath; customers would be forced to plunder the sugary tomb.
² Hire these two to liven up any panel discussion. They play off each other beautifully.
³ Who managed approximately 1000 meals with a dozen different dietary restrictions and preferences, and the help of two or three civilians on any particular prep or cleanup; the woman is a marvel. And I would commit actual crimes to get pan full of the sticky buns she made for breakfast.