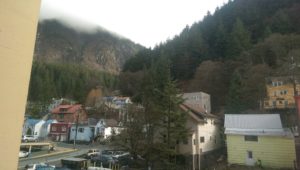 Friday is a busy day for comics types in Juneau; Pat Race, Aaron Suring, and the other Alaska Robotics folks have been in contact with schools across the region, and there will be fifty assemblies and class talks that take place today. Consensus best one: The Toronto Man-Mountain went to a junior high class that's been intensively studying Shakespeare and his choose-your-own books are a hit. They got all the jokes and smutty bits Willy S hid in iambic pentameter!
In the time before, after, and between their visits, a steady stream of creators passes between the lobby of the Juneau hotel where most are staying, and the aforementioned Rookery for coffee, tea, snacks, lunch, and good times. I was talking with Erika Moen¹ (force of nature and Beetmistress General) and Molly Ostertag (creator of my favorite book of 2017) in the lobby and we wandered into The Rookery for hot beverages.
This was where Georgina Hayns — late of Laika Studio, now taking time off before deciding on the next stage of her professional life — found us with a box that claimed to contain … I want to say a medium-sized florescent light fixture, but maybe it was a smallish set of blinds? Anyway, about the length of a box of aluminum foil, with a 50% larger cross section. Do you want to see ParaNorman? she asked, as if people say no.
This, she explained, was her own puppet (gifted to her by one of the animators), and she let us get our grubby hands all over it. Having had the opportunity to play with multiple puppets from Kubo And The Two Strings last year, I knew that Norman's face would pop off and proceeded to do so immediately; it's possible that Ostertag and Moen thought I'd just mutilated Hayns's priceless possession, but any trepidation quickly gave way to fascination with the puppet.
Here's the thing — the Laika animation puppets defy that simple word. They are perfectly designed objects that are both practical and aesthetic at the same time. There are few things that blend function and form so well, I told Hayns — the Zippo lighter, the Fender Strat, the Swiss Army Officer's Knife — but ParaNorman (and Coraline, and Beetle, and Eggs, and all the other stars of Laika's movies) falls squarely into the category. I appreciate the artistry, and the engineering in equal measure. Plus, check out the wardrobe. Somebody had to reproduce the scuffs and tears in Norman's clothing across dozens of iterations of the puppet.
Friday evening is given over to a public show at the Juneau Public Library; Seth Boyer, Marian Call, and Molly Lewis sing songs and play comics folks on with appropriate snippets (Raina Telgemeier enters to her name being sung to the tune of My Girl²; Molly Ostertag gets Concerning Hobbits from Howard Shore's Lord Of The Rings soundtrack) as they each spend five minutes on something interesting. Raina does a reading from Smile, and Ryan North reads his recently-announced children's book How To Be A T-Rex³.
Ostertag talks about how to run a D&D game; Andy Runton shares an Owly short; Vera Brosgol shares the research that went into her stellar Be Prepared (a book she shared the beginning pages of here last year). Ben Hatke talked about why drawing Wolverine in nonstandard costumes (ex: Vampirella) and saying Bub is always funny; Jon Klassen did a reading accompanied by Boyer on guitar — Can you make it sound like Zorba The Greek? asked Klassen. As it turned out, Boyer could.
Shing Yin Khor shared her love of roadside America's greatest public art series, the giant fiberglass muffler man in all his infinite variations; Dylan Meconis shared a story-in-a-story from her forthcoming Queen Of The Sea, and C Spike Trotman talked about why everybody who thinks aliens built the pyramids of Egypt is an idiot who doesn't know their history. Lucy Bellwood spoke about, oddly, not boats, but the process of creating 100 Demon Dialogues and the attendant little jerk; Scott C closed things out with a discussion of his past career and how one comes to do a painting of Jeff Goldblums or Carl Sagans or whatever strikes your fancy. How many Carl Sagans are there, you guys? Can science answer this for us? Maybe.
There was an afterparty in a house designed for large groups of people to mix easily and comfortably; there was amazing ice cream (charred coconut and wild blueberry) and chili and cornbread and far too little sleep. The morning would require packing up, packing in, running a convention, packing out, and heading to Camp. Juneau was behind us, and a long road ahead.
_______________
Pictures:
Not so many this time, since I was running A/V for the Library show. But you still get to see Norman, the incredible detail in his clothing, and what he looks like without a face.
Here's a fun game: how many famous cartoonists can you find in this picture? For reference, that room at the Juneau Library was entirely set up, populated, entertained for two hours, and cleaned up again in about three and a half hours; much of that was down to the well-organized MCing of Pat Race, who kept things humming.
Seth Boyer and Andy Runton were the only performer and presenter I managed to get pics of. Like I said, I was busy.
_______________
¹ Who did not get murdered by a serial killer. It's not my story to tell, but if you know her IRL, ask her.
² Taaalllkin' 'bout Raaaainnnna, Raina!
³ Best part of this book? It's got multiple places where whoever is reading (or reading along) gets to ROAR, which makes kids really happy.