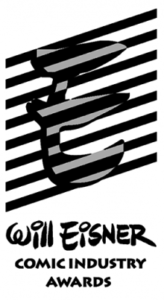 It's comics awards season again, and as yet unanswered questions regarding their security and disclosure obligations aside, there's quite a lot to be excited about with respect to the Eisner nominations this year. The list is simply rife with current, former, and adjacent-to webcomics folks. Let's dig in:
Best Single Issue is, to my mind, one of the big ones; it reflects a distillation of all the various crafts of comics into a relatively compact, standalone unit, and says that this is one of the best of the year. Ben Passmore, whose work is on the norms-challenging end of the spectrum, is nominated for Sports Is Hell
Best Continuing Series has two different Chip Zdarsky titles up for consideration: Daredevil, and Stillwater, the latter of which is a co-creation with Ramón Pérez. Yes, I do believe Kukuburi will return one day. I should also note that Stan Sakai is nominated for Usagi Yojimbo, which remains the epitome of a single creator's vision across the decades and epitomizes the spirit of webcomics if not the distribution medium. It's also one of those titles — like Octopus Pie, Giant Days, or The Unbeatable Squirrel Girl to name three — that just gets better every single issue (or story arc) and if you don't read it you damn well should.
Best Publication For Early Readers (Up To Age 8) I wanted to note that RH Graphic, who launched under the worst possible circumstances last year, have garnered their first nomination for Donut Feed the Squirrels by Mika Song. They've got another a bit further down, and to see that level of quality right out of the gate? Honestly, I think it's entirely in character for the team that Gina Gagliano put together. Welcome to the critical recognition tier, RH Graphic!
Best Publication For Kids (Ages 9-12) I really enjoyed Go With The Flow (Lily Williams and Karen Schneemann) and Snapdragon (Kat Leyh) — both from :01 Books, who are a perennial powerhouse in this category — but must also note how very, very much I loved Gene Luen Yang and Gurihiru's Superman Smashes The Klan and damn if I wouldn't be delighted if a book about an immigrant punching literal klansmen and Nazis in their stupid klansmen and Nazi faces didn't take this one.

Particularly in this time of Asian Americans being attacked to satisfy the petty hatreds of the small and vindictive. Put this book in the hands of every kid and adult that loves comics because gods damn Yang just gets Superman, and Gurihiru draws Lois Lane better than she's ever been drawn before.

Best Publication For Teens (Ages 13-17) I thought that the second Check, Please! collection (the invaluable Ngozi Ukazu) maybe didn't have to be set in an age-specific category and probably should be in one of the best book categories, but you know what? They're kind of chaotic in their requirements, and designating this a teens title means more people will put a story of acceptance in the hands of young folk, so that's all right.

It's going to be a tough decision for the voters, though, because Gene Yang is nominated again for Dragon Hoops, and it's a spectacularly good book. Plus you have Displacement by Kiku Hughes and A Map To The Sun by Sloane Leong … all of which are from :01 Books. When you have four of the six nominees in a category, you're doing something right.

Best Reality Based Work features Dragon Hoops again, and as the jury noted that there were a large number of memoirs in publication last year, they added a new category to contain them. Dragon Hoops could have gone there, but it was a genre-stretching work that played with the nature of comics and (auto-)biography, so probably just as well that they didn't.

But you know who did get nominated in the inaugural year of Best Graphic Memoir? Kim Hyun Sook, Ryan Estrada, and Ko Hyung-Ju for Banned Book Club, which I believe is the first nomination of completely original work for Iron Circus. It's almost like Spike Trotman's got a good eye for great stories.

Best Adaptation From Another Medium Yang takes his second nomination for Superman Smashes The Klan, as the story was originally told as a radio serial back in the 1940s. He's joined by Ryan North and Albert Monteys for their adaptation of Kurt Vonnegut's Slaughterhouse-Five which I still haven't read because Diamond is still not filling new orders, even as it gets foreign language releases around the globe. Get it together, Diamond!
Best Writer includes another nod for Zdarsky for his work on Stillwater, as well as Matt Fraction for both the conclusion of Sex Criminals and Superman's Pal Jimmy Olsen (which was wonderfully weird and funny).
Best Writer/Artist Remember that I said RH Graphic had another nomination this year? Trung Le Nguyen is here (for The Magic Fish ) alongside such prominent names as Junji Ito, Pascal Jousselin, Craig Thompson, Adrian Tomine, and Gene Luen Yang for Dragon Hoops. That's five nominations for two books if I've got my sums right, which seems as dominant a performance as I can ever recall for one person at the Eisners in one year.
Best Cover Artist has a second nod for Ramón Pérez for Stillwater, which is nice.
Best Academic/Scholarly Work threw me a surprise, as it would be hard to find a book more in tune with the sensibilities of this page than Webcomics by Sean Kleefeld. Sean's a really smart guy, and if I can ever get my hands on a copy — the academic titles don't get anywhere near as wide a print run as the entertainment titles — I suspect I'm going to love it. We've been way overdue for a good scholarly look at webcomics, particularly since the first one was a) too early, and b) less scholarly and more anecdotal.
Best Digital Comic and Best Webcomic remain, as always, mysterious to me. It is worth noting that half of the nominations in the former are from Europe Comics and list translators in the credits; looking beyond North America is an encouraging trend and I hope it continues. In the latter, I'll note that four of the six nominations are at aggregator sites (Webtoon Factory, Tapas, Webtoon) or Instagram.

So I wanted to call out Alec Longstreth's Isle Of Elsi and Steve Conley's The Middle Age for maintaining the webcomics tradition of having your own damn website, if it's just a domain that redirects elsewhere, because … well, lots of reasons. Mostly so that the work stands on its own rather than because an eyeballs-maximizing site chooses to elevate it, but also so that if things go wrong you can get your work the hell away from a bad partner and keep it running in a way you control. To me, that's the central ethos of webomics.
Now then, after last year's (still insufficiently explained) voting fiasco, there's a new, two-step process: prospective voters¹ apply for ballot access at https://form.jotform.com/211246268258054; those approved will receive an invitation to fill out their ballot by 30 June. Results will be announced online in conjunction with Comic-Con@Home 2021.
I do not have at this time reason to either trust or distrust the process, so my recommendation last year that voting was not secure does not hold for this year, but I suppose we'll all find out together if they manage to screw the pooch again.
---
Spam of the day:
In fact, this oil is the reason Croatian women look 20 years younger than they actually are: And today, you can discover how to remove 18 years of wrinkles without spending a fortune.
That is … oddly specific. Are Croatian women generally so reputed?
_______________
¹ Defined as comics professionals: creators, publishers, retailers, and educator/academics or librarians focusing on comics.