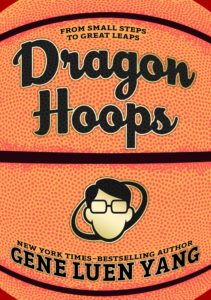 We're going to be kicking off a series of book reviews today, since so many of us are cooped up, we may as well talk about new graphic novels and collections. I'm also going to sprinkle in other, most likely COVID-related news before we get down the review. Today, that's going to be the news that Zach Weinersmith is making a series of his books free to download to help you through whatever isolation you may be in. He's a good dude, Zach is.
Today's review is Dragon Hoops by Gene Luen Yang, an advanced review copy of which was provided by the excellent folks at :01 Books in January, and which I have been thinking about very deeply ever since. Go back and read about my initial impression on first read, and the most powerful recurring visual motif Yang uses; it'll save us some time here.
When I talked with Yang briefly at SDCC last summer, I remarked that Dragon Hoops was going to be his version of a Raina Telgemeier story — unlike all of his previous graphic novels, this one is memoir¹. It also means that the usual warning about spoilers ahead is perhaps less earned this time; after all, DH is about the high school Yang taught at making a run for the California boys basketball championship in the 2014-15 academic year. Anybody can determine with a moment's search how the book is going to turn out. We also know what's in Yang's personal future at this time of his life: appointment as National Ambassador for Young People's Literature (January 2016) and MacArthur Fellow (September 2016). Heck, he and I were talking about this season of the Bishop O'Dowd Dragons when I interviewed him in July of 2016. So how do you build suspense when everything is already known?
And this is where Yang's genius² for making comics comes in. It's not just a memoir of his coming to terms with sports (his lack of interest for the first four decades or so of life, his discovery of how much they can catch you up), or a narrative of following the team on their quest (which is meticulously end noted — he wants you to know exactly when a conversation or event was abridged or time-shifted to serve the story, and when it was exactly as shown), it's also a meta-narrative about making the book.
Let's back up a moment.
The 2014-15 school years was a crossroads for Yang; he'd been dividing his time between teaching and comics and family his entire adult life. All of his successes, multiple critically-acclaimed graphic novels, all done during nights and weekends. Coming off of Boxers & Saints (a work that consumed six years), he was looking for the next story and found it in front of him at work. He would subsequently resign his teaching position to concentrate on comics (and, coincidentally, the ambassadorship that he didn't yet know was coming his way), eventually making his way back to part-time teaching because he's the sort of guy that believes you needn't have just one calling.
And since the idea of the story of the Bishop O'Dowd Dragons was so much on his mind, it's part of Dragon Hoops; Yang continuously portrays himself wondering how to tell the story of what's happening around him while he's experiencing it. He wonders what to bring into the book, what to leave out, and has an amazing conversation with one of the O'Dowd players (Jeevin Sandhu, #24) about his character design. Yang had drawn Sandhu with a zigzag hairline to make sure he read as Punjabi, not African-American, but gets that it looks silly. As they discuss options, the hairline changes from panel to panel, settling into a new design that's used for the rest of the book.
That conversation gets played out in larger form throughout the book, as Yang incorporates the ups and downs of the season, the backgrounds of individual players and coaches, the history of basketball, and the changes in himself over the course of the year.
And maybe there's no change as big as the dilemma over how to continue to balance teaching, family, and comics becoming complicated when his agent calls with an offer from DC: they want him to write Superman³. Even before that offer, Yang feels the balance slipping as the book becomes more complicated. But one of the greatest moments of uncertainty about the book shows Yang wearing a Zot! t-shirt, adopting the dress of a teen who decides to be a hero because that's what you do if you have the ability, and who comes to learn the world is more subtle and complicated than simple good/evil bust 'em ups. Yang's coming to acknowledge the complications inherent in his life choices, the team is acknowledging their storied past and nationwide ranking don't ensure an easy path, and everything is feeding back on itself.
And it never gets lost in the weeds. This is the densest, richest, and yet simultaneously most logically-structured story I can recall. Every complication feeds back to the central stories of the Dragon's season and Yang's own version of a championship run (because what could make you more the champion of comics than writing Superman?). And I realize this is an abrupt shift and doesn't really fit in this paragraph but I don't have any better place for it — Yang also has a killer running gag about an assistant coach with a newborn. Every time he is shown, the kid is in a Baby Bjorn, and every time this particularly foul-mouthed coach is cursing, he's conscientiously covering the kid's ears with his hands. It never gets old.
Yang's super-clean visual style is a perfect vehicle for the twists and turns of the story, and I must take time to mention that his usual colorist, Lark Pien, has done career-best work here. The sepia tones that slip into the scenes depicting the invention and development of basketball, the use of period-matching palettes with a slight faded effect for the personal histories of Yang and the coaches, every one of them acts as a visual cue that seamlessly places flashbacks and decades-ago in a continuous timeline leading up to the bright lights and excitement of now on the court.
Dragon Hoops is going to go down as a worthy companion to Yang's best work (and you know, he's only been nominated for the National Book Award twice). It releases today from :01 Books, and would be widely available at a bookstore near you if we weren't all hanging at home. More than one independent bookstore is taking phone orders and either meeting you at the door for pickup and handoff or mailing to you, so look up one of them and pick up a copy today. It's really good.
---
Spam of the day:
This Bracelet is to keep people safe from insects and mosquitoes
Got bigger problems right now, thanks.
_______________
¹ Although certainly he's drawn from his own experiences growing up Chinese-American in everything from American Born Chinese to the recently-concluded Superman Smashes The Klan.
² Lower-case genius, not the uppercase version frequently used to refer to the MacArthur grant. I will never forget the time I asked him what it's like to be an official Genius and he laughed I still have to do the dishes. Perhaps not coincidentally, he is shown more than once in this book at moments of change doing the dishes.
³ Superman being a recurring motif in the book. Yang's got a lifelong love for the character, he comes to see the reluctant-to-share star players as superheroes on the court deciding to be Clark Kentish away from the boards, and of course Superman is well known as a champion of the disadvantaged (most of the players are African-American, many being raised by single mothers) and immigrants (Jeevin's got to explain, as a Sikh, why not everybody loves Gandhi; exchange student Quianjun "Alex" Zhao is chasing a dream of playing pro ball in China, trying to earn playing time on one of the best teams in America).
By the way, the conversations shown between Yang and the editors at DC in the lead-up to his tenure on Superman pretty much confirmed my suspicions that they fundamentally don't get who Superman is, and leave me more convinced than ever that they were messing with his stories, leading to whip-saw reverses in direction that made the book pretty messy.
They got out of his way for New Super-Man, with a Chinese teen learning to be worthy of being the Superman of China, which was a much more cohesive story. And with Superman Smashes The Klan, it's obvious that Yang understands heroes in general — and Superman in particular — as much as anybody of the past eighty years.