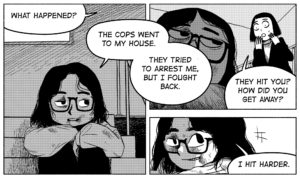 I'm not sure that Ryan Estrada and Kim Hyun Sook could have written a more appropriate book for these times. We're getting right into it, so if you don't want (admittedly, 30 year old history) spoilers, stop reading now, buy this book, and read it instead.
When I was in college, things were happening in South Korea; my political science professor talked about how critically important it was that the first reasonably credible elections in decades were happening, and what led up to it — regular student protests, which had rules:
The students would go out demanding the authoritarian regime step down; the regime would reflexively brand them as Communists and North Korean agents and send out the riot cops with their Darth Vader helmets, truncheons, tear gas, and water cannons. They'd fight for a while, the students would retreat to campus, and that would be it for the day. Get nabbed off campus and you could be disappeared, but like a game of tag, campus was Home Free.
Then one day, the riot cops went onto campus to continue the beatings and arrests and the world started paying more attention. The Olympics were granted to Seoul, the country beyond the students started to join the protests, change happened. The first elections were still won by the members of the regime because the opposition was at a disadvantage (their leaders having only just been freed to start parties and organize), but by 1992, they had prevailed. Korea dismantled the fascist structures that had been in charge for three decades (and completely remade the police), and generally became a better place. Not perfect, but better.
Banned Book Club is the story of what happened in the years before things got better, when the tear gas and beatings, the contrived charges, show trials, and deaths were happening and a large part of the country — most everybody except for those darn students — just sort of agreed not to notice. It had been that way for 20 years, after all, since the military coup back in '61, and the second coup in '80 and second coup leader was still in power but he was only fighting against criminals and agitators, right?
And the books they banned, and the students and teachers in prison for reading them, they were all subversives, right?
And the factory workers being forced to work and the President's friends getting rich, and the critical newspapers being burned to the ground for spreading "lies" about the regime, and the President not caring if anybody believed him or not, that was just how things worked, right?
Right?
Kim Hyun Sook was part of the generation who'd been shielded from what had actually happened until she made it to university, and fell in with students reading Chomsky and Betty Friedan, Locke and Sartre, Marx and Guevara, Simone de Beauvoir and unapproved Jack London (White Fang was okay, The Iron Heel decidedly wasn't) and watching bootleg VHS tapes of foreign news reports about Korea.
She watched the cop who was assigned to kill stories in the student newspaper that the regime didn't want published miss the stories that were being passed hand-to-hand; she watched students on government-sponsored scholarships inform on their classmates; she watched fellow protesters get swept up and subjected to state violence with the lucky ones being released days later.
And now, we're in a place that's pretty much exactly where Hyun Sook was, only it didn't take decades for so many in America to become willfully blind to what's happening. We have the opportunity to be at the point she and her compatriots were at, with maybe the most prescient lesson being: the fight is never over.
See, in 2016, the daughter of the first coup leader (who was eventually assassinated by his own security forces for being too brutal) became President and tried to go back to Dad's way of doing things; the people of Korea went into the streets, every weekend for months, as many as 10% of the country's population at any given time, and demanded that she be impeached for her crimes.
It wasn't just the students, it was too many to ignore, the reformers had done too thorough a job of dismantling the fascist state¹ and they weren't going back (and, this time, the cops were marching with the protesters). She was removed from office and then charged with bribery, coercion, leaking government secrets, and abuse of power, leading to a conviction, a 25 year prison sentence, and a fine of nearly US$17 million.
Which is what you need to do when there is a man (and later, his daughter) that regards the presidency as his birthright. Or, and Hyun Sook concludes:
The villains of the past are never really gone. Now we have another President Park blacklisting authors, journalists and filmmakers, and trying to ban textbooks that criticize her father's regime.

But this time when the people rose up, it was not in the shadows. Not just behind closed doors, and not just a handful of them. It was everyone.

People don't get that organized unless someone is stubborn enough to fight for what's right, even when no one's listening.
The lesson is clear — fight with everything you've got, and don't ever think that the defeated would-be Presidents For Life won't revive with another face. Even when you do win, keep fighting to ensure that the systems are stronger, better, fairer than they were so that the next nascent fascist doesn't have as much of a foothold of grievance to work with, because there's always something that needs fixing. And while we're figuring out how to do all of that, let this coda keep you warm at night:
In March 2017, President Park Geun-hye was impeached, removed from office, and imprisoned for corruption. The final vote was struck by her own judges, many of whom she had personally placed in office. A special election was held, and the new Preisdent was Moon Jae-in.
Can't imagine why that thought makes me so very happy. Yep, that's a stumper.
Banned Book Club is based on the lived experiences of Kim Hyun Sook, with actual people being blended into composite characters for privacy and safety². Kim's husband Ryan Estrada turned Kim's stories into a story that works in comics. Ko Hyung-ju provided open, appealing art that draws you into the lives of the characters, emphasizing their ordinariness and the shocking treatment they receive for demanding truth. It is available at bookstores everywhere, and should be read and passed to as many people as you possibly can.
---
Spam of the day:
LETION LED Torch, UV Light 2 in 1 UV Torch Black Light Flashlight with 500LM Highlight & 4 Mode & Waterproof IPX 4 for Pet Clothing Food Fungus Detection/Night Fishing/Travel
Food Fungus? Look, never bring a UV light into your home unless you want to find out exactly how much dandruff, blood, urine, and semen is hanging around.
_______________
¹ After the fall of the military dictatorship, leaders were charged and convicted for their crimes, with the second coup leader — Chun Doo-hwan — ultimately sentenced to death for ordering a massacre of a town¹. He was pardoned by the current President, who was advised by the President-elect, who in turn had been sentenced to death by Chun's regime 20 years earlier.
² But they're talking [grin].