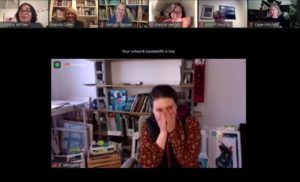 For anybody that pays attention to Young Adult and Middle Grade books (and gosh, can you pay attention to [web]comics and not pay attention to YA and MG?), there was a lot of chatter in your social media feeds, as the American Library Association Midwinter meeting is where the awards for the best of media for youth are presented. The most prestigious awards are the Newbery Medal (for most outstanding contribution to children's literature) and the Caldecott Medal (for the most distinguished American picture book for children), but there are a whole swathe of what are properly termed the Youth Media Awards, including the Asian/Pacific American Awards for Literature, Sydney Taylor Book Award (for books and teens that authentically portray the Jewish experience) and the American Indian Youth Literature Award (awarded in even-numbered years).
And anybody that reads this page knows that comics have been making deep inroads into the realm of literary awards, and the YMAs are no exception. We'll start with Michaela Goade's Caldecott for her work illustrating We Are Water Protectors (words by Carole Lindstrom) — a book that's already been recognized with the Jane Addams Children's Book Award, is a Kirkus Prize finalist, and was listed as a best book of the year for the New York Public Library, School Library Journal, NPR, and Publishers Weekly¹. It's been my pleasure to know Goade (how many times do I have to tell you how much Comics Camp enriches lives?) and to become familiar with her work, and I cannot think of a more deserved recognition.
But let us note that other [web]comics folk are all over the YMA categories, and I recognize that I've probably missed some here and there — Gene Yang's absolutely stellar Dragon Hoops is Printz Honor Book², Displacement by Kiku Hughes was an APALA Honor Book³. I also noticed Kent State: Four Dead In Ohio by Derf Backderf as one the recipients of the Alex Awards, which are given to ten books written for adults that have special appeal to young adults.
I would be remiss not to note that multiple wins by All Thirteen: The Incredible Cave Rescue of the Thai Boys' Soccer Team, which is one of five Newbery Honor books, one of three Sibert4 Honor books, and a finalist for the YALSA Award For Excellence In Nonfiction. The full list of winners and honorees can be found here [PDF], and you can find the full presentation for replay here [A/V]. Fleen congratulates all the winners, but reserves the right to give Goade the biggest high-five the next time we see her.
In other news of good work:
Julia Kaye would like you know that her second book, My Life In Transition, a collection of her autobio comics (a sampling of which can be found here) is about to release. It'll be nearly 200 pages of comics goodness, go for US$14.99, and will be out on 16 February, so get your pre-orders in now, if you please.
If you read Skin Horse — and if you don't, why the hell don't you? — you could tell that the story is building up to a finish. It's been thirteen years since I recommended you read it from the very first strip, and rarely have I been so correct; but all good things come to an end, and yesterday Shaenon Garrity5 and Jeffrey C Wells6 made it official that the wrap-up is coming this year.

Ish.

Maybe.

It's flexible.

Look, the story is gonna go where it's gonna go, plus Wells has to figure out where to shoehorn my ass into the narrative on account of I splurged for one of the We Write You Into The Comic tiers on their latest book-kicker because I think I knew this might be my last chance. The story has taken wide digressions and loops from its original plans — go back through the archives, hit all the Sunday process strips, and see how many times Garrity and Wells say This started off as something completely different or We just couldn't work this in so we dropped it over the past baker's dozen of years — while still remaining true to the vision that was there from the beginning7.

And having tortured the English language to the breaking point in that last sentence, I'll just remind you — it's never to late to do an archive trawl and get in on a great story. Join us now, so we can all be weepy together later when it's done.
---
Spam of the day:
Hey, I just opened a hydroponic hemp farm here in Miami, Florida. It's the first of it's kind of this size. I was wondering if you would be interested in writing an article about our farm to help us or if you offer paid advertisement articles on your website?
Hey, Box? I think this is yours and came to me by accident.
_______________
¹ It's not hard to imagine that if it were an even-numbered year, We Are Water Keepers may have taken the American Indian Youth Literature Award for the very best writing and illustrations by and about Native Americans and Indigenous peoples of North America. Lindstrom (a member of the Turtle Mountain Band of Ojibwe) and Goade (a member of the Tlingit and Haida peoples of Alaska) drew on their own traditions, and those of the original peoples from across the continent.
² The Michael L Printz Award recognizes the best book written for teens strictly on literary merit; the award went to Everything Sad Is Untrue (a true story), and Dragon Hoops was one of four additional honorees.
³ The sole honoree alongside winner This Light Between Us in the Youth Literature category. I never did get a review of Displacement written as it fell during a personally bad time last year, but it's a hell of a good account of generational trauma and memory set against the crime perpetrated against Japanese-Americans in World War II.
4 Given to the authors(s) and illustrator(s) of the most distinguished informational book published in the United States in English.
5 Mistress of Funk and Tiki, and Nexus Of All Webcomics Realities, Greater San Andreas Fault Regional Division.
6 A sharp writer in a flat cap who keeps a pretty low profile, actually.
7 Makeouts and animals in hats. It's the highest of high concepts.