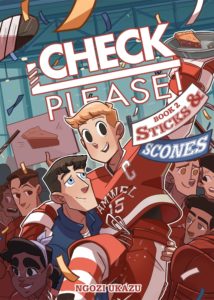 There's not a lot to be said about any subset of Check, Please's fairly extensive story, whether in print or online, that isn't going to focus on how unrelentingly joyous it is. There's little bitty bits¹ of drama that makes you narrow your eyes and vow vengeance on completely fictional characters because they made one of your favorites cry, bleed, or doubt themselves, but you know that it'll come back around to the joy soon enough. That's the deal that Ngozi Ukazu has made with us: Bitty's on a journey, he's growing, he'll be better off at the end of it.
But dang if the journey ain't a wonderful rollercoaster ride in the meantime.
Book 2 (subtitled Sticks & Scones) picks up where Book 1 left off (and, uh, spoilers for that now two-year old book if you haven't read it, or these strips which ran online years ago), with Bitty and Jack in a relationship, and wondering how to handle the truth of their affection for each other balanced against the truths that they are, respectively, an NCAA Division 1 hockey player and an NHL rookie. It takes a while to reveal their relationship to all the friends from the past two years of story (who are all various degrees of nonplussed), and longer to Jack's new teammates, and still longer to the world — yeah, kissing on center ice after winning the Stanley Cup is a pretty big statement to the world.
Again, Bitty and Jack are the center of the story, but it's the side characters that show Ukazu's genius. Anybody can pour their heart into creating their POV character and their most important relationship, but it takes real skill to make you care about the side characters, and have them consistent enough that their peripheral involvement in the narrative doesn't feel off. She's developed — pardon the sports metaphor — a deep bench of supporting players.
Ransom & Holster remain best bros and would still be the leads in any number of other stories, but we've seen goofballs like them before.
Chowder will always be sweet, good natured, and too willing to apologize. He knows his role is to be the innocent who overlooks things.
Dex and Nursey will always be at each other's throat, and morph into indivisibly tight bros so gradually, you never notice.
Whiskey, Tango, Foxtrot (heh), Hops, Bully, and Louis all have enough to distinguish them that the constant cycling in of new teammates doesn't feel like they're interchangeable.
And then there's Tater. Oh glob, do I love Tater. Alexei Mashov is very Russian, very enthusiastic, fully in Jack & Bitty's corner (especially as long as Bitty keeps making pies for the team), and always there when the scene needs a little lightening, like a Newfie puppy that just loves you so much². He is gonna teach Bitty how to do a figure-skater lift of full-size NHL players, just you watch.
Bitty's parents, good God-fearin' Southern folks, are more than background players, but we don't see them much. Their impact on Bitty's life is mostly in his head, and it works out. We know that there's an acceptance when Dad ("Coach") and Jack come in on Bitty and Mom having a third-generation family fight over a jam recipe and decide to quietly peace out together. It's a quiet, subtle, but triumphant moment that speaks volumes about Ukazu's worldview.

Namely, there's so many big things that get in the way of family, when we let you in to fight about the utterly stupid stuff? That's love. That's where we can all thrive, whether the rest of the world says we deserve to or not.
Plus, there's an egregious use of Comic Sans that actually serves a gag to perfection. I am forced to enjoy it, despite Comic Sans. And plus-plus, did you see that Ukazu has a cartoon in the new issue of The New Yorker because she totally does.
Check, Please! Book 2: Sticks & Scones is available everywhere for months now, I only just got my copy because COVID and Diamond and the G train? Read it enjoy the extras, pass it along to the gay hockey bro fan in your life which should be, goodness, everybody. It's a delight. For those of you waiting for the fourth volume of the self-published Kickstarted series that will match books 1-3 on your shelf, Ukazu says it's coming. Nobody expected having to deal with a worldwide pandemic, so patience, please.
---
Spam of the day:
Sharks: This tiny pill changes everything. Now you can tap 100% of your Brain Power.
Do you … do you think that I'm a shark and that's why I need this pill? Like all Nimona style I'M A SHARK AAAHH? Sorry, but I'm not a shark.
I'm a sharktopus.
_______________
¹ So to speak.
² Read the tweets at the back of the book — in addition to finally learning Shitty's name, we find out that after Jack wins the Cup and Bitty's hiding from facing his parents, Tater (injured in a late Cup game) casually decides he's crashing with them for the summer to recuperate from his injury. You don't need to see what happens to know exactly how it's gonna play out.