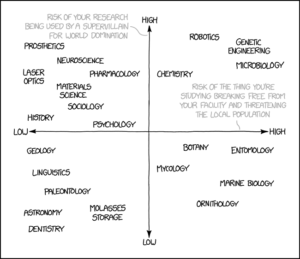 But before we get to the newsy type deals, allow me to offer props to Randall Munroe for today's xkcd, wherein he anticipated my critique in the alt-text. Of course Munroe knew about the Great Boston Molasses Flood, as famously catalogued by Milk and Cheese. Of course. It's comforting, in a way, to have it proved that you are not cleverer (or at least more well-versed in obscure historical trivia) than Randall Munroe.
Soonish debuted yesterday, and although I don't have my copy yet (it will be coming soonish in fulfillment of Zach Weinermsith's Kickstarter Gold project), I'm eagerly counting down the days. Not just until I get to read the book in physical form, but also to see Kelly and Zach Weinersmith on their book tour next Monday evening; it's been years since I've seen Zach, so this'll be fun.

Also fun: hearing Weinersmith & Weinersmith get five minutes of precious airtime on the nation's premiere daily economic issues program, Marketplace. It brought into relief how much of technology is really dependent on finding an economic niche it can exploit, which did not occur to me when I had the chance to read through a late pre-final copy of the book last year.

Give it a listen, get your copy of Soonish, and don't forget to use the entire situation spice up your sex life: The Marketplace Interview — listen to the mellifluous voice of Kai Ryssdal through your radio, touch him on the penis.

As of this writing, we're about 2.5 hours out from the end of the Kickstarter for the omnibus edition of Girls With Slingshots, which has been running for the past month. Apart from giving us a new case study to re-evaluate the validity of the Fleen Funding Formula, Mark II and the McDonald Ratio, it's significant for a couple of other reasons:

This is why anybody in indie/webcomics with their head screwed on straight is listening to Spike; it's why Kickstarter basically adopted her as an evangelist¹. And we're up more than US$3000 in the time it took me to do the math in the footnotes.

One of these days, I want to be so accomplished that when I change jobs, it makes the industry press; then again, when it comes to webcomics hack pseudojournalism, I pretty much am the industry press, so I guess I'll let you know.

But today, that distinction belongs to three colleagues at Workman Publishing who are hopping ship to Macmillan to start a new imprint in the children's book group; they include publisher Daniel Nayeri, editorial director Nathalie Le Du, and art director Collen AF Venable — onetime designer at :01 Books (the majority of their entire catalog still designed by Venable, despite her being gone for three years), one time Fluff In Brooklyn webcomicker, and force of nature in book design.

Being an art director recognized by the publishing industry for the revolutionary things you're doing for kid books is great. Getting in on the ground floor of a new imprint, able to put your philosophies into practice as guiding principles? Even better.

The as-yet unnamed new imprint is, I'm confident, going to do amazing things. And, in one of those cases of things coming full circle, Venable will now be returning to Macmillan, which is the parent company of :01, and doubtless see her old co-conspirators around the halls. Congrats to her and her esteemed colleagues, and I can't wait to see what they do.
Oh, and with 86 minutes to go? GWS is above US$256,000. Yowza.
---
Spam of the day:
Bouquets for less bucks
No offense, guys, but the visual design of the graphics in this spam is very mid-80s, and reminds me of a newspaper ad I saw back in college for a luv-ya bookay. It was painful.
________________
¹ And let's consider that of the seven Kickstarter Thought Leaders, there are as of today 35 projects to their names (one of which was unsuccessful), raising a total of approximately² US$3.7 million.
Spike's responsible for more than US$1 million of that, and 14 of 35 projects. She's the second-most successful of the creators, beaten only by a three-project design shop (representing two of the seven) that raises US$300K to US$700K on beautiful, pricey art objects.
² Approximately because the GWS campaign is still open, and two of the other Thought Leaders are reported in foreign currencies.