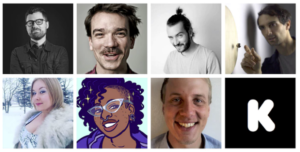 Last night was EMS night and there was a vehicle fire — we're talking about the entire front end of a minivan fully involved before the firefighters dumped half an engine's tank full of water (call it 1400 liters) and a goodly amount of foam on it — which affected the paved driveway it sat on, the vinyl siding of the house it was next to, both the car and the siding next door, and some overhead power lines. Quick knockdown, but today everything still tastes like plastic. How's your day going?
Jeph Jacques, he of so many nicknames that it's not worth trying to keep up with them all, has launched the pre-orders (let's face it, this is just a formality on the way to funding) for Questionable Content book 6 (aka strips 1500 to 1799. Given the huge readership for QC, there's a fairly high goal (US$55,000), which will be enough to stock the book for the foreseeable future in the store; at about eight hours in, just under 480 backers have put Jacques just under 33% of the way to goal; I expect to see that number creep up as people leave work and return home and pledge.

Overfunding will result in the first three books (still in print in the older 23cm x 28cm trim size) reprinted at the current, small size (13cm x 18cm), so that those of you that purchased the first five books and are desperate to have them all line up on the shelf just so (or maybe never bought the first three) can have a matching set. For once, my obsessive completist attitude is under control and I will prevent myself from such a purchase. For once.

But the bigger news over Kickstarter way is the announcement of seven Thought Leaders, creators who between them cover the wide gamut of Kickstarter creative areas, and have run a total of 26 projects backed by 35,347 people for a total of US$3,010,897. And one of them is webcomics own C Spike Trotman, continuing her run on 2017 being the Year of Spike.

It also probably explains her tweet last week about never doing SDCC on her dime again, given that KS will be likely sending her to top-tier shows to do panels (heck, she's on any reputable Kickstarter panel of any show she's at already). Additionally, she'll be answering questions on Campus, Kickstarter's message board for project-running advice. Add in all the ICC books seeing wider exposure (not to mention the new edition of Poorcraft, updated for 2017 realities). Oh, and another one of the Thought Leaders, comics fans? Hope Nicholson. Seems like somebody over at Kickstarter likes the words+pictures.

Speaking of the words+pictures, the fifth annual Cartoonist Studio Prizes (a joint venture of the Slate Book Review and the enter for Cartoon Studies have been awarded. As in past years, two prizes of US$1000 have been awarded, one to a print comic and one to a webcomic. Print honors go to Eleanor Davis for Libby's Dad, and webcomic honors to Christina Tran for On Beauty. Both are more than worthy winners in standout fields¹.

Should I point out that the nominees were majority women, as were both winners this year, and 50% of the winners across five years? I believe I should. I've said it before and I'll say it again: the future of comics rests on the shoulders of women — both those making comics and those reading them — and the sooner they take over the entire damn industry, the better.
---
Spam of the day:
Wohin ja hier gegen das Talent
Google Translate assures me this means Where, then, against the talent which I dunno, means something in some context or other. Pretty weak sauce for my spam filters, if you ask me.
_______________
¹ Particular respect to Representative John Lewis, Andrew Aydin, and Nate Powell, who were nominated for March: Book 3. This may be the only time they don't win their respective fields this year.