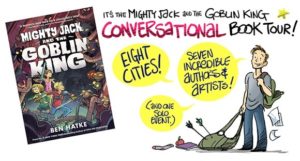 Okay, there's gonna be a lot of Kickstarter numbers thrown around, but before we get to that, I don't want to miss out on talking about Ben Hatke's Book Tour Extravaganza in support of Mighty Jack And The Goblin King. He'll be hitting eight cities in nine days starting next Monday (25 September) in Portland and finishing up the Tuesday following (3 October) in Winnipeg.
Along the way he'll be talking with the likes of Lucy Bellwood, Kazu Kibuishi, and Ryan North, so if you're going to be in Stumptown, Seattle, Monterose (California), Salt Lake City, Saint Paul (Minnesota), Amherst (Massachusetts), Toronto, or The Slurpee Capital of the World, do check out the cities/dates/accompanying cool people.
I was going to be spending some time today talking about how the Girls With Slingshots omnibus Kickstarter was going and how it was likely to do, but it's probably not practical to do so. Recall the Fleen Funding Formula, Mark II: take the predicted amount of funding for a project from the Kicktraq "Trend" tab at the 24-30 hour mark and divide by four — that's the base prediction. Then take that amount and divide it further by five — that's the uncertainty. Thus, a project predicted by the Trend formula to raise US$100K would likely finish in the US$25K +/-5K range.

But, it's not good for certain projects — if the number of backers in that first time period isn't at least 200 or so, it's not accurate. It's also not good where there are huge, pent up cascades of money that then drop off because everybody who's gonna back the project jumped in during the first few hours; the FFFmk2 depends on an organic long tail. In both of these cases, the McDonald Ratio is more accurate: take the total raised in the first three days and that's about 1/3 of the final total¹.

The total amount asked for, and the relative pricing of the reward tiers have not, to this point seemed to affect the accuracy of either of these tools. With those caveats out of the way, the McDonald Ratio is premature for the GWS campaign (it's still less than 48 hours in), but it'll be above US$347K, because that's what you'd get by tripling the total as of this writing, and I don't see many people canceling pledges.

The FFFmk2 (again, I think this is gonna be skewed) is running US$343K +/- 67K, or somewhere between US$276K and US$410K. There's just no precedent in the formula for a project that brings in US$116K in less than 48 hours, but it seems a safe bet that the US$50K goal will be met five to eight times over.

So then I was going to talk about Howard Tayler²'s campaign (launched yesterday) for the thirteenth Schlock Mercenary collection; the high backer count (over 650 as of this writing) and history of successful projects (the formula tends to work better when backers see the creator has a track record) are both good, but the short funding period (only 24 days) makes the McDonald Ratio a bit suspect. Regardless, I'm going to run the numbers and call it US$84K to US$126K (FFFmk2) and north of US$99K (we haven't had three days yet); call it three to five times goal.
Finally, well under 24 hours ago (so all calculations are going to be low) the newest Johnny Wander collection went up for funding; fresh off their Ignatz win, Yuko Ota and Ananth Hirsh are printing a collection of Ota's art from the past five years from those periods when repetitive stress injuries forced her to use the wrong hand. Spoiler: Ota quickly draws better with her non-dominant hand than most everybody draws with their dominant hand.

This is such a cool idea, made even cooler by the fact that the special edition of the collection will feature a lenticular image of an MRI of Ota's right wrist, in all of its damaged glory. So, with knowledge that these numbers will only go up, US$25K to US$37K and US$30K are the prediction or comfortably over the very modest US$19K goal (those lenticular effects ain't cheap, y'all).
By end of the week, all of these estimates will be more accurate, but honestly? The numbers games — which make no mistake, I adore — are less important than the fact that so many great comics are available almost on a whim these days. Take advantage of it as much as you can.
---
Spam of the day:
porn star $20 and a sandwich and she'd fake an orgasm over Weetabix
There is so much wrong with that sentence I don't know where to start.
_______________
¹ Named for Kel McDonald, who has run a stack of Kickstarts, and found the rule very useful in her campaigns. However, McDonald tends to run longer campaigns than most — six to eight weeks, typically — and that may skew the prediction high on campaigns shorter than the traditional 28 to 31 days.
² Evil twin, etc.