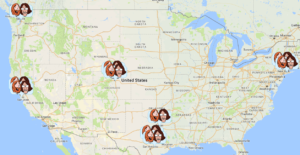 Wow, I missed a lot in a week; let's jump in and see what's up.
SPX Occurred to the usual great acclaim and positive feelings. Fleen congratulates the attendees and exhibitors on a great weekend, and the Ignatz Award winners in particular. Representatives of webcomics in the winners circle include Der-shing Helmer's The Meek as Outstanding Online Comic, Yuko Ota and Ananth Hirsh's Johnny Wander: Our Cats Are More Famous Than Us as Outstanding Collection, Taneka Stotts (editor) and the contributors to Elements: Fire — An Anthology by Creators of Color as Outstanding Anthology, Jess Fink's Chester 5000 XYV as Outstanding Series, and Bianca Xunise for Promising New Talent.
Still at SPX, various attendees at the show have stuff to share, now and in the immediate future. Lucy Bellwood¹ released a detailed public accounting on the Kickstarter campaign for her 100 Demon Dialogues book/plush. Sharing numbers like this makes it more likely that newer creators dipping their toes into the Kickstart waters will succeed not only in funding, but in not bankrupting themselves on the expenses post-fundraising.

As of today, Bellwood is up about US$3500 on US$50,000 raised, an amount which could be shaved down further by unexpected circumstances. But even if everything finishes exactly as measured today, be sure to pay attention to that US$3.5K number, not the US$50K. It'll be half a year's work or more by the time Bellwood's done, and while 50 grand for half a year's work is a comfortable living, 3.5 grand is not even subsistence living. Anybody inclined to sneer about the huge amounts of dough Bellwood's rolling in, do have the courtesy to know what the hell you're talking about.

Speaking of both SPX and Kickstarter, C Spike Trotman and Danielle Corsetto took time from the show to announce they're partnering up to bring a comprehensive omnibus printing of Girls With Slingshots to Kickstarter. Corsetto's got the 2000+ strips, Spike's got the Kickstarter process down to a science, and later today when the campaign goes live we can all get in on what's sure to be a handsome volume featuring color strips. Those of us that have all ten GWS books, the first five of which are in B&W, will get to decide how much we need everything to match. Damn you, Corsetto! And damn you too, Spike, for enabling her!
Missed like a week ago: The 20th anniversary of David Willis's comics, which started on 10 September 1997 in the Indiana Daily Student, starting a run that would continue through four strips until the end of Shortpacked! in January of 2015. The rebooted version of the Willisverse, Dumbing of Age, launched on 10 September 2010, and continues to this day². If you feel this accomplishment merits some in-person congratulations³, you can see him at Bloomington, Indiana's Vintage Phoenix Comics this coming Friday, 22 September, from 5:00pm to 7:00pm. Give him a Damn you, Willis! for me.
Missed last week: The Homestuck videogame came out and people really love it! It was near five years back that almost 25,000 backers raised almost US$2.5 million to make the game, which has surely been through many design changes and mutations in the time since. But with Homestuck creator Andrew Hussie aided by past and present webcomic creators like Ryan North, Christopher Hastings, Tauhid Bondia, and Kris Straub, it's not really a mystery that people are very happy with the outcome.

Even better for those put off by the infamously dense and deep Homestuck, consensus is that you needn't be familiar with the epic to play the game. Hiveswap is available via Steam or the Humble store with blessedly modest system requirements.

And finally, Kelly and Zach Weinersmith announced their Soonish book tour; at present, dates in Seattle, Denver, New York, San Jose, Dallas, and Austin have been announced. Check the map and get your tickets now — it's the first time Weinersmith's been seen in public outside of BAH!Fest in years, and no guarantee after the book tour he won't scurry back into his dank cartoonist's lair, never to emerge into sunlight again.
I think that's everything caught up. Come back tomorrow, and we'll have news from across the Atlantic/Atlantique courtesy of Fleen Senior French Correspondent Pierre Lebeaupin.
---
Spam of the day:
Bad news is, I must have underestimated the amount of people who wanted to get in … because Ted's server actually fell over.
This is the most astounding spam of apology, as somebody from "Ted's Sheds" is making amends for traffic problems by extending for one day only their amazing offer of 16,000 woodworking plans (presumably including plans for the eponymous sheds) for the low, low price of … they don't actually say. Too bad I don't need a shed.
________________
¹ Adventure Cartoonist!
² Seven years in, I don't think we've made it as far as midterms in the first semester of freshman year; by the time they graduate, these characters will have changed even more than Willis himself.
³ And heck if there are many webcomickers that have been as consistent as Willis for two damn decades, which include such life upheavals as throwing off a fundamentalist upbringing, a marriage, and the birth of twin sons.