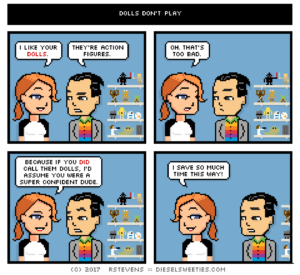 The news is out, albeit after an unavoidable week's delay: Kelly & Zach, the principals of Weinersmith & Weinersmith Enterprises, have announced their biggest project to date¹: a book on the technologies most likely to change the world in a relatively immediate timeframe (call it the next handful of decades) and how likely each one is to come to pass as their adherents claim.
It's called Soonish, it's got wonderful introductions to ten areas of technological exploration², and the occasional cartoon. Explainer here, pre-orders here, and despite the fact that Soonish has a major publisher behind it (Penguin), Weinersmith (Z) can't get away from the indie creator let's Kickstart this to the moon! habit, and thus the number of pre-orders (release date is in October) will determine rewards that will be widely distributed.
Oh, yeah, and Weinersmith (Z) has also produced — in addition to today's announcement cartoon, with requisite Phil Plait mockery³ — two regular SMBC comics today. I say regular advisedly, as it's not a word I'd normally apply to W(Z). The first of them is a fairly standard SMBC, but the second features the single most horrifying thing ever drawn in a comic by a Certified Genius Master Hypnotist. Steel your hearts and be not afraid. Or actually, just don't eat anything before you read that second one. Trust me.
For non-Weinersmith related news:
I'm not sure if it's pop-culture saturation or just Rich Stevens being really good at expressing the intrinsic character of things in the minimum number of pixels, but you can totally tell exactly what each of those action figures behind Electron Mike are in today's Diesel Sweeties. It's a marvel of refined deisgn.
The Creators For Creators grant was announced about eleven months ago, took its first applications about ten months ago, closed them about four months ago, and announced its first recipient over the weekend and EmCity. M Dean, illustrator and cartoonist, is figuring out what to do with an extra US$30K to support her creative efforts while working on her next project, titled I Am Young. There's a brief interview with Dean at the C4C homepage (undoubtedly, it'll move to a subpage in future), which is well worth a read.

Also worth mentioning: that the C4C grant was founded with the financial backing of a bunch of Image folks and C Spike Trotman, who continues to rip shit up in webcomics publishing. It's been a bit less than two days since Dean's recognition, so give 'em a bit of time to regroup and then we'll see what this year's application cycle looks like; I'd imagine it looks a lot like last year's six month application period, but we'll all find out authoritatively in the near future.

It is a well established phenomenon that we at Fleen — that is to say, me at Fleen, aka Gary — loves me some Digger (yes, I know there's serious singular-plural disagreement in there; deal with it.gif). A large part of that comes from the fact that Digger creator Ursula Vernon is probably the best writer of (vague handwavy gestures because I know this is an almost wholly useless term) fantasy this side of Neil Gaiman, the best writer of (more gestures) YA this side of Raina Telgemeier, and the best combiner of the two this side of Jeff Smith. Specifically, she does smart, empathetic, actual-person girls better than anybody this side of Hayao Miyazaki.

Thus, when her serialized novel Summer In Orcus debuted online last equinox, I recommended it sight unseen. Well, not quite, she'd done the equivalent of the first chapter on LiveJournal a few years prior, so I knew it started with Baba Yaga's chicken house trotting down the back alley of suburbia, and how can you dispute a start like that? It was going to be damn good, there existed no other mathematical possibility.

It exceeded my expectations significantly, and caused me no small outbursts of emotions at regular intervals over the next three months. Frustrations at the days-long waits between chapters. Utter and true heartbreak at loses suffered (and I use that word precisely; Vernon made her heroine hurt, because sometimes that's what life teaches you: that you can do your best with the best of intentions and people still get hurt and you can't shake the feeling it's your fault even when it isn't but maybe it is a little), blind hatred of the second-tier villain, soaring exultation at particularly smart or heartwarming or weird circumstances in the story.

This is not a fairy tale that instructs moral lessons, it's one that offers warnings about what the world is like. It's certainly not one that gets you to Happily Ever After without an equal measure of regrets. Also, there's the bit with the cheeses, which is pretty damn hilarious.

The complete Summer In Orcus has been available in various e-formats since the story wrapped eight-ten weeks back, and Vernon acknowledged the wants of those of us that craved a book book version, one that works by flashlight under the covers, and said she'd try to figure something out. The figuring is apparently past, as her Digger publisher, Sofawolf Press, had an announcement over the weekend:

We are still working out final details, but we can reveal that there will be both a softcover and a hardcover edition, and the cover and interior illustrations will be done by Lauren Henderson (aka: "Louvelex"). We'll be doing a very simple Kickstarter to help us gauge demand, but we'll also have a couple stretch goals that will allow us to spiffy up the final book.

Final details to come over the next month or so. For me, that'll be a hardcover for my library, and I figure I'll get a stack of paperbacks — I've got nieces and nephews that need this book, and for half a year I've been pointing people at Summer In Orcus as the entry point to Vernon's work; now I won't have to try to remember the URL, I can just put a copy in their hands.

We'll be sure to let you know about the Kickstart when it comes, but do yourself a favor and start clearing space on your shelves now. And if anybody reading this is at Laika and wants to figure out their next project, I would suggest that Summer + stop motion is a friggin' license to print money.
---
Spam of the day:
Up yours!
Somebody's seen Sweet Charity too many times. Yeesh.
_______________
¹ Again, if we discount the production of two miniature alive humans.
² Reminder-slash-disclaimer: I've read a late pre-final version, and it's impressive how many absolutely brilliant, Nobel laureate-level people were willing to go on the record in a book that also features dick jokes.
³ Scroll to the bottom, and don't forget to hover over the comic for a bonus gag.