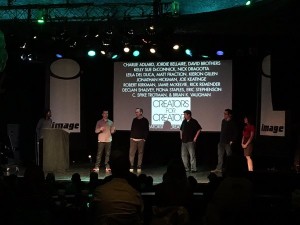 Because while I buy a couple of their books, it's not like I have a vested emotional interest in the publisher. But a whole bunch of webcomics types had things to say at their industry announce-fest yesterday, and that's hard to ignore.
---

Spam of the day:

4 Ways to Avoid Running Out of Money During Retirement

I'm going to guess — and this is only a guess — that the chief way that the investment advisor who sent this would recommend is to not spend all your money on frivolous things like food and shelter and healthcare. Die when you are no longer contributory to society, elder scum!

______________
¹ Bonus: one of the characters gets turned into a tiger, meaning Kerschl will be drawing animals in motion, at rest, and in conflict. It's not Charles Christopher, but it'll do.

² To be perfectly clear, the name list also included the invaluable David Brothers; he's written extensively on comics and works for Image as a branding manager, but isn't a creator himself. I'd guess that he did a significant amount of the logistics and coordination work around setting up CFC.

³ I am already anticipating the whiny ragetears of newbies who are offended that the CFC jury couldn't perceive the obvious genius of their new concept, The Adventures of EscherGirl in Slutland.