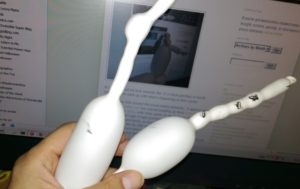 Pretty much, yeah. Late yesterday I heard an odd flappity sound, and then Bob The Unsettling flopped down on my desk from the shelf where he resided. It's … well, nothing lasts forever?
The one thing that actually improved as time went on is that the eyes and mouth that were Sharpied on became darker and more defined — pigments which had originally been inscribed over a certain area became more concentrated as everything shrunk. When he was freshly spawned, rubbing your thumb on the balloon's surface wouldn't disturb any of the black; reduced to little more than a worm of slightly varying circumference¹, there's Sharpie all over my hands even though the eyes and mouth are still there.
Not to mention the fact that my actual dog keeps giving him the side-eye, like she's about to pounce. Not wishing to deal with a long balloon clogging her guts, I've deciding it's time Bob met the great hereafter, also known as the kitchen garbage can. I'm pretty sure it's what his mutant heart would have wanted.
How about we forget this unpleasantness and take a look at something that I guaran-damn-tee will make you happy?
Get an exclusive first look at Random House Graphic's debut line-up https://aux.avclub.com/get-an-exclusi … via @TheAVClub
That would be the same Random House Graphic headed up by the irreplaceable Gina Gagliano, who's been working harder than any random three people for the past year and a half to get to this point. We've known since SDCC what the first half dozen or so books would be, but this is the first time we'll get to see them, and there's nobody in comics better suited to give us the lowdown than Oliver Sava at The AV Club; even if he's telling me about something I've already read and written about (say, Tillie Walden's superb Are You Listening?), Sava always finds a way to make me see it with new eyes (say, in his review of Are You Listening?, also out today).
So this is what we know:
Laura Knetzger's Bug Boys is aimed at the youngest readers, a beginner's chapter book about two bug besties learning about themselves and the world around them.

Aster And The Accidental Magic, written by Thom Pico with art by Karensac, and Johan Troïanowski's The Runaway Princess are Random House Graphic's forays into middle grade fiction, both spotlighting young women with adventurous spirits.

Jessi Zabarsky's Witchlight explores the growing relationship between a witch and her new friend, which changes as secrets from the past come to light.
Smart work by Gagliano and her colleagues, snagging two already-published books from France, and two self-published, ready-to-republish books from the US, allowing them to ramp up with one book per month in January – April 2020 (Runaway Princess, Bug Boys, Aster, and Witchlight, respectively). It would have taken, minimum, four-five months more to have a completely new book ready to go, assuming she managed to sign a contract for a well-developed pitch from an absolute comics-cranking machine on the day she got the job.
Which, pretty much, is what she did. Lucy Knisley's Stepping Stones is scheduled for May, which is near land speed record turnaround, considering she finished the pencils at the start of August and a full year is the usual turnaround once the book's done. RHG is set to continue their 2020 slate of releases with books from Andi Watson, Sophie Escabasse, Reimena Yee, Kaeti Vandorn, Mika Song, Trung Le Nguyen, and Jose Pimienta.
Did you notice? The lineup isn't exactly crawling with white dudes and good. The future of comics is people who aren't constrained by its past. McCloud's prediction re: comics, majority women, 2024 is not coming closer to us at a rate of one second per second, but by leaps and bounds and is probably already here. It's not happening because Gagliano and her colleagues are making it happen, it's happening regardless and Gagliano and her colleagues are smart enough to recognize it.
---
Spam of the day:
Washing method: warm water, gentle hand, natural dry, reusable, long-term use will not be flat deformation.
Almost everything I own that doesn't run on electricity could be cleaned this way, but I can't say that it's true for all of them that long-term use will not be flat deformation.
_______________
¹ And as I watch, it's equalizing.