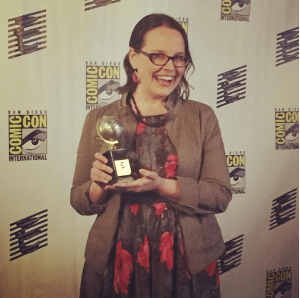 Welp, the Eisners were given out over the weekend, and it appears that that webcomic-adjacent had a very good year. I'm a little miffed that Nimona didn't win for Best Digital/Web Comic, but what are you going to do? Brian K Vaughn (and Marcos Martin, who won for The Private Eye) is pure, distilled name recognition in comics circles. But that's pretty much the only place I that I was disappointed (aside from my continuing bemiffment that Kazu Kibuishi didn't get nominated at all), as there were some very encouraging results.
Let's start with Nimona's Noelle Stevenson, who as part of the Lumberjanes team (along with Shannon Watters, Grace Ellis, and Brooke Allen) took both Best Publication for Teens (ages 13-17) and Best New Publication. The former would have been great on its own, but to be recognized as the standout book of the year? That's a hell of an accomplishment for the hardcore lady types. Likewise, consider that the Best Short Story of the year came from Emily Carroll, whose When the Darkness Presses ran online and defeated the collected efforts of the entire print industry.
You think perhaps there's a theme developing here, where the most outstanding work of the year is overwhelmingly created by women? Because when it comes to original characters, stories, concepts, and such, that appears to be the case. For instance, Mariko & Jillian Tamaki wrapped up a nonstop year of praise for This One Summer (including being named as both a Caldecott and Michael L. Printz Honor Book) with Best Graphic Album—New, and Cece Bell wrapped up a nonstop nine months of praise for El Deafo (including being named a Newbery Honor Book) with Best Publication for Kids (ages 8-12). These are all stories by women, about girls; these are all stories that are different from much of the history of American comics.
Okay, fine, we'll throw in a token dude: Gene Luen Yang was recognized as Best Writer for Avatar: The Last Airbender and The Shadow Hero; he was competing against the likes of the previously-mentioned Mr K Vaughn, Grant Morrison, Kelly Sue DeConnick, Jason Aaron, and G Willow Wilson (who I thought was going to win). And next year will likely have some representations from the likes of Scott McCloud for The Sculptor and Ryan North/Erica Henderson for Squirrel Girl; get a few more cases like that and we'll have enough dudes to have a panel on What It's Like To Be A Male Creator.
But we all know who the night belonged to, and if there is one Eisner that entirely typifies the art of words + pictures, that says you are the whole creative package when it comes to comics, it's Best Writer/Artist. Charles Burns, Sergio Aragonés, Steven Collins, Richard McGuire, and Stan Sakai were up for the award — there's got to be close to 150 years experience in those five dudes.
They lost.
To Raina Telgemeier.
Who told an autobiographical story about growing up with her younger sister.
It's no exaggeration to say — it's never been an exaggeration each time I've said it in the past — that Telgemeier is the future of comics. She writes and draws stories that resonate with her readers in a way that any artist would give up their eyeteeth to replicate; she hooks them and brings them into a medium turning them into not just lovers of comics, but lovers of reading. And she's just getting started — she's got dozens of books yet to share with us. She's still got four books on the NYTBSL (although she's temporarily ceded the #3 slot to Fun Home, meaning she only has four of the top five books, which list is rounded out by El Deafo and Nimona, by the way), for a total of 317 weeks.
Oh, and she just announced her next book, due Fall 2016. And there will be a couple more Baby Sitters Club books released between then and now. And Smile, Drama, and Sisters aren't likely to fall off the list anytime soon. You thought I was kidding when I said that the Times might need to qualify the softcover graphic novel list as best sellers not by Raina Telgemeier? McCloud's famously said that he sees the industry as majority-women (creators and audience) by 2024, and I think that the clock moved up a couple years on Friday night; comics now belongs to Raina and her fabulous friends, and it's great.