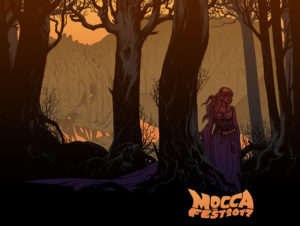 In case you'd forgotten, we're just about a week out from MoCCA Fest 2017, and there's more exhibitor information up than previously. I gave a skim down the list and in addition to familiar names, I saw creators that I'm not familiar with, but whose little avatar-sized teaser images makes me want to see more. Let's run 'em down.
On the returning front, you've got Ken Wong's Origami Comics (table F217), Bill Roundy's Bar Scrawl (a personal favorite, next door at F218), Evan Dahm's illustrated stories and adaptations (D143 A, no indication of who's in B), Dean Haspiel's long career (A103 B), Josh Neufeld's nonfiction (next door at A104), Julia Gfrörer's unsettlements (F206), Lucy Bellwood's nautical wonders (on the exhibitor page, but table not listed), Carey Pietsch's ever-expanding oeuvre (D145), and Meredith Gran's soon-concluding magnum opus (J278 B, along with Mike Holmes). Many of them have relationships with the quality publishers that will be showing including Top Shelf (A101 & 2; Jess Fink will be there Saturday afternoon), :01 Books (E157 & 8), and Fantagraphics (C135-8).
On the not familiar to me yet list (and that's not a bad place to be — I've discovered a new favorite creator at MoCCA) are the likes of Alisa Harris (table assignment not listed), Amanda Tolentino (F221 & 2), Leland Goodman (E175), Reneé Park (D150), Emily and The Yea Girls¹ (collectively, Yan Gabriella, Erica De Chavez and Angeli Rafer, with special guest Emily Dahl, F210), and Sean Dillon (H249). Given that I was just deciding to click on a name or not based on single images, I can't really tell you much about the work of any of these creators, but I find it interesting that all but one are women. McCloud's prediction that the comics industry would be majority female by 2024 continues to be exceedingly conservative.
MoCCA Fest runs Saturday and Sunday, 1-2 April, from 11:00am to 6:00pm at the Metropolitan West event space, West 46th between 11th & 12th. Admission is five dollars, a bargain at twice the price.
---
Spam of the day:
Get your FREE Hiring Risk Score
I'm not hiring anybody, thanks. And if I were, it would be the extremely competent-seeming women in your ad, and not the techbros that they appear to be interviewing. Those dudes need to go away and learn some body language that doesn't indicate complete and utter contempt for women.
_______________
¹ More artists collectives should have names that sound like touring musicians. If they don't do at least two encores after the main set, I'll be disappointed.
² That would be Sean Dillon; before you ask, Leland is normally a male name, but Goodman uses she in her bio and that settles it.