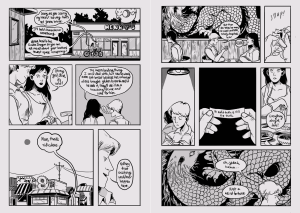 Good news for indy and webcomics creators, as TopatoCon 2016 will be free to attend and the NCS Division Awards released their nominations. Two of the three nominations for Comic Books are Giant Days (Max Sarin, although the image that they're using is a Lissa Tremain cover) and Squirrel Girl (Erica Henderson), and the two online categories are full of excellent choices. Namely, Drive (Los Angeles resident Dave Kellett), The Creepy Casefiles of Margo Maloo (Drew Weing), and Octopus Pie (Meredith Gran, her second nod) for Long Form, and Bouletcorp (Boulet), Kevin and Kell (Bill Holbrook), and Sheldon (LArDK, again) for Short Form. Gonna be some tough choices to make as the NCS membership looks over their ballots.
The rest of this post is about one person I met at MoCCA Fest, and how you'll want to keep your eye on her work.
At the start, it was the earrings¹. Large, white, vaguely dangerous-looking at first glance. Definitely lethal at second glance, and nervous-making despite the endlessly cheerful demeanor of the wearer. I asked what they were, and she told me — perhaps a little too cheerfully — Bobcat jaws! Like, actual fang-sporting jaws of actual bobcats, the better to destroy her enemies if she has any, which I seriously doubt.
Since I was there I glanced over her table, and as I mentioned before, I stopped when I looked at an open minicomic, the pages of which I immediately recognized. It was If Only Once, If Only For A Little While, open to the second and third pages. I remembered it because at the time I thought the character designs were reminiscent of Adachi Mitsuru's Cross Game or (dating myself here) Matsumoto Izumi's Kimagure Orange Road (which, coincidentally, is now finally being translated into English).
I always found their faces to be expressive with an absolute minimum of detail, and the same strengths showed here; it's like the artist found that diagram in Understanding Comics that shows the continuum of faces, from photorealistic to circle/dots/line and picked out a spot just over the line into the cartoony end and said Here. These are the faces that suit this story.
There's also the staging of those two pages (seriously, go look at them), particularly with the coiled dragon mural and that one, mostly black panel on page three. They draw your eye in and make you visually circle around that central bit of text: An awful truth is still the truth.
Combined with the bit dialogue at the end of page two (Nothing that exciting would ever happen here), the reader is entirely engaged in the story and primed for — perhaps dreading — the revelations to come. And that's before you notice the POV shifts and camera angles and distances in the individual panels, each serving exactly the purpose needed in establishing mood and story. Did I mention the skill at which she draws the drape and folds of clothing? Because she gets how cloth works on human bodies. I've seen this before, but I know I haven't given you money for it I said; We need to fix that.
And that was when I met Rosemary Valero-O'Connell.
Details came up quickly — she's a student at MCAD, getting ready to graduate in the coming weeks; she's been doing comics for about three years, and oh yeah — she's also working on her comic book debut, which just so happens to be the much-anticipated Lumberjanes/Gotham Academy crossover. I asked how on earth she'd scored that gig as her first comic book work and with all the sincerity in the world she said I got really lucky.
And that was when I decided I needed to know Rosemary Valero-O'Connell much better.
As I mentioned, I saw a lot of student work at MoCCA, and talked to a fair number of students; some were reticent, some outgoing, all were starry-eyed and optimistic about their forthcoming fabulous careers in comics, except one. Valero-O'Connell was cautious and hopeful and well aware that the comics business is not a meritocracy or even particularly fair. She knows that the deadlines and page rates may border on science fiction², she knows that the business end is capricious and even cruel. She's ridiculously grounded and ready to do a huge amount of grinding work to establish herself.
And that was when I resolved to follow Rosemary Valero-O'Connell very closely.
It shouldn't be too hard; in addition to LJ/GA³, I noticed that she did the cover to the new Steven Universe original graphic novel that releases today (co-written by show producer Ian Jones-Quartey, no less). She mentioned that she has projects in the pipeline that she can't talk about just yet. She is, I hope, working on stories of her own, because I want to read them and see them where they belong — on the shelves of stores, gathering the sorts of notice and acclaim that Raina Telgemeier and Hope Larson and Noelle Stevenson are getting.
And that is why you want to pay attention to Rosemary Valero-O'Connell; she's seriously skilled today, and she's only going to get better.
---
Spam of the day:
The Gene Simmons Company
Nope. Nope, nope, nope, nope. Gene Simmons achieved permanent Garbage Person status on 4 February 2002.
______________
¹ I should note that the earrings had competition for coolest jewelry of the show; not long after entering the hall I noticed a black, metallic, sculptural necklace on a woman and complimented her on it. The more I looked at it (with her permission, don't want to be creepy) the more it looked familiar. That looks like a benzene ring I said, indicating the central element, but I don't know what the things hanging off it are. It's dopamine she told me, so at least I can still identify benzene. Pretty sure this was it if you want one of your own.
² At one point I begged her to spend some time this week reading everything Katie Lane has written on work made for hire, and to please never undervalue her skills. She knows, and thankfully she's got an agent looking out for her. And hell if she didn't luck into the Impossible Thing with this LJ/GA gig — an underpaid (it's mostly Boom! wrangling the story, so it's definitely underpaid) WMFH gig where the exposure (reminder, kids: people die of exposure) is actually significantly valuable. This story is going to put her on a lot of people's radar.
³ To be honest, I'd planned on dropping both Lumberjanes and Gotham Academy because I found the original creative teams to be more to my tastes than the current creative teams; I'll be holding out at least through the six issues now.