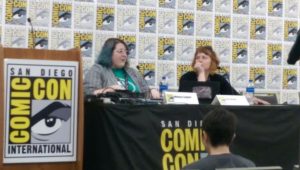 [Editor's note: We begin here our annual recap of various panels at SDCC. I will not be attempting to describe the conversation as it happened, or at least attempting less than in previous years. Rather than typing rapidly on a laptop and trying to capture as close a paraphrase as possible, my work process this year relied on paper note-taking (not to mention a JetPens-fueled fountain pen habit) and so there are relatively few complete quotes in my notes. Where they appear in the text, they will be in italics.]
We are half a year out from Random House Graphic releasing their first books, and the buzz is only growing. Although Gina Gagliano was unable to attend what was essentially her spotlight panel, her senior editor, Whitney Leopard (late of BOOM!) did an admirable job talking to NPR's Petra Mayer (who also brought us that Dylan Meconis interview on Weekend Edition Sunday) about what RHG wants to accomplish and how they're going to get there.
Which made this conversation different from any other with a publisher I can recall; RHG is building something from the ground up, and thanks to the tremendous success of imprints like Scholastic Graphix and :01 Books, there's a bit of established ground that the money folks upstairs can see, a bit of trust earned in the market segment that leads to some room to make decisions. Random House was apparently just looking for the right person to trust, as Leopard recounts it — Gagliano was asked If you could start your own imprint, what would it look like? and had an answer, followed by a job.
But even when you have that trust — and Leopard firmly believes that they do — and have the resources to make the thing you've wanted to make — again, Random House is huge, RHG is only four people¹, but they don't feel they're lost in the shuffle — there's still a zillion details you didn't know you'd need to chime in on. Leopard described coming from a purely editorial role and wondering why she was being asked for input on things like the logo, but ultimately came to the conclusion that it was good to be involved. If you want to make sure that the imprint is going to reflect your vision and values, even the smallest details become crucial.
Which maybe will be reflected, more than anything, in the tagline. RHG will cover every genre², and they need something pithy that will reflect that breadth without being something they'll be stuck with forever if it turns out bad. And since that vision is to collaborate with creators, to help each one make the best, the most them book that can be, I'm not sure they could have done better than what they chose:
A graphic novel on every bookshelf.
It doesn't matter where that bookshelf is, or who it belongs to. They will produce something (most likely numerous somethings) that will fit right in there. What Leopard wants, more than anything else, is for somebody to think This is the book I was waiting for.
The waiting won't be much longer; the first four books already existed (two self-published, two are English presentations of French material) and so could be turned around for release in the January-April 2020 timeframe. Lucy Knisley's Stepping Stones drops in May, and then it's a full slate for each season.
For those of you that think you might want to work with RHG, their website is live and they are accepting open submissions … but Leopard warns they're getting more than 50 a month, so maybe don't expect the Standard Rich And Famous Contract by the end of the week. Also keep in mind that for now, Young Adult is the highest age bracket that they're going to be working in. Maybe 19 or 20, but not going to New Adult, as Leopard put it.
A lot of publishers are equating graphic novel with Middle Grade, but kids don't stay Middle Grade forever; they get older every year. Leopard's looking for the older version of Dogman, noting YA doesn't all have to doom and gloom, and then they all died. There's a desperate need in YA graphic novels — and prose! — for a broader range. She and Gagliano have a vision for the best, broadest range of graphic novels possible. In six months, we get to read them.
---
Spam of the day:
Experts SHOCKED: Your Old Pillow Might Be Hurting Your Health…
I'm back from the rigors of SDCC and this is the best you can do? Panicmongering about my pillow? I put my old pillow under my skull and I slept like a dead man.
_______________
¹ For the moment, at least. They are Gagliano, Leopard, a designer, and their marketing person is wrapping up at DC and starting next month. I am reminded of how much ground :01 broke with four people (Mark Siegel, Callista Brill, Gagliano, and Colleen AF Venable) and how much they accomplished before staffing up. The right four people can move the world.
² Including some nonfiction that sounds unique and fascinating. Leopard mentioned a history of dessert, and a book on modern infrastructure — from the design of cities to the design of the internet — that I really want to get my hands on. The trick in nonfiction graphic novels is finding a way to make them more than just an illustrated textbook.