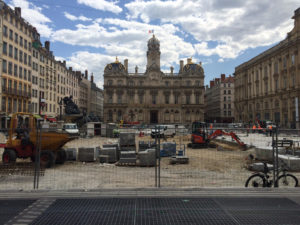 Editor's note: It's all Fleen Senior French Correspondent Pierre Lebeapuin today, chiming in from the Lyon BD festival. Well, except for the Spam of the day, that's me.
_______________
Guess what happens at the beginning of June? That's right, Lyon BD Festival, and just like in 2017 and 2018 your correspondent was there to cover it.
One characteristic aspect of Lyon BD is that it lacks a congress-center-like space as a central hub: Quai des Bulles in Saint Malo has the Palais du Grand Large, Colomiers has the Hall Comminges, and that is without mentioning the convention centers housing the various anime cons. As a result, when the Place des Terreaux had to go into renovations this year, meaning they couldn't erect tents to host booths like the previous years, Lyon BD had to split itself between the Town Hall where it usually resides and the Palais de la Bourse) a few blocks away.
But regardless, Lyon BD always sets up or encourages more exhibitions that they have space in the main locations for, spilling them in many public places. The lobby of a small theater/comedy scene? Yup. The town halls for three boroughs? You bet'cha. A local bookshop? Of course. A hospital lobby? Been there, done that. An underground parking space? That, too. Contrary to Angoulême it does not feel quite like comics taking over the town, because Lyon is just too big, but they're getting close.
So while sub-par planning on my part prevented me from attending professional day on Friday or entering the main locations, I nevertheless had a full day going to and fro between the different exhibitions¹. My favorite piece was in the Héro-ïne-s exhibition, one of the new pieces recently introduced from international creators, called Umah-Mah, by Thomas von Kummant (the names at the top may be familiar: Umpah-Pah was an early work of theirs, from just before they started Astérix). What if Sacagawea was a badass warrior, not merely saving hapless European explorers ready to walk into every trap, but able of single-handedly hunting buffalo armed with but a tomahawk, and striking fear in the hearts of her enemies, becoming single-handedly responsible for the success of the expedition? That's Umah-Mah in a nutshell, since that is pretty much the plot of Umpah-Pah that von Kummant references².
The day was capped by an opening party, the first of its kind, with a dozen artists including Boulet and Luke McGarry drawing live on a small scene over music they chose (one or two at a time!), with in the middle a zombie-themed drawn concert on the main scene, featuring Charlie Adlard (The Walking Dead) and
Julien Limonne.
P.S. I should mention Boulet and Cy directly switched to covering the Annecy animation festival as in past years. Since the two festivals arrange themselves to be set up on successive weeks, couldn't they coordinate to give poor creators a day of rest?
---
Spam of the day:
If you'd not prefer not to recive future emails Unsubcribe here
480 Walnut Drive Penn, ND 58362
Hey, I don't want to alarm you, but apparently Penn, North Dakota is literally about six small blocks, a car repair shop, and a bar, situated on maybe eight streets total, none of which is called Walnut Drive. Weird! You're referring me to a place that doesn't exist, no doubt by accident.
_______________
¹ Note to the lowlife who stole my bike: I hope it gets stolen back from you at the most inconvenient time possible. And that you get caught, of course.
² Umpah-Pah actually takes place in the somewhat extrapolated context of a French expeditionary force reaching New World shores in the 18th century (e.g. they end up encountering a Prussian expeditionary force; Goscinny's penchant for playing with history did not start with Astérix), but the parallels are otherwise striking.