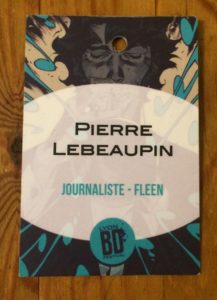 We at Fleen continue to bring you all the news from the world of French [web]comics, courtesy of Fleen Senior French Correspondent Pierre Lebeaupin. Take it away, FSFCPL!
Lyon BD, like most French comics festivals, is run as a non-profit. That does not mean admittance was free (5€ a day, or 8€ for both days), but that means among others aspects it relies a lot on volunteer labor. [Editor's note: That admission rate would be in the range of US$5.50 to US$9.00 for a city-wide festival]
But just because it is a non-profit does not mean you are dealing with unprofessional people. Case in point: when I came Friday morning to get my badge as an accredited member of the press (which also allowed me free entry), they couldn't find my name among the envelopes containing the individual badges. That was going to be a problem: without a badge, I would not have been able to enter no matter how much I paid, since the first day was reserved to professionals (and accredited hack webcomic pseudojournalists).
But Mélodie Labbé, who was the Lyon BD point of contact leading up to the festival proper (for RSVPing to events, notably) was present and doing badge delivery herself too, my name did ring a bell to her, and so she took a blank badge and wrote in my name so that I could enter and access everything I could as accredited press; I did not even have to show the email accepting me as accredited press (I was able to come back on Saturday, and this time my "real" badge was found. I won't lie: getting to wear [this](attached image) rocked).
More generally, Lyon BD did treat attendants and exhibitors well: there was free water from water dispensers (as previously mentioned), tables for lunch inside the city hall, allowing food brought in, and nearby seating allowing for a pause to read your haul, signage in the streets to find your way when going to offsite events (exhibitions, lectures, etc.), and lastly but most useful for me this Sunday¹, the last day: a free cloakroom, since my train was departing straight after the festival (admittedly, that last service was not open to the public: only exhibitors, journalists, etc.).
Lyon BD is also remarkable for its initiatives besides running the show proper. For instance, I previously mentioned they originally commissionned the Boulet/Inglenook drawn concert collaboration, but even though this was the 12th edition I first heard of Lyon BD only three years ago from their Hero-ïne-s exhibition, where they asked comic creators (including Boulet, through which I heard of it) to reimagine comics with female leads, because even in this day and age in French comics, female leads are still rare.
The works themselves have been posted on the web (some of which I'd very much pay to see made!), and you can buy it as a book which additionally contains interviews with the featured creators, small essays on sexism in and around comics, etc. The exhibition itself is touring (it was not at Lyon BD this year, though), but I do not know where it will be shown next.
Since there were fewer events of interest to me on Sunday (there were a few, but colliding with Scott McCloud's lecture, and there was no way I was going to miss that), I decided this was the opportunity to try and meet some of the creators showcased in this project, especially as a number of them are local to the area.
Highlights of the day:
Meeting with Paka at the Lapin booth, who mentioned to me that his collaboration with Cyprien, Roger et ses humain (previously mentioned here) was now available in English on digital platforms, among them Comixology; this can be a viable way to discover this work, at least as an artist.
Catching Hero-ïne-s contributors Efix, Marie Avril, Emy), Anjale (note that I was still dressed as Clark Kent), and Yan Le Pon (links to their own pieces) and chatting with them about their contributions and the general state of comic book heroines. Most of them were even generous enough to sketch in my copy of the book.
Watching Scott McCloud's lecture presenting his latest book project: the pitch, the need for it, case studies of examples and counter-examples, etc. Even with half the time taken by the translator, it still had so much information density that no summary could not possibly do the lecture justice. McCloud is going around the con circuit, so I implore you to go and catch a performance of his lecture, you won't regret it.

He went straight to a signing after the lecture (in fact, he was signing for most of the duration of the festival, and his line was always packed), so I was not able to have any aside time with him, but I did get a few answers: during the lecture, he had a few words about Powerpoint (probably the visual communication medium office dwellers create the most), and it will be covered in the book (one of my interrogations from the announcement).

At the end of the lecture, during the Q&A session, he confirmed in response to my question that, while there would be no dedicated chapter (the book not being organized along media type, but along other concepts), the teachings would not just be applicable to static media, and some of the examples would be from interactive media.

Lastly, I went in line for the signing, and once I reached him I asked one last question: what, if anything, he did find different in French cons as opposed to U.S. cons. His answer was that in his experience signings were mostly the same, but in panels in France he appreciated not having to spend nearly as much time justifying how comics could serve important endeavors: French people have little trouble believing that.

At the same signing, meeting Bou … oh, wait, is that the line for him?! One, two, three … ten … OK, there is no way I can reach him before the festival closes its doors. Too bad, maybe next time.
It was then time to leave, but if they keep up like this, I will most certainly be back next year. I would like to close by thanking Lyon BD festival for evaluating and accepting my press badge application, without which I would not have been able to cover the festival as much as I did; and of course, for putting out a great festival.
And that will wrap up Fleen's coverage of LyonBD 2017. With any luck, we'll have more reports from a variety of festivals from FSFCPL in the coming years.
---
Spam of the day:
Xarelto Lawsuit Information
Xarelto is an anticoagulant. If there's one things EMTs hate, it's anticoagulants, because they make our lives more interesting on calls. Nevertheless, I think it's a little disingenuous to sue the maker of an anticoagulant on the basis that it caused you to have difficulty stopping bleeding because that's what the damn thing is meant to do.
_______________
¹ Fun fact: Sunday was also polling day for the French general elections, and mainland France does not have mail-in voting or early ballots, and I hope it never has online voting: so I had to appoint a proxy to vote on my behalf, there is no other way to vote while away on polling day.