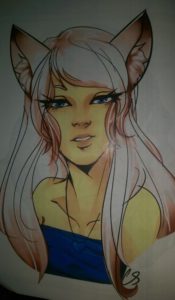 [Editor's note: The rumored history line at :01 Books, as recounted in a footnote yesterday, is rumor no longer. Check out Brigid Alverson with the exclusive on :01's History Comics, launching next year.]
In which we continue to talk about people working on Cool Stuff.
You know what? That's a pretty uplifting note (not that there were any downlifting notes) to wrap up on, so we'll continue tomorrow. Be well until then.
---
Spam of the day:
Hello! Behold is an interesting offer for you. I can help you with sending your commercial offers or messages through feedback forms. The same way as you received this message.
So you're offering to spam others the way you spammed my comment form, and you'll do it through the most evil, exploitative gig economy bastards ever, Fiverr? Yeah, screw that.
_______________
¹ Although drawing comics about funipomorphic personifications of depression means that she is weirded out about eating mushrooms in her ramen. Hey, more enoki for me.
² Evan Dahm mentioned that this year, it was apparently self-submitted so if a creator didn't (or didn't know to) add their details to the exhibitor page, they weren't listed. Now I know why the exhibitor page was so sparse!
³ Ever see Gustave Verbeek's comics with Little Lady Lovekins and Old Man Muffaroo? Like that, only also a six-way flexagon.