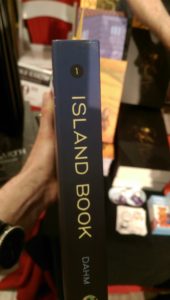 [Editor's note: This has only the slightest bit to do with MoCCA, but it's time-sensitive. Zach Weinersmith & Bryan Caplan's graphic novel on immigration releases in October, but it's available for pre-order starting today. As in the past, Weinersmith is angling to prevail on the Amazon algorithm and offering up rewards for those that do preorder.]
Today's theme on the happenings at MoCCA Festival 2019 is what people are working on, on account of I ran into a lot of people working on a lot of things. This isn't necessarily chronological, so don't look for a consistent passage of time.
You know what? At least four more people to talk about in this context, plus all the new creators I met for the first time, and we're over 1000 words. More tomorrow.
---
Spam of the day:
300Mbps Universal Wi-Fi Range Extender
You're trying to claim if I plug your thing in the wall, it will not only extend the range of my wifi, but magically increase its speed from 8Mbps to 300? Get outta here with that noise.
_______________
¹ 2019 saw the start of the Maker Comics line, early next year will see the civic engagement line, World Citizen Comics (of which Weinersmith & Caplan's book is less a member, more a precursor), and I heard rumors of a history line in the works.
² She gave me her current business card which notes, Yup, That's My Real Middle Name.
³ Despite some folk asking if it matters that they didn't read the first 7.