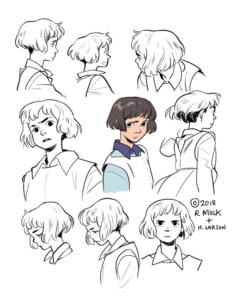 Readers may recall that I had some very good things to say about the Hope Larson (words) and Rebecca Mock (pictures) collaboration known as Four Points (book one: Compass South; book two: Knife's Edge). If by chance you don't recall, there's the reviews. Them's good readin'.
And it may take until 2020 or so, but it appears that Mock and Larson will be throwing us more graphic novel goodness:
I'm excited to share what I'm currently working on — a new (untitled) fantasy-historical graphic novel written by @hopelarson!! Here is the main character, Vonceil, and her older brother Elber. stay tuned for more sneak peaks ;)
Oh man, this looks delightful. I am getting a simultaneous Miyazaki and BONE vibe from these character designs, and I cannot wait to learn more about them, and everybody else that will inhabit the book.
When I spoke to Larson at SDCC 2016, she mentioned that she had work commitments blocked out for every year until 2020, with about one year's slack time in the middle; I'm not sure if this was part of the plan, or a new pitch that came together and Mock was both available and a valued creative partner, and it occurs to me that I don't care.
The first thing I did upon getting home from seeing A Wrinkle In Time a couple of weeks ago was to pull Larson's adaptation off the shelf and re-read her take on the story. She's one of my favorites for a reason, her various stories are distinct and yet clearly hers, and she knows how to write to her artist's strengths.
For her part, Mock started off strong and got better through the length of Four Points, and these designs look even more developed, the people depicted more lived-in than even the best of Knife's Edge. She's a Featured Guest this weekend at MoCCA Fest for a reason, and I urge you to join me in dropping by her table (G240) to talk about her work. If you can't make it to Manhattan, she'll be talking about process on the book in her Patreon.
---
Spam of the day:
Place to Meet Craigslist Personals
Seriously? You're sending this literally days after Craigslist shut down their entire personals section because the unforgivably evil FOSTA/SESTA legislation made it through Congress and got signed into law? I am deeply disappointed with all the members of my Congressional delegation, but must admit that it's very hard to be seen voting against what purports to be a measure to fight sex trafficking. You'd have better luck voting against the Free Money And Puppies For All Americans Act.