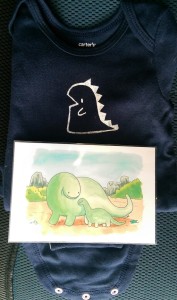 Yes, there are other things to mention, such as the news that TCAF announced another six guests (including Gene Luen Yang), and Christopher Hastings is getting another Marvel miniseries. Those are good bits of news, go revel in their newness.
There were students everywhere. I saw tables either officially representing schools, or filled with students who came from particular schools but not in an official capacity, including (but likely not limited to) Parsons, FIT, Pratt, SVA, Syracuse, CCS, Moore, and at least one high school club.

The students themselves ran the gamut from shy and retiring to immensely outgoing; from art student chic to lacking even one piercing or visible tattoo; their work fell into every conceivable genre and style, from I'm mostly inspired by what's on Crunchyroll this month but haven't quite figured out anatomy yet to a noir mystery starring snails³.

But there was one (from the far lands of Minneapolis) that stood out from her contemporaries; her work had an assurance, a confidence that I wouldn't have expected from one so young (and who had only been doing comics for about three years). One whose work I realized I had seen before and (foolishly) had not bookmarked at the time. One who has Big Things happening in the immediate future, and whose future work I am looking forward to as much as Noelle Stevenson's, one who I think is going to make as big a splash in the industry as Stevenson, Hicks, Telgemeier, or Larson.

But I'm over 1000 words as it is, so come back tomorrow and we'll talk about Rosemary Valero-O'Connell.
---
Spam of the day:
Diffuse threats with this recently released technology
You mean I should make them ever less and less concentrated, until they are spread over such a large volume as to be indetectable? Or given the rather rah-rah tactical machismo of your imagery, did you mean defuse? Either way, it's just a damn flashlight, bunky.
_______________
¹ Or possibly 4 Wizards, or For Wizards; it was noisy and I didn't ask her to spell it.
² Oh hush, you know it is.
³ The same creator's other works were all shiny and sparkly, which prompted me to suggest that to my knowledge, nobody has yet combined noir story structures with the Lisa Frank aesthetic and she should get right on that.