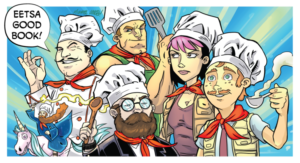 Know who we haven't heard from in a while? Eben Burgoon. Longtime readers may recall that through the first half of Fleen's history, we frequently noted happenings in Burgoon's spy spoof, Eben07, in an appropriately purple prose. Then Burgoon and his compatriots moved onto B-Squad and he even gave me beer themed to his webcomic.
Burgoon's been doing workshops and Maker Faires from Northern California (his normal stomping grounds) to as far away as Vilnius, Lithuania (no, really), the breadth of which made me wonder if he'd really gotten all that spycraft and secret mission tendency out of his system. Apparently not; Burgoon's partnering with Starburns Industries to bring B-Squad back:
Starburns Industries Press sets its eyes on remastering an independent series, B-Squad, from indie darling author Eben Burgoon and a rotating roster illustrators and artists that change issue to issue.

B-Squad shares the ridiculous and dangerous missions of an expendable team of misfit mercenaries ranging from pop-culture riffs to cut from whole cloth oddballs. The bargain-bin commandos tackle leftover assignments of other more respected mercenary groups. SBI Press's run begins with a remaster of the series debut Conspiracy in Cambodia, originally independently published in 2013, written by Burgoon and illustrated by Lauren Monardo.

In the spirit of a Saturday morning cartoon block, each B-Squad book serves as home for brand new tangential comics like [B-Squad illustrator Michael] Calero's Monster Safari" and Burgoon's newest creation about six-inch tall wizards trapped in the fast-food culture of a remote truck stop titled Tiny Wizards.

The remastered books are rounded out with activities, puzzles, and bonus content in homage to dentist office staples like Highlights magazine and ZooBooks.
No word as to whether or not the remastered B-Squad will feature Goofus and/or Gallant. You (where you is taken to mean folks in/around the Sacramento, California area) can ask him at the next workshop he'll be running, on three Tuesdays in February (12th, 19th, 26th), at the Crocker Art Museum.
---
Spam of the day:
Account Name : ANDREW FARRINGTON
Account Number : [redacted]
IMPORTANT – YOUR PAYMENT CARD IS NEARING ITS EXPIRY DATE
Weird, why would you send something for Andrew Farrington to me? Then again, this might not be spam, but the latest in a long line of Other Garies Tyrrell sending their emails my way. Usually that's easy to clear up, but I've had to resort to using the British tech press to shame Ryanair over their persistent screwups. Fun!