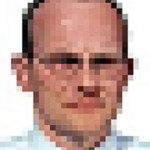 That would be trying to catch up everything at work the day after a snow day. Which is why I'm terribly behind on my reading (again), and will be dipping into the mailbag so as not to post nothing. If the Fimbulvetr continues, those of you with press releases will have a much better chance than usual to get them run.
Item! Friend to words-with-pictures everywhere and curator of the Cartoon Art Museum Andrew Farago (aka Prince Consort to the Radness Queen of the Greater Bay Area) would like very much for you to come to an event next month:


San Francisco, CA: The Cartoon Art Museum welcomes celebrated cartoonists Aaron Renier and Jason Shiga on Thursday, February 17, 2011 as Renier celebrates the release of his new book, The Unsinkable Walker Bean, published by First Second Books and Shiga presents his innovative graphic novel Meanwhile, published by Abrams ComicArts. Please join Renier and Shiga at 7:00pm for a discussion of their latest books, followed by a signing in the museum's bookstore. Copies of The Unsinkable Walker Bean and Meanwhile will be available for purchase onsite. Please call 415.227.8666, ext. 310 to reserve a copy. The suggested donation for this event is $5.

If you didn't read Meanwhile, go find a copy and leaf through it — it's a pick-your-path comic so complex that new computer software had to be constructed from base theory in order to track all of the story paths. And Walker Bean was one of the standout books that First Second sent me last year, one that I'd recommend to reader that's … let's say eight and up. Fabulous stuff.

Item! Back in the Spring, when snow seemed far away, we spoke a bit about Flash interface comics (also about David Malki !'s Big Paper conspiracy theory), and as such brought up Red Light Properties. Creator Dan Goldman has been hard at work, seeing as how he's about to crank out his 250th update in just over a year; given that he has to construct interactive features into each update, that's quite a accomplishment. If you haven't read the story of a Miami real estate office run by a hallcinogen-boosted shaman, his broker ex-wife, and the"previously-haunted" homes that they flip, maybe you should.
Item! Speaking of Mr Malki !, everybody should read this. Doesn't matter if you're working on a webcomic, or any kind of creative endeavour. Just read it.
Item! Spy talk, cryptic remark, offhand reference to Eben07 by Eben Burgoon. Clancyesque, overblown description of clandestine meeting. Fake intelligence report on the wrap-up of the second chapter of the on-going series Operation: 3-Ring Bound. Mission instructions that Burgoon is expected to lie low for a two month hiatus to build up a buffer of comics and to obtain all possible information on his work in the meantime, perhaps by listening to the Full Disclosure podcast.

Tip that known associate Lauren Monardo of Brainfood Comics (which succeeded with its Kickstart, woo!) is providing the variant cover to the new Eben07 book, now available for pre-order. Cut-off sentence evoking danger and disaster. Honestly, it all reads a bit like a semi-drunken pastiche of the far superior work of Department Head Rawlings¹.
_______________
¹ REPORT OF PROCEEDINGS, EYES ONLY
Have planted rumor that previous leaked intelligence reports regarding subject: Burgoon were only meant as attempts at humor. Believe that this version of events will take root and become dominant. Continue operations as normal and initiate protocol omega.