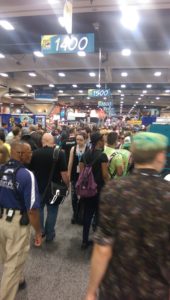 Sunday is always a weird day at San Diego Comic Con; the crowd is trying to decide on last minute purchases, the vendors can see the end coming but then have to do tear-down (and here's a little trade secret for you — the larger booths can't start until the carpet's taken up, and there's a lot of carpet) and throw everything on pallets. The good news is that by the time you're done, there's not much of a line at any of the restaurants. The best news is that the day earlier Eben Burgoon of Eben07 and B-Squad¹ gifted me a bottle of the honey blonde ale that was brewed to tie in with the publication of B-Squad volume 2 which was opened approximately 12 seconds after the show ended and sustained the crew of several booths through teardown. It was pretty tasty!
But before you get to teardown (and I swear, some year somebody's going to get caught in the giant layers of clingfilm used to hold everything together on the pallet; I swear it almost happened to me twice) there's still a mostly-full day of the show. I managed to see the YA panel, which was held in a large room but attracted a surprisingly — disappointingly, actually — small crowd, considering the talent on the riser (from left): Sierra Hahn moderating; Hope Larson; Raina Telgemeier; Cecil Castellucci, James Dashner, and Brenden Fletcher.
Bios: Hahn is senior editor at BOOM! (a somewhat recent transplant from Dark Horse, and not responsible for the crappy contracts they offer; creators that I speak to about BOOM! generally have good things to say about the editorial side); Larson and Telgemeier should need no introduction if you read this page; Castellucci wrote for DC's now-dead Minx line for YA girls, and more recently a Star Wars tie-in about Leia and Shade, The Changing Girl for Vertigo; Dashner doesn't write comics (yet), but is the author of the wildly popular Maze Runner series (now a motion picture franchise) as well as other YA book series; Fletcher is the cowriter of Gotham Academy and the revived Batgirl.
A quick word of praise for Hahn here as we begin; the panel could have easily turned into a slog where the moderator throws out a question and each panelist answers it; rinse; repeat. But midway through the first period of questioning, Castellucci asked a question of her fellow panelists and Hahn backed the heck off, letting the conversation take on its own life. After that, about three times she threw out new feeder questions and stood back to let them develop organically; it's a very difficult thing to moderate with a light hand, I could see that Hahn had prepared a lot of questions and she very smartly adapted to the situation. It was the best moderating job I saw all week.
That initial question was about what it is in YA that unique attracts readers, which became a discussion of influences. Larson's first experiences with comics were Tintin, Asterix, and other adventure stories, and Compass South is a love letter to the genre; Telgemeier has shifted away from autobio/realism with Ghosts, citing Miyazaki as her biggest influence. Castellucci noted the irony of telling the story of a YA character in Shade within the structure of mature-readers imprint, contrasting with her next project (a girl in 1932 riding the rails with hobos) and recalling the influence of reading My Cancer Year in high school. Grief is what she gets as something that's uniquely expressible in comics, saying I write prose, but sometimes there are no words to say what I want, and then I turn to comics.
Dashner's not written comics, but loves what pictures can add to storytelling, being particularly satisfied with some tie-ins to the movie version of Maze Runner. Fletcher said that he would be cribbing answers from others — Tintin, etc — but that Miyazaki (and in particular, Totoro) changed my life when I was falling down a hole of '90s dudebro comics. Totoro hit my reset button and I thought that was who I am, that's the storytelling I was to express when I grow up. He tied that ability to influence a younger reader into the idea that his run on Batgirl was mandated to be written for an audience of 21 – 28 year olds — sex, party times, woo — but at the first con after the first issue came out, a 10 year old girl dressed as Batgirl came up to get it signed and that was it: the creative team bucked their instructions and We aged it down. Gotham Academy was always in the space for my 10 year old niece, but we shifted Batgirl to be closer to that same space.
This was about the point that Castellucci shifted the conversation, asking what appealed to the others about YA. She found it compelling because the characters are raw and figuring out who they are, and that was what she always wanted to write. Larson noted it's what comes most natural to her, and doesn't understand why YA is looked down on; eople that look down on YA suck at writing it, she opined. Dashner jumped in to tell the story of a friend who was told by a Very Important Person In Publishing that her YA writing was really good, so she might now be good enough to write for adults.
Telgemeier held forth on the idea that YA as a category didn't really exist when she was growing up, that you went from Baby Sitters Club straight to VC Andrews (or possibly Stephen King); her introduction to the idea of YA was discovering Lynda Barry at the age of 12. There followed a general discussion of what counts as YA and why, despite the fact that good YA has always had a significant older readership (and 60%+ of the market is women over the age of 30), the term all ages isn't helpful. All ages is code for inoffensive, as Larson pointed out. But at the same time, comics publishers don't always know what to do with it. Fletcher related how Gotham Academy was ignored in the direct market because it had two teen girls on the cover so they figured it was for kids. Librarians asked him where to shelve it — in the children's section, or teen/YA?
Hahn fed that point by noting that libraries and bookstores will have to have a YA shelving concept so you don't put Vertigo books next to those appropriate for kids. Fletcher lamented that Barnes & Noble has Gotham Academy next to Batman (alphabetically, wedged in by Gotham Central, which, yeesh, serious disconnect), but Lumberjanes is in YA, so where will the Lumberjanes/Gotham Academy crossover go?
Castellucci wonders if people who want their comic books not just for kids, dammit! are willfully ignoring the YA section and how that might prevent people from picking up a book they might like. Larson wryly observed that those readers won't pick up a book with a non-powered teen girl on the cover anyway, so there's no harm in putting it in a YA section. Dashner wasn't sure — he said that his books, and others like the Harry Potter series, Twilight series, Divergent series, and plenty others wouldn't sell nearly as well without adult readers. It's also the case that several of those series were issued with serious, adult-style covers to provide the ability for grownups to read them in stealth mode.
There's always a point in a panel like this where the discussion turns to the value of comics in getting kids to read and it followed the usual path, but there was an observation from Catellucci I hadn't heard before. She works as a literacy volunteer in LA public schools and started a reading club. One girl brought in Larson's graphic adaptation of A Wrinkle In Time and spent all year on it. She loved that book, and later when Castellucci showed a page from Mercury her hand shot up and she asked Is that Hope Larson? It hadn't occurred to her the idea of having a favorite author who does different kinds of stories. She proselytized that book, shared it with all her friends, and then wanted to make comics herself. Kids that love comics make and share comics, which is the crux of Catellucci's point. There's an enthusiasm that even the most eager readers of prose don't have.
(This was followed by Fletcher telling how his 10 year old niece fell in love with Gotham Academy, which he basically wrote for her. She shares them, she begged to go to a comics creation camp that was aimed at older kids, and on a visit she gave him a copy her first comic. That destroyed me. She's doing fanart of my characters and I burst into tears.)
The other thing that usually comes up in YA discussions is deciding what's appropriate for inclusion, and again there were a pair of unique points I hadn't heard before. Castellucci pointed out you could aim a comic for a particular age (say, 10), and there are kids that age reading far above that level, and kids reading far below; reading ability really spreads out in age cohorts, but they may all be reading the same comic, so finding a way to keep language, sex, or violence "age appropriate" is almost impossible.
Telgemeier pointed out that comics are a challenge in that showing something has more impact than writing about it, even for the same audience; she's so far been unable to get any character having a period into her books (all of which star teenage girls), but thinks it might be possible soon. Fletcher pointed out the advantage to comics is you can treat danger in different ways; Batgirl might be beating people up, but the Gotham Academy kids are more likely to run until they're in a kind of environmental danger (collapsing floor, possibility of a fall, etc). In Batgirl there's an acknowledgment that things like drinking or sex exist, but since it's aged down now, you can cut away without showing. You're not ignoring it, it's not imposed, it's just what feels right.
A short while later, it was time for the Kickstarter panel, which at long last bows to reality and includes on the dias George friggin' Rohac, along with Hope Nicholson of Bedside Press and Kel McDonald of Sorcery 101, along with Jamie Turner from Kickstarter (from left: Turner, McDonald, George, Nicholson). Interestingly, Turner introduced the panel by noting how many projects they've each run: 5 for himself, 9 for McDonald, 6 for Nicholson, and an estimated 50 for George.
The first third or so of the panel was taken up by a sort of Kickstarter 101 which in an ideal world shouldn't have been necessary, but given the number of people in the audience who had indicated they planned on doing a Kickstart at some point, and who were frantically taking notes and photographing the projection screen, it was wanted by the majority of the viewers. Some numbers, then: comics represent about 4000 of Kickstarter's 108,000 successful projects, with a funding rate of about 55% (versus 40% for the site as a whole). This means that George himself has run approximately 1.25% of all comics projects in Kickstarter history, yikes.
The most valuable part of the panel was the first thing Turner said: although he titled the panel Kickstarter Secrets Revealed in order to get it approved, there are no secrets. It's all in the tutorial material that Kickstarter makes available: have an original project, communicate with your backers, have a good video, make sure you can explain what's compelling, bring an audience with you. Prep before the project, complete with cushion for unexpected situations (McDonald calls it The Screwup Fund and budgets in US$2000; Rohac calls it The Unexpected Situations Fund and allots 12.5% on top of however much he thinks the project will require). Keep close track of expenses, expect postal rates to go up by the time you have to deliver rewards, and as Nicholson emphasized, If you don't want to think about shipping [in the planning stage], don't offer physical rewards.
Other rules of thumb:
From McDonald: expect to get 1/3 of your total take in the first three days; if that's not going to get you to goal, re-evaluate what you're doing and know that you still have time to correct course.
From Rohac: Don't set the goal of the project to do your absolute Platonic ideal of a book; look at one that's simpler and cheaper, and if you hit funding make the idea version a stretch goal.
From Nicholson: Don't neglect to include both time and expense of shipping from the printer to you — people have been crippled in the past by unexpected multi-month, multiple-thousands-of-dollars delays and expenses.

From everybody: the glut of offers you get from companies that want to charge you to promote your Kickstarter will do absolutely nothing for you.
The audience didn't appear to fully take in the lessons, though. They wanted to know about things like changing SEC rules that allow crowdfunding to be used for investment (Turner: moot point because KS is ideologically opposed to the idea; Rohac: if you think keeping track of shipping is a headache, imagine trying to keep track of who is owed what share of equity in your business), what the benefit of paid promotions/advertising is (Rohac: you will convert so few it's not worth it; McDonald: you can promote to your audience, who are most likely to support you, for free; Nicholson: does sometimes do Facebook ad buys because Facebook is a donut-stealing mobster), exactly what format the video should be (all: whatever you want, just make one), how much prep to do before launch (all: as much as humanly possible, then some more), and the most effective promotions channels (all: Twitter, existing audience channels). You know, questions the answers to which are embedded in all the previous advice.
The questions weren't about How do I determine if my audience is large enough to support a project? or What percentage of them will actually give me money?; instead they revealed the still too-common attitude that Kickstarter is a game that can be approached algorithmically, and if you have the cheat codes you will get All The Money. The answer remains what it always has been: hone your craft, grow your audience, make stuff, then crowdfund. You never could do it in reverse, and you won't be able to in the future. The Magic Money Machine was always a myth.
---
Creators who gave me books or significantly discounted them at some point during the week because they all rock and are The Best:
Kate Beaton (King Baby), Raina Telgemeier (Ghosts), Jeff Smith (BONE Coda), Dave Kellett (Peanuts: A Tribute To Charles M Schulz).
Cosplay was a bit thinner on Sunday, but I did see a pretty impressive Rescue² but the most ambitious cosplay of the entire show was the woman who dressed as the entirety of Middle Earth.
_______________
¹ Tagline: Like Suicide Squad, but funnier.
² In recent Marvel continuity, Pepper Potts has her own Iron Man-style armor, and you can tell from the distinct design of the chest reactor it's not just a gender-swapped Tony Stark. I have no idea how I know this.