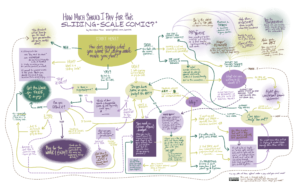 It's been a long day, let's get right to it.
Colleen AF Venable is more than one of the most influential people in comics publishing; she's one of the most influential people in publishing, period. She's in charge of the artistic direction of an entire imprint at Macmillan (and will even be able to share the name of that imprint in the next day or two), and between her trajectory upwards and Gina Gagliano's new gig, we are going to look back at :01 Books as an incubator of publishing's future movers and/or shakers.

But I digress. I mention Venable today because she's going to be delivering a webinar for all interested in the construction of graphic novels, sponsored by the Society of Children's Book Writers & Illustrators, specifically the France region. As of this writing, five slots remain for registration, with the session taking place on Saturday, 30 June at 5:00pm CET / 11:00am EDT. The registration will run you €35 if you're a member of SCBWI, €50 if not. If you suspect that Venable will be saying very smart things¹, there's also a 15 minute video feedback session available for another €30, although you'll have to settle for being on the waitlist.

Christina Tran is no stranger to comics — she's been nominated for the Cartoonist Studio Prize the last two years in the webcomics division, winning last year. She's a polymath, though, with a long list of stuff she's done at the front page of her site, which you should definitely check out if you're ever feeling too good about your own accomplishments.

Many of those things she's done have been freelance, or offered up on a pay-as-you-wish basis, which makes her well acquainted with how people actually decide to pay (or not). To help people who may be confused about how to navigate the question about what they should pay (or if they should²), she's released a flowchart to help you decide that is both well reasoned and beautiful to look at.

How Much Should I Pay For This Sliding Scale Comic? has been through a number of revisions since it first hit a couple weeks ago, but seems to be in a final-ish form, so I'm pointing you to it now. It's here, offered up under a Creative Commons Attribution Non-Commercial 4.0 International license, making it free to adapt and share, provided you give proper credit and don't charge for it. Print it out, laminate it, hang it somewhere in your sightline. It's cool, just remember to tell yourself that it's Tran's work.

The 2018 Joe Shuster Award Nominations / Les nominés pour le prix Joe Shuster 2018 have been released, recognizing the best in comics from and by the storied nation of Canada. The Shusters have always had a good curation in their nominations, and this year is no exception.

In addition to the nominees for Webcomics Creator / Créateur de Bandes Dessinées Web — that would be Boum for Boumeries, Gisele Lagace and David Lumsdon for Ménage à 3, Winston Rowntree for Subnormality, Ty Templeton for Bun Toons, Kelly Tindall for Strangebeard, Rob Walton for Ragmop, and Various for True Patriot Presents #2-6 — you've got webcomics types recognized for Writer / Scénariste (Jim Zub), Artist / Dessinateur (Stuart Immonen, Ramón Pérez), and Cartoonist / Auteur (Jillian Tamaki).

The Shuster Awards will be presented at Montreal Comic Con, which runs 6-8 July at the Palais des congrès, Montreal, QC. Fleen wishes the best of luck to all the nominees, there's not a bad choice in the bunch.
---
Spam of the day:
Is your girlfriend getting suspicious texts?
If she is, don't tell my wife.
_______________
¹ She will.
² Spoiler: almost certainly yes.