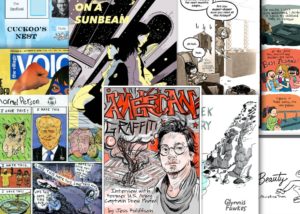 Hey, who wants to learn about the state of webcomics-related crowdfunding in Europe? Well, you'd better have said I do!, Sparky, 'cause it's what you're about to get … tomorrow, courtesy of Fleen Senior French Correspondent Pierre Lebeaupin. Start feeling the anticipation, because it's coming right at you. In the meantime, let's catch up with a couple of notable news items.
First up, and I'm a little late on this one, the annual Slate/Center For Cartoon Studies Cartoonist Studio Prize shortlists have been released. This is the fifth year for the CSPs, which have a breathtaking simplicity for comics awards: ten print comics and ten webcomics (equal billing!) are nominated by the faculty and students at CCS, Slate's technology & culture writer Jacob Brogan, and a guest judge (this year, it's Karen Green of Columbia University, where she's the curator for comics and cartoons Rare Books and Manuscripts Library¹).

Announcement gets made, a month later the two winners are announced, and the creator or creator team gets a check for US$1000. No muss, no fuss. This year's nominees include John Martz, Eleanor Davis, the March team, Sarah Glidden, Sonny Liew, and Leela Corma (print), and Tillie Walden, Jess Ruliffson, Christina Tran, Meghan Lands, Luke Healy, and Diana Nock (webcomics).

The print nominees are dominated by publisher by Retrofit/Big Planet Comics (three nominations), with the usual suspects (Koyama, D&Q, Top Shelf, Fantagraphics) also represented. The webcomics are dominated by single stories with beginnings, middles, and ends (including a biographical profile from The Nib, which is also my pick on the webcomics side, with Walden's On A Sunbeam as a close second), with few ongoings. None of this is good or bad, just how the nominating panel found things to be this year.

Best of luck to all the nominees; the winners will be announced on April 10th.

Speaking of the Center For Cartoon Studies, one of its alumni, Sophie Goldstein, has something to share with you. Goldstein's been on my radar ever since she was one half of the team behind Darwin Carmichael Is Going To Hell, and she's not wasted the time since. She's been nominated for the Cartoonist Studio Prize, won a pair of Ignatzen, and produced a stack of damn good comics as long as your arm. And yet, as successful as her career has been, it's been part time work; time for that to change:


With the help of Patreon, I hope to make writing and drawing graphic novels my full-time job. Like many creators I've had trouble stitching together a steady income from my work. Currently, I work part-time at a rock climbing facility and take on occasional freelance to make ends meet. However, long-form storytelling is what I love to do, and with the help of my patrons I can focus on the big projects closest to my heart and and get them out in the world as soon as humanly possible.

Note to self: organize a webcomics rock-climbing outing sometime. Goldstein, Jamie Noguchi, Matt Boyd, and Yuko 'n' Ananth are probably not all of the webcomicker climbers out there, and I'd trust any of them to catch me on a whipper. But I digress. Goldstein's base goals are very modest:

US$60 — the amount she was recently paid to participate in a medical experiment
US$200 — her monthly food budget
US$650 — her monthly rent and utilities

She's reached the point where she no longer has to be subject to the whims of mad doctors and can eat; it's time to make sure she has a place to live while making comics. Go check out her comics (so much is available for free on her site) and if you like what you see, give just a bit so that she can make more.
---
Spam of the day:
Re. For Whom It May Concern.
Oh, this is one just bad — two different names from the introduction to the signature, a third name as the point of contact, tortured English, a vague promise of a grant to me just for being awesome (with no amount specified) from Google and/or the UN and/or the EU and/or an Act of Parliament, but only if I'm American. Hello, hi spammers, you are very bad at your job kthxbye.
_______________
¹ Green is really smart; I saw her talk about how graphic novels have changed in the ten years since :01 Books hit the scene at last year's SDCC.