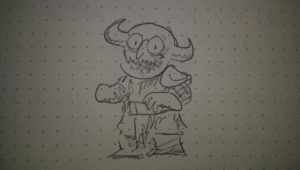 There was a very important panel yesterday; it wasn't in the largest room at SDCC, but it had a healthy turnout. It didn't announce any enormous, exciting, forthcoming product, but it looked back at an interesting subject with heartfelt reflection. It was also, chances are, the only panel in SDCC history to acknowledge the force of nature that is Gina Gagliano and all that she does (cue applause, which warmed me inside).
I am speaking, naturally, of the the :01 Books tenth anniversary retrospective, moderated by Graeme McMillan, with (from left) Karen Green, Ben Hatke, Mark Siegel, Eva Volin, and Mary Elizabeth Yturralde on the panel. Quick bios: McMillan writes on comics and pop culture; Green is a librarian with Columbia University and founder of their graphic novel collection; Hatke is the creator of Zita the Spacegirl, Little Robot, and other comic stories; Siegel is the founding editor of :01; Volin is a children's librarian with the Alameda Free Library; Yturralde is with Mysterious Galaxy bookstore in San Diego, and coordinates book-centered panels both at SDCC and NYCC. It was, as you say, a murderer's row of smartness.
The most enlightening part of the panel was Siegel's recap of how :01 came to be — he was a designer at another publishing house, trying to sneak one graphic novel a year through, wondering how there could be an arrangement like in France — where he grew up — where comics were treated as books, and there are literary imprints dedicated to producing and growing them. He found himself taking meetings with various publishing executives, who were willing to take some of his ideas (These kids like this manga thing, let's just do some of them! Or superheroes, let's do that!), but none willing to look at a creator-centric approach until he met with the president of MacMillan (no relation); two weeks later, he was the head of an imprint provisionally titled Mark Siegel Books (more on the name later).
He had (remember, this was 2005) a number of points that buttressed his pitch: manga was everywhere, some comics had gotten some critical acclaim, Scholastic was starting their move into original graphic novels, and most importantly, Flight had just launched. That last proved to be crucial, as it provided a source of creator talent that is mined to this day. He laid out a plan that he expected to take a decade, to get comics into the literature end of things, to get them treated as worthy of study and their creators as respected voices. He saw that path as leading to literary awards and wondered how long it would take.
Then he met Gene Yang, publishing on the web, stapling minis of a partially-complete story called American Born Chinese and eighteen months later they were in tuxedos in Times Square as the first work of graphic literature nominated for the National Book Awards. The legitimacy conveyed by the NBA nomination (and also the Printz Award, which really brought the book to the attention of librarians) was also critical because it put the book on the radar of purchasers; when 60,000 school librarians order multiple copies of your book, and then have to re-order every couple of years to replace the worn copies, it gives you the breathing room to tell the accountants We don't have to make money on every book; we can take our time to develop and support our authors.
Siegel and Hatke agreed on that point; the first Zita collection started as a webcomic, and eight years later Hatke's eighth book for :01 is about to drop, and Siegel describes it as a work that is more confident, more skilled. That only comes from finding creators who aren't at their peak, who aren't coasting, who still have growth and development and finding a way to nurture them.
And that means taking risks; when Siegel accepted the pitch for Boxers & Saints, he got pushback from the executives: Americans have never heard of the Boxer Rebellion, it's 500 pages long, two books, box set, color, we're going to take a bath. Can he do it in one book, black and white, then give us another immigrant experience story? As we now know, Boxers & Saints was a bestseller, netted Yang his second National Book Award nomination, and I like to think the executives give Siegel a little more respect for his instincts. It's part and parcel of his dual missions to grow (and train) the audience, but also to grow the authors. It's a publishing company (contra every comics publisher, but especially BOOM!, see the other day's posting) that doesn't take media rights, that doesn't own the words, that doesn't own the pictures, that writes contracts that you'd see in book publishing houses but which are very unusual for comics companies.
And keep in mind the time in which Siegel was trying to build all of this: Green's library had exactly three graphic novels¹ in 2005 when she petitioned for a budget to build up a collection; she argued that comics had hit critical acceptance, that Columbia's film school was complementary with comics, and that Columbia and comics were both unique creations of the city of New York², that the two deserved each other. She was granted a full US$4000 and (very fortunately) :01 came along soon after.
Even so, she had it somewhat easier as an academic librarian than Volin has in the public library system; something she's got in the collections (honestly, everything) will offend somebody, but with a remit to serve the entire community, it's subject to fewer challenges than, say, a school library. But there :01's been valuable as well — while not everything they do is appropriate for every age (or at least some think so; This One Summer keeps getting challenged by censorious asshats), there's a lot that can be placed in front of teens without problems, that's damn good reading, that will draw in the reluctant readers. That's why Columbia's collection is now 10,000 titles in 15 languages.
Similar things happen in the book trade; Yturralde noted; she can give a kid a copy of Zita and when they like that, move them onto Hope Larson's adaptation of A Wrinkle In Time, and when they like that, move them onto L'Engle's original. Gatekeeping and editorial choice is now a matter of not buying six copies of everything because there's only so much — it's one or two copies across a broad range and having to look at reviews and analysis in order to decide what gets shelf space It's why Volin's library has filled six bays of comics in the children's section alone and is running out of room (the only exception, she said, is Raina Telgemeier, where you order twelve copies and then budget to replace the ones that don't get returned because they're loved so much).
The panel ended with a pair of lovely stories — where the name came from, and Hatke's best experience. The name was never going to be Mark Siegel Books — the imprint had to be bigger than one person — but he called a lot of creators that first year without having an actual name for the business. He was spitballing a bunch of names trying to convey the sense of it's just after midnight, it's a new day and wrote on a piece of paper
00:01
A copy editor he was sitting with folded the paper over to show:
:01
and remarked it looked a little like a smiley face. The words popped into his head and he said First Second.
Hatke's story involved the shipping of the oversize art originals for Julia's Home For Wayward Creatures, his first picture book, which were too large for his scanner. He'd never done this before so he took them to UPS, they offered him the standard US$100 insurance and off they went. Then he realized that they were the only originals, that they represented months of work, and tried desperately to get the package back and stressing for a day and a half before they arrived safe and intact.
Fast forward to the day he's to ship the pages for Nobody Likes A Goblin, and he realizes that the cost of shipping is about the same as the cost of a Bolt Bus ticket to New York. He gathered up pages and ten year old daughter, strode into the Flatiron Building and up to the :01 offices where they laid them all out side-by-side on a conference table and read the book out loud for the first time. It really was a lovely image. It's the sort of image that :01 has worked for ten years now to make happen as often as possible.
---
More later today on my talk with Jim Zub, announcements from the con, and cosplay photos.
_______________
¹ Maus, Persepolis, Palestine.
² In the historical collection at Columbia, there's a four-panel comic made by students to mock professors they hated. It's from 1766.