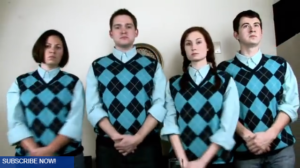 If you've not yet read How The Best Hunter In The Village Met Her Death, get on that. It's been occupying a large amount of my mental bandwidth with its Ostertagian goodness since yesterday¹, so I'm not sure how much I'd be able to talk about today. The fact that KC Green and Anthony Clark met goal on BACK Book 2 and thus need not destroy all you know and love might have been in my ability today, but maybe not.
So it's a good thing that Fleen Senior French Correspondent Pierre Lebeaupin has (as is his wont) sent along a dispatch from the further shores in my hour of need, without prompting. He's a marvel.
____________________
There have been a few interesting developments in our ongoing coverage of creator activities in festivals. If you just tuned in, just know that comics creators never charge readers for sketches in French-language comics festivals or other meetups, and there is a growing movement that creators sketching be recognized as the main attraction of a comics festival, and as a result that creators be paid to provide this animation.
Now, it is important to realize that the current arrangement would be unfair to creators regardless of the context, but it is true that the recent challenges to this state of affairs indirectly come from the overproduction crisis affecting the industry, which results in the degradation of revenues comics creators do have (advances, royalties, etc.), threatening their livelihood. Add to that changes in taxation that, while affecting any kind of income for everyone, exacerbate their difficult situation, and, well, you have a recipe for unrest.
And that is the situation where the Salon du Livre de Paris found wise to go with Hey, how about we don't necessarily pay creators for contributing to conferences, panels, or workshops?
The Salon du Livre de Paris², set up by Reed Exhibitions, a for-profit company, on behalf of the Syndicat National de l'Edition, a trade group of publishers, is most definitely a for-profit endeavor contrary to most comics festivals (e.g. to the best of my knowledge they do not make use of volunteer labor), so that skimpy attitude stung even more when participating creators found out about it when discussing it between themselves. Worse, some turned out to be paid for these contributions, but others not, with no discernible pattern.
So creators complained, very publicly, rallying around the hashtag #payetonauteur (pay your creator). While the Charte des Auteurs, representing child lit creators, relatively quickly obtained the guarantee child lit creators would be paid for their efforts, this of course left everyone else, so the campaign continued, with Emilie "Bulledop", a booktuber, and other creators announcing they would not attend in the current conditions, and cartoonists such as Cy advocating the cause to the public and trying to rally support.
It's not worth going too much over how the Salon de Livre de Paris justified their position (they tried to claim that creators would actually be promoting their own work through their contributions, therefore no pay), because after a few days of pressure … victory! They relented and announced all contributions from creators would be paid … except for signings; that part will remain a battle for another day.
And while the Salon du Livre de Paris is now over (creator revendications³ did show themselves, but it went smoothly overall), the struggle goes on, now to try and obtain better statutory protections, especially in the context of the incoming general reforms in France (e.g. unemployment, retirement, ongoing training, etc.). We have probably not seen the end of it.
____________________
Many thanks for FSFCPL, and is your mind as blown as mine by the bit at the end? Creators seeking legal protections against exploitative circumstances at shows? In the US, we can't even get major publishers to not offer illegal internships. Thankfully, others understand that treating people well forms a pipeline for the skills you need to keep your business running (heck, I'm tempted to take a leave from my frustrating job and apply for that :01 Books internship myself).
---
Spam of the day:
Discrete, Beautiful, Women Waiting For You
Wait, you mean the Asian mail-order brides you're advertising are distinct and separate individuals? Awesome, I've never really been into hive minds. Now, are they also careful and circumspect in their speech and actions, so as to avoid causing offense or gain advantage?
_________________________
¹ Along with a narrowing from some late night EMS calls and not enough sleep in the past 24 hours.
² Which covers prose books and children books in addition to comics.
Editor's note: Reed Exhibitions (a division of RELX Group, formerly Reed Elsevier) is the parent company of Reed!Pop, who run NYCC and bought (and greatly changed) Emerald City Comic Con. Reed Exhibitions do a lot of trade shows worldwide, and their mastery of forms as diverse as the boat show or the home improvement show reveals that they try to treat their events according to a standard script. But comics are neither boats nor building contractors.
³ This is not only a French word, but apparently also an English word. Revendication: action of claiming back or recovering a rightful possession, according to the folks at Oxford. Learn something new every day! In this sense, I'd say it's close remonstrances mixed with vindication — creators had to get a bit loud and noisity to make sure they weren't ignored or run over.