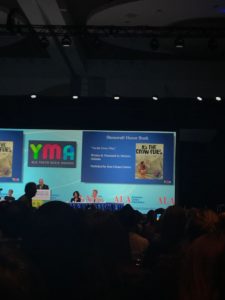 The ALA awards for children's (and YA, and middle grades, and other variety of younger humans) literature were given out earlier today, and there's a webcomics connection that we are happy to report. The first person I saw with the news was Colleen AF Venable¹, beating out even the reporter contingent from the School Library Journal: The Stonewall Book Award (for English-language children's and young adult books of exceptional merit relating to the gay, lesbian, bisexual and transgender experience) went to Little & Lion and The 57 Bus, but one of the two Honor Books was As The Crow Flies.
You remember ATCF? Collected from the webcomic by Melanie Gillman? Published by Iron Circus Comics via Kickstart, because C Spike Trotman has an eye for great literature? And a bit later, the Alex Award (for the 10 best adult books that appeal to a teen audience) included Malagash by Joey Comeau. Webcomics continues as a feeder (or perhaps a crucible) of talent and creators that are making themselves known in the polite world. Maybe now the New York Times will respond to the damn petition and reinstate the best seller list?
As if that wasn't enough good news, here's Fleen Senior French Correspondent Pierre Lebeaupin with some thoughts on French comics festival practices and etiquette:
---
You may remember from my report of the 2017 edition of Lyon BD that sketches are free as a rule. But that is pretty much the only thing that is free in French comics festivals: entrance is paid, exhibitors sell their wares, etc. The point where all these concerns intersect is the table, which is more than the physical space the creator can work against²: it represents the support his host provides (line management in particular), and, conversely, the contribution the creator makes to the host's presence.
The host can be the festival itself, in the case of invited creators, or is more typically the creator's publisher; in some cases bookshops organize signings around a festival. And in all cases they hope to profit: the festival by attracting attendees, and the publisher or a bookshop by selling books. And in order to ensure that, publishers and bookshops will often require a book be purchased before you can get a sketch (though it need not necessarily be the one sketched in); and that will not guarantee getting one, you won't if you come too late for instance, but this means sketches are free only to the extent the creator is not paid for it. For popular creators the lucky few who will get a sketch are even picked by chance draw, so as not to overwhelm the creator.
As for creators themselves, besides the inherent unfairness, there is also the more practical matter that, given the money incentive, the ecosystem grows around them to mine the seam³. This mean that creators both have to spend more time in more festivals, away from their living-earning activities and their families, and have to contend with longer and longer lines of people waiting for sketches (three-legged camping stools are a common sight in comics festivals), with the resulting entitlement issues you can expect … not that this prevents some of these sketches from ending up on eBay, anyway.
The result? While of course you shouldn't take this strip too literally (this is autobio, after all), creators are often exhausted at the end of the day (full disclosure: I contributed to the exhaustion; unfortunately I did not encounter much else to report on in Paris Manga). And yes, I have witnessed for instance people trying to squeeze themselves at the end of the line even as the end of signing time was closing in … however, I haven't been (un)lucky enough to witness that (fortunately exceptional) kind of case (French-only).
Can the situation be improved? Proposed leads to that end will be the subject of a later post.
---
Hey, my name is Richard!
I`m a professional writer and I`m going to change your lifes on?e and for all
Based on this sample, you're a crappy writer, "Richard Diicks".
_______________
¹ Once of Puff in Brooklyn note, more recently of book design fame, and always the bearer of the coolest calf tat in existence.
² Though in case of need a creator may be able to do [without even that (21st photo; full disclosure: that is my copy of Héro-ine-s Yan Le Pon is sketching in in this photo).
³ Most French comics festivals are run as non-profits (and that includes Angoulême), which moderates the expansion somewhat on that side, nevertheless they too benefit from growing bigger (they get more press, more attention from professionals, etc).