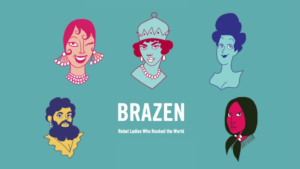 It seems that you enjoyed Fleen Senior French Correspondent Pierre Lebaupin's writeup of Day 1 at Lyon BD las week, at least as much as he enjoyed writing it; FSFCPL has further contributions of Days 2 and 3 at Lyon BD, but I'm going to make you wait a little for them. Last Friday's congressional bid news¹ bumped some other stories that I think are still relevant and which I don't want to get stale. So let's see what we would have talked about on Friday had Pete Sessions not picked up a challenger.
We've mentioned Pénélope Bagieu more than once here at Fleen, including news of her biocomic series of remarkable women (Les Culott&ecaute;es) being acquired by :01 Books, to be published as Brazen: Rebel Ladies Who Rocked The World. It's under that name that we'll find some spectacular news from Variety:


Penelope [sic] Bagieu's Feminist Graphic Novel 'Brazen' Set For Animated TV Series

Penelope [sic] Bagieu's daringly feminist graphic novel "Brazen" ("Culottées") which portrays bold and rebellious women around the world, is being turned into an animated TV series by a pair of French production banners, Agat films & Cie and Silex Films.

Developed into 30 episodes of three minutes each, "Brazen" will explore the lives of 30 women such as Nellie Bly, Mae Jemison, Josephine Baker and Naziq al-Abid.

Sarah Saidan, an Iranian filmmaker who studied at France's prestigious animation school La Poudriere, is on board to direct the series that will air on Gaul's public broadcaster France Televisions.

Here's hoping that some channel will follow :01's lead and bring the animated shorts to English-speaking shores.

Hard to believe, but yesterday was but one month to the day since the Taptastic TOS shitshow got noticed and rapidly walked back; one of the bright spots to come out of said shitshow was the commentary of IP lawyer Akiva Cohen, who contributed some much needed expertise and a healthy dose of reality to the discussion. Cohen took some time out end of last week to drop some new wisdom under the hashtag #WebcomicsLawSchool, with the day's lesson being on that perpetual source of misunderstanding, copyright registration:


OK. Time for #WebcomicsLawSchool. This week's topic, Copyright Registration: When, why, & how?

[Side note: the best thing about that thread is the phrase This week's topic, as Cohen is dropping knowledge on the regular. Did you know this? I didn't know this. That's why I'm talking about it, so you'll know this and keep your eyes out for more. As always, keep in mind that Cohen's advice is general and while he is a lawyer, he's not your lawyer unless you pay him to be, in which case he's not talking about your business in public. Okay, back to the smart guy stuff.]

First thing to know: You don't need to *register* your copyright to *have* a copyright #WebcomicsLawSchool

As soon as you "fix" your creative work in a tangible form – get it out of your head and on paper, performed, etc.

You have a copyright in that work. Nobody can take it without permission; if they do, you can sue them.

Well, sort of. Because "you can sue them" is one of the primary reasons to actually *register* your copyright

Until your copyright is registered with the US Copyright Office, you cannot file a copyright lawsuit in Federal Court.

And that's the key idea, the one that in my experience tends to be misunderstood more than anything else in copyright law — copyright is automatic, but there are hoops to jump through to preserve your legal options².

Those hoops are well-established, and your job is to go through the #WebcomicsLawSchool history to see what more Coehn has to say, because that's where the thread ends — his kid was doing something adorable, and that outweighs giving free legal advice to the internet.

Hint: it starts here. Bookmark the hashtag, keep an eye on the posts, they're really helpful.
---
Spam of the day:
What is the easiest way to quit smoking?
Simple. Pay me one million dollars, I'll quit all the smoking you want me to.
_______________
¹ Which, due to a fortuitous bit of timing, I believe we were the first to report on; I happened to see Rob DenBleyker's tweetnouncement about two minutes after it went live, and we had our story up about ten minutes later. Fastest typing of my blogging career.
² And no, the "poor man's copyright" of mailing yourself a copy to prove creation date doesn't count.