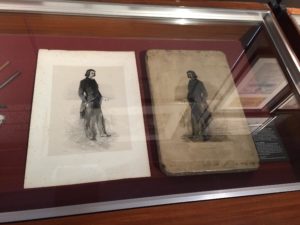 Fleen Senior French Correspondent Pierre Lebeaupin¹, as noted earlier in the week, spent some time prowling the recent Lyon BD, and he's brought an extensive recap. Pret-ty sure that there's no other webcomics blog this side of the world with a report from Lyon (or anyplace else in France), so be sure to share with your friends. Take it away, FSFCPL!
The Lyon city hall is a very nice place.
This is in fact not the usual location for Lyon BD, but with the French general elections, which happened the same weekend, preventing the use of the Palais du Commerce where it usually takes place, it had to find a backup location, and kudos for the city council of Lyon, and in particular the mayor, Gérard Collomb, for opening the city hall for use by the festival.
And so that is where your correspondent found himself in Friday morning to attend the first day of Lyon BD festival. The public was not allowed yet, reserving that day for interactions between creators, publishers, booksellers, students, and other professionals, including journalists. For instance, a number of publishers were set up with tables in a dedicated room so that students could come get feedback and inquire about opportunities; but KissKissBankBank also had a table there, for instance.
Additionally, most of the exhibitions were already set up, so it was possible to visit them while not too busy with everything else that would be happening the following days. And of course, there were panels on matters of interest to the comics community. Most of the booth space, however, would be in a tent on the neighboring plaza, which was still being set up.
Highlights of the day:
As always, Fleen thanks Lebeaupin for his contributions.
---
Spam of the day:
Ich habe hier mein Sofa im Test online gefunden.
A discussion of a sofa in German? I suspect that either Rich Stevens or Brett Porter is trolling me. In which case: Bravo, gentlemen.
_______________
¹ Who, I should note is now the first person besides yours truly authorized to carry a Fleen business card (complete with a rendering of our masthead mascot by Meredith Gran). You're officially a pixel-stained wretch, FSFCPL!
² The permanent collections are also worth checking out, including this bit. The caption reads: Crayon drawing This portrait drawn in crayon by the celebrated caricaturist Gavarni is of particular interest. Comparing the proof with the stone it can be seen that a moustache has been added. This kind of alteration was made possible by a process developed by Godefroy Engelmann in the 1820s. The stone is in its final state, the proof from a previous state 'before the moustache'.