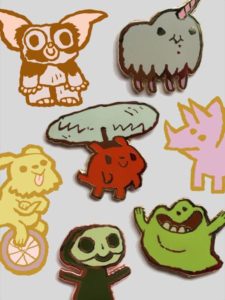 If you have room on your clothing for pins and don't feel up to defeating the Empire today¹, you could do far worse than to fill them with a selection from Scott C's latest offerings. You can choose any four you want from the seven on offer (I'd choose the two dogs, unicorn, and triceratops, myself) for just US$35.
Callback: You may recall that yesterday we mentioned Spike's mini-Kickstart/for-profit customer-acquisition exercise and a good deal of discussion (both from herself and speculation on my part) about What It Meant. Turns out, there was a completely additional Meaning that slipped by me, involving a small project aesthetic:
We launched #Make100 today on @Kickstarter, w projects coming from @jeremybailey, @Iron_Spike, @the_jennitaur &more! http://kck.st/WillYouMake100
In case you didn't recognize the name, Willa Köerner is the Director of Curation for Kickstarter. Keep your eye on this initiative.
Callback: You may recall that back in September we mentioned a new law in California that dealt with the sales of collectible (that is to say, autographed) merchandise over the cost of five bucks. Well, said law went into effect two days ago, and while certain terms are still only vaguely defined, the CBLDF put together an advisory about the most likely interpretations of the new ordinance.
Key points (some of which come from a clarification letter written by the law's chief sponsor, outlining her intent): the person that autographs stuff is exempt from the provisions of the law, as are vendors that are not primarily in the business of selling collectibles (which is meant to exempt bookstores, although comic stores are not specifically mentioned). It looks like the organizers of certain conventions/shows are more on the hook for conveying the boundaries of the law to exhibitors than exhibitors are for researching things themselves; for now, I'm going to be cautiously optimistic that independent creators are not in danger of being penalized.
Callback: You may recall that back in March of 2000-damn-6 we mentioned Tyler Page's Nothing Better for the first time; it's a story that's sometimes been backburnered while Page was working on other things (not the least being the recently-concluded and printed Raised on Ritalin), but has never gone away. The girls of St Urho University are still there a decade-plus later, and it's time to print the third volume of Nothing Better to join the first two.
Thus, Page has made his announcement that it's time to start looking at your 2017 budget to decide whether or not you can squeeze this book into your purchases. Hint: you want to squeeze this book into your purchases. But don't panic, you don't have to commit just yet:
I will be launching a Kickstarter for the next Nothing Better book within the next couple of weeks. STAY TUNED! In the meantime, read Nothing Better!
Yes, read it. It's really, really good, and shows the growth of Page as a cartoonist on just about every, uh, page.
---
Spam of the day:
My previous post about the financials of creator-owned comics in mainstream retail paints a pretty bleak picture. The risk is high for retailers, creators and publishers, profit margins are thin and making your new comic stand out in a crowded marketplace full of worldwide pop culture icons is an uphill battle at best.
This is … this is the very best machine-generated text meant to slip through spam filters by appearing to be on-topic that I've ever encountered. I'm actually impressed, and more than a little concerned that a few more years and I won't be needed around these parts anymore. We can just get whatever Markhov engine spit this out to post in my stead.
______________
¹ No pressure! We can't each fight every fight every day! We have to pace ourselves or the other side will turn our exhaustion to their advantage.