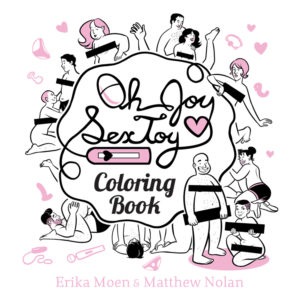 Since I spoke to you yesterday, two very cool books have been announced for the near term. Let's do this.
There's a huge trend these days for adult coloring books — no Disney Princesses or sparkleponies here, but abstract designs, tattoo art, great Impressionist paintings and suchlike. Also, it was inevitable for there to be adult coloring books, if you take my meaning and I think you do:


Oh shit, I guess we're officially announcing it today! :D

Ready for the sexiest adult coloring book? Pre-order OH JOY SEX TOY: THE COLORING BOOK @ErikaMoen @Plustenstrength! http://bit.ly/2iwR8Ab

Straight from the pages of Oh Joy, Sex Toy by Erika Moen and Matthew Nolan, a color-it-yourself collection of very sexy renditions of the Masturbateers doing all the sexy things they do, will be in comics shops on 8 February (just in time for Valentine's Day!) from Limerence Press (the sexy division of Oni Press). The great thing about the Masturbateers is that they encompass all shapes, sizes, points along the gender spectrum, body types, adult ages, and degrees of physical ability — everybody is sexy in their own way, and I'll bet that Moen's artistic choices have meant a lot of people have seen someone that looks like them portrayed as a sexual person for the first time. Inclusion, y'all: it matters.

As mentioned last week, Tyler Page's Nothing Better has been overdue for its third print collection for a while, and at long last it's here. Lagies and jenglefenz, please allow me to present the Kickstarter for Nothing Better: Great Expectations (Part 1)


It's been 7 years since the last collection came out though I've been sitting on this material for almost two years. I've been busy with raising a family, freelance work, and publishing another book [Editor: Raised on Ritalin. So it's time to give fans what they want in print.

My goal here is modest – Nothing Better has a small but dedicated group of fans who continue to bug me for more of the comic in print and I'd love to give it to them. So I'm only looking to print 300-400 copies of the book to sell online and at conventions. The book is already done – laid out, designed, and everything. I'll be working with a great local printer here in Minneapolis so the turnaround shouldn't be too long.

The combination of the finished book and the modest goal (only US$1000! Remember what Spike said?) means that Page is only running the campaign for 20 days total, with delivery expected in March, mere weeks after the campaign closes. As of press time, he's at 41.5% of goal, and a lucky couple-hundred people are going to be able to get a hell of a good book before everybody else. Nothing Better really is that good, so get pledging.

[Obligatory disclaimer: A review of mine is quoted on the Kickstarter page as a blurb; I have not received any offers or rewards for the use of my words. Also, people that are much more famous than me are also much more succinct than me.]
---
Spam of the day:
Woman sheds 42 lbs. in 30 days with this simple night-time drink
I'm guessing some kind of horrific toxin.