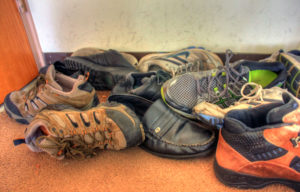 I was going to say that a whole day down and 2017 isn't too bad, but then I remembered that there have been mass shootings and car bombings and realized my sensitivity level with respect to atrocities may need recalibration. Let's just focus on a couple of small, good things while we're all waiting for a shipping container's worth of shoes to drop.
Last night, Spike over at Iron Circus determined what may have been the absolute lower time limit for a successful Kickstarter: 53 minutes.

Let me explain.

Spike had been teasing through the weekend that a Kickstarter would be going up sometime on the 1st; subscribers to the Iron Circus newsletter would know the time of launch, the rest of us would have to keep our eyes peeled. Timing would be critical, as there was just one reward available, and it was limited to 100 backers. Whatever the reward was, it would only be available now, with no future sales.

At 9:00pm EST, the campaign (for a US$15 enamel pin, from Carla Speed McNeil's design) went live, with a seven day run time. At 9:53pm EST, the last pin was claimed. There was still 6 days, 23 hours, and 7 minutes to go; there's no mechanism on Kickstarter to end the campaign, aside from cancellation.

Spike's subsequent tweets revealed that as much as a fun, tiny project, this pin was an object lesson: trying for mega-success on your project can not only lead to a nigh-unfulfillable nightmare, but is wildly improbable to succeed in the first place. A small success is still success.

But thinking on it today, I can see another way to look at it. Lots of people follow Spike on the Sosh-Meeds, more than 20,000 on Twitter along; but I'll wager far fewer of them were part of Iron Circus's email list. From personal experience, signing up for an email newsletter has a lot of inertia around it — I'm slow to sign up, and even when I never pay attention to the emails that pop up in my inbox, even slower to unsubscribe.

In her tiny, little project, Spike picked up some number of new advertising targets, and it cost her nothing. The cost to acquire an email address is remarkably hard to nail down, but this was a no-lose situation: if the Kickstarter failed, she got her email signups at zero cost; if it succeeded, she got her email signups and so far has made a US$1342 profit on the deal¹.

And so there's one hell of a business lesson to be learned², and I sincerely hope that all looking to increase their customer contact lists will learn it. Find a small thing that you want for yourself, that your audience will want, and drum up the interest. Be small, fast, ruthless … all Edge, a behavior seen in the likes of Mr Stevens and Ms Spike, and you'll be in damn good company.

Those of you in the Bay Area have a webcomics event to add to your respective social calendars: Jeffrey C Wells and Shaenon Garrity have a new Skin Horse book out, and with the Kickstarter backers all fulfilled (I got my copy a few weeks back), it's time for public sales. And that means launch party:


Hey, a party! I'm throwing a book release party for Skin Horse Volume 6 at the wonderful Borderlands Books in San Francisco on Saturday, January 14. Expect books, cupcakes, and wine.

Borderlands (located at 866 Valencia Street, in the city of Saint Francis) is a legendary shop; by longstanding precedent, expect the cupcakes to be delicious and the wine to come in boxes. Fun starts at 3:00pm PST and goes until all the fun has been had or Garrity decides she needs tiki drinks.
---
Spam of the day:
Press ahead and empower images to scan all pictures.
You're offering Asian mail-order brides; please don't use the word empower.
_______________
¹ Per this tweet, the US$770 goal was the cost of the run of pins; she's raised US$2112 (there may have been as many as two backers sneaking in over the 100 limit due to timing, and one person has pledged an unknown amount at the "no reward/tip cup" tier). Spike's done waaaay too many Kickstarts to not have priced in an appropriate amount for shipping, and at this point "only" 100 envelopes is a trivial amount of labor.
² There's a second lesson to be learned, if a few more campaigns like this happen to provide a few more data points. This is the sort of situation that would let a clever person reverse-engineer the Kicktraq trend algorithm. That curve is going to decay in a very interesting fashion.