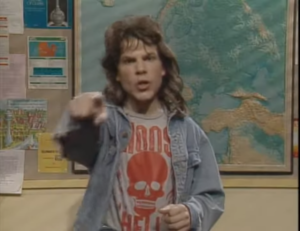 But on the other hand, I'm not saying I don't have nemesis, either.
See, it all comes back to Ryan Estrada, comicker, language demystifier, raconteur, [radio] drama impressario, shamer of cheapskates, and oh yes, Eisner nominee in the inaugural year of the Best Graphic Memoir category (alongside wife Kim Hyun Sook and artist Ko Hyung-Ju) for Banned Book Club. It's the last item we're concerned with today.
Estrada is doing something you don't always see — openly posting on the sosh meeds about who can vote in the Eisners and imploring folks who can to vote for Banned Book Club, and he's doing it for the best reason of all:
Spite.
Or at least comeuppance:
Time's running out to register to vote!
You may wonder why I'm so insistent.

Well, a middle schooler named Jerry told me I couldn't win an Eisner.

It was on the zoom in front of everybody.

Now my whole 6th grade ESL class is following the Eisners to see if Jerry was right.[Fearful face emoji] [Face with open mouth and cold sweat emoji] [emphasis mine]
Oh you did not, JERRY. You did not tell a man who has been thrown from a train, wandered through a drug war, dragged his ass up Kilimanjaro, lit himself on fire twice¹, and slept on a public bench in a gosh-darned typhoon that he is incapable of anything.
Especially not when such a man is unfailingly generous to you, JERRY:
Jerry is actually the cool, smart kind kid in class so he's not trying to be a jerk he just DOESN'T BELIEVE IN ME.
I stand by my assessment of Jerry and encourage everybody that is eligible to vote in the Eisners to vote for Banned Book Club, so that Jerry can get his head right. Do it for Ryan, Hyun Sook, and Hung-Ju. Do it because Banned Book Club truly deserves both the nomination and the award. Do it to prove a middle school kid wrong and in so doing, strike back at every Jerry that's not believed in you when he should, as well as everybody in middle school who was so damn certain about something while being so damn wrong.
Do it for spite. Do it so that I, a grown man, do not need to have a nemesis that is in middle school².
If you make, publish, edit, or sell comics, or if you are an academic or librarian that works with comics, you are eligible to cast a ballot for the Eisners until 30 June.
---
Spam of the day:
Give with Crypto Currency? Why Yes! We are adding it!
This from what purports to be a Christian crowdfunding site, making the claim that they're emailing me because of my past contributions to somebody raising money to assuage their hurt feelings that they can't be utter shits towards everybody that isn't their exact flavor of white supremacist evangelical without getting some mild rebuke for their actions. Or, as they have it, being persecuted. I am very tempted to respond with a hearty Hail, Satan! instead of sending them to the spamhole and reporting them for phishing.
_______________
¹ So far.
² Correctly identified in an old Life In Hell strip as existing only to separate out kids in their maximally snotty years, both to protect the younger kids they would torment ceaselessly, and to spare them from the high schoolers doling out beatings they would so richly deserve. Matt Groening had your number in like 1987 when YOUR PARENTS were in middle school, JERRY.