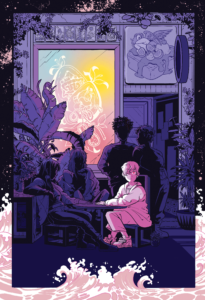 Something you may not know about me is that I don't do anything that's not on my schedule. It's not necessarily written down anywhere, but there's a definite to do list that runs my life, and if I put something on that list it will happen. For decades now, I've put certain pieces of media on my mental list with the intention of experiencing it.
This has the side effect of making me, essentially deathless until I reach that landmark. Death (the capital-D death that Gaiman told us is actually a Goth cutie and Pratchett told us SPEAKS IN ALL CAPS) will show up for me and I'll be able to say¹ Sorry, not on my list of stuff to do today, and I have things I've committed to do still. Get back to me later².
In the past, I've used future events like the end of BONE, the end of Strangers In Paradise, and the completion of Digger when they were a suitably distant number of years away — can't get a hideous disease, can't walk in front of a bus, gotta see how it turns out. Today, I have a new one.
Readers of this page may have noted that I love the work and the person of Rosemary Valero-O'Connell, who is skilled out of all proportion with her youth and just a wonderful human being in real life. For years she's hinted at where her creative drive was pushing her, not telling me too much (understanding that there are always detours in the creative career's route) but definitely letting me know that her current projects were leading towards something. Something like this:
Aaaand it's been announced!! The 12th House is the book that I got into comics to make and I couldn't be more excited to finally get to talk about it publicly! It's my first solo book of this length & every page I've pencilled so far is the best I've ever drawn. Coming in 2023!
I firmly believe that all the stellar work that Valero-O'Connell has produced since we met not quite five years ago has been for its own sake, but also to sharpen her skills for The 12th House. She's always had an unusually clear perception of what her career would look like, and knowing when to tackle That Story That's Been Waiting To Be Told is something that too many creators don't have a good handle on; we all know new storytellers determined to launch their career with a 500 page epic before they've developed the chops to handle something like that.
But after seeing Valero-O'Connell's artistic development and consistency on book-length stories, and the storytelling skills she's developed on mid-length work, I have every confidence that this book will be landmark of the form. It doesn't hurt that she's got :01 Books's Calista Brill on editing; she's one of the best in the business, and this is entirely of a piece of :01's entire philosophy: develop relationships with creators, not with specific IP or series. This won't be the last of their partnership, I'll warrant.
So thanks very much, Rosemary, my friend — you've single-handedly ensured that I will make it past the midpoint of my 50s, and as long as you keep announcing new books, I will be for all intents and purposes be immortal.
---
Spam of the day:
We have a surprise for UPS Customer.. ..
Strangely, I'm not most offended by the nakedly fraudulence that's fairly dripping from this subject line. I'm most offended by that crime against ellipses.
_______________
¹ Maybe think? Or some form of telepathy?
² Which is actually a role that she was halfway to fulfilling from damn near our first meeting.