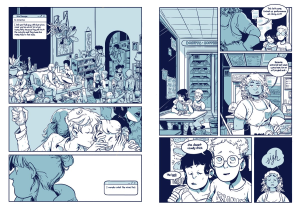 Multiple things to point you towards today; let's get right to it.
So when I met Rosemary Valero-O'Connell last weekend at MoCCA Fest she told me that she was working on captial-S Stuff that wasn't announced yet so she couldn't talk about it. Fair enough, I figured it would be a couple months before we heard, at least not until she was closer to done with the Lumberjanes/Gotham Central crossover.

Nope! Friday, word came down that she's going to be illustrating a graphic novel written by Mariko Tamaki for :01 Books, so that's basically the best of everything in one bundle. It won't be until 2018 that we get to see Laura Dean Keeps Breaking Up With Me, but Valero-O'Connell was kind enough to share two pages on Twitter today. Note to self: do not die or become blind before this book releases.

John Allison has hinted that part of the reason for running neoBobbins strips for the next couple of months is time management; what with writing Giant Days and daily cartooning and working up new pages for the Bad Machinery books, he's got to be pretty busy. He's just added a fourth channel to get his cartooning goodness, this time for people that weren't likely to have seen him other places — GoComics:


From today, Bad Machinery is running at @gocomics – I think about 1/4 of the pages running there will be new to you. http://www.gocomics.com/bad-machinery

Which is to say, he puts a lot of redrawn/bridging art into the books (check out his tweets on the subject of prepping book 6, The Case Of The Fire Inside), so if you've not given him money for those, you get to see the new art now. You're welcome.

A month ago we saw the nominees for the 2016 Cartoonist Studio Prize (a joint effort of the Center for Cartoon Studies and Slate magazine), and today we see that the winners have been announced. As in prior years, there are two categories: Best Print Comic and Best Web Comic, ten nominees per category, and lots of strong work in both.

The winners get US$1000 cash money, and presumably a nice card, which will be inscribed with the names of (respectively) Carol Tyler (for Soldier's Heart: The Campaign to Understand My WWII Veteran Father; Fantagraphics) and Boulet (for I Want To Believe). Fun fact: Boulet has been nominated all four years of the CSP's existence, but considering the past winners were Winston Rowntree, Noelle Stevenson, and Emily Carroll, he's in damn good company.

From the twitterfeed of Melanie Gillman, word of a new anthology looking for submissions:


Here's a comics anthology about bad online dating experiences that's looking for submissions: http://littleredbirdmedia.com/blocked

The application is here, and I'm extremely grateful that I've been married since before online dating was a thing, just saying.

A little exercise in visualization because math. Personally, I prefer The Dot And The Line if only because it ends on an exquisitely terrible pun.
---
Spam of the day:
From Dr. David Katz
Sorry, bud. There's only room for one Dr Katz in my life.