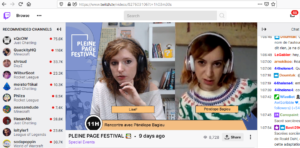 Last week ended badly, post-wise (it ended worse for me and my students), but although I wasn't able to come up for air in time to see it, Fleen Senior French Correspondent Pierre Lebeaupin came through with a recap of a Pénélope Bagieu interview, which is absolutely worth your time. Today, we cede to him the pride of place of the last post of Fleen's 14th year, as tomorrow is 15 December and the blog's birthday. More on that tomorrow, let's get to the news from European shores.
As part of the Twitch-hosted Pleine Page Festival , Bagieu spoke with host LiseF (en Franĉais), which most everybody reading this will not understand, but which you can now get the gist of. Let's dive in.
_______________
After the introductions, the interview began with Bagieu recapping the genesis of her adaptation of The Witches for the benefit of those who missed it from previous coverage.
On the matter of the reception, she was worried about the British public, where Roald Dahl is sacred, more than about the US public. In the end it went well, not the least because it was well-supported marketing-wise, even though some aspects do not necessarily make that easy to do: for instance, the smoking habit of one of the main characters could have doomed this book to be placed out of the reach of children.
On the matter of her additions, she sums it up as changed a lot of things while keeping the original spirit. She added what she would have wanted to see at the time: while she had no trouble with the fate of the main character, she wanted to make it less sad if not less hard by him having a friend. So she inserted a girl character to that end, even if she felt such a character was missing at any rate. More generally she tried to make the setting somewhat more contemporaneous.
On the matter of the 2020 movie adaptation, she finds the trailer absolutely bonkers, which she expects from Robert Zemeckis, and appreciates the atmosphere similar to the children horror of the era of her childhood. She was eager for the private projection she was to receive two days later.
On the matter of further adaptations, she is not interested, while she appreciated the opportunity she does not want to make it an habit of making comics adaptations. Furthermore, the other books — she mentioned Mathilda in particular — tend have more of an associated imagery, especially since illustrator Quentin Blake was able to provide feedback to Dahl priori to publication, making him sort of a co-author.
On the matter of her Harvey award (for California Dreamin') and Eisner award (for Brazen) having ever been a goal for her, she answered not really, or maybe only post-facto. She was already impressed of even having been nominated for her Eisner, and had even hesitated to show up to the ceremony since she didn't think it was possible for her to win. Now don't get her wrong, it's a fantastic feeling and she couldn't touch the ground the evening after the ceremony, but once that is past her life is not changed in any way. Later on in the interview, she mentioned misplacing the smoking pipe from the Harvey Awards statue.
On the matter of her work always publishing in France first, she told that when she lived in the US, she tried to make a book intended for the US market on the prodding of her editor, but there are many constraints, many codes: all edges must be filed away for instance, so she was always rethinking her project and it ended up being artificial. The initial spark is fragile to begin with, so if you add self-censorship to that … she got feedback on the order of that is quite French, so she realized she wasn't that interested: why bother in the first place? Her creation process is selfish, she pleases herself first of all, then in the end considers everyone else. While for a US story, she took the example of a project meant for early teens which was to take place in a school setting, which she visualized as that from Saved By The Bell*, but she was told it wasn't like that, and this matters: it ended up being a pain in her ass. She reminds us these kinds of projects are long-running, so it must be somewhat enjoyable for her not to burn out.
On the matter of her goals in life, she answers the main one is to make a living out of comics, and that is hard enough already that wishing for more is not obvious. She is already grateful to be able to make a living out of it, so her goal for now is to keep doing so.
On the matter of her making drawings at an early age, she answers she did, already with bubbles, first with animated cartoon characters, then her own characters but still involved in sports, influenced by Attacker You. She then did a drawn diary, which carried over to her blog. She did recently locate one of these notebooks, with liberally borrowed plots centered around rhythmic gymnastics.
On the matter of her participation to Inktober, she mentions hardly participating before, but this year, lacking any active book project, and her various activities being performed on iPad, she jumped on the occasion to draw on paper. Inspired by a Cindy Sherman expo she saw, she tried to feature artists that aren't already known. Then, she was a jury member for a podcast award which led her to discover Légitime Violence, which ends on Abbé Pierre's address on inaction in the face of injustice; as a result, she put her works up for sale for the benefit of his foundation. She had a hard time putting a price to them, and after she did she still had doubts, but in the end they sold out so quickly (around a few minutes) that she didn't realize what happened. So she's up to doing it again next year.
On the matter of it being a goal to contribute in this way, she answers it helps coping when working in such a way that aligns with her principles, a bit like taking a stroll when having pins and needles. It's an outlet for her overflowing revolt. She hates comics being reduced to teaching tools, but she admits it can be useful to deliver a message, more so that a 5000-line pamphlet, as she did for Bloom). It's a bit of the same process that has led a group of artists to draw portraits of shame of the French representatives who voted to approve the global security bill. If she had some other skills she would use them in a similar fashion: it's a selfish process which evacuates her overflowing anger. Now she has to consider her audience and not over-solicit them, but also has to consider leveraging them when needed.
On the matter of her impostor syndrome, if any, she answers having it, of course; it never completely goes away for artists, and merely showing her creations results in a lifetime subscription, so she had to learn to live with it, to cope. How does she do it? It is important for her to remember past experiences. She can't always shake doubts that her family and friends are sincere when they praise her for being talented, because of course they'd say that, but they are sincere. Every time she shows her work she feels like the student who has to show her exposé to the whole class. The same goes for her fans: of course they'd be nice to me". Conversely, one hater can be enough to shatter the mood, while on the other hand she glosses over praise.
On the matter of her promotional activities on TV and radio, she reports being used to it by now: it is a machine so well-oiled with preparation that it's not her work that is being put to the test. It ends up being always the same questions such that it's like following a script. The first times, she was terrified of making a blunder; now she ends up being familiar with every show, so she's in bring 'em on mode, for instance when a show contributor ends up attempting to mansplain life to her. However, she remains afraid of drawing with children: they have no inhibitions. But when it comes to doing the 50th promo show for her book, on the other hand …
On the matter of advice for handling that, she has a few. The biggest challenge is remaining calm: she mentions rewatching herself and being surprised at how angry she appeared. As a woman she's not supposed to be angry: even the most violent retort she must deliver as a lady, even in front of a polemicist who is on the other hand allowed to make being angry his whole shtick. She thinks of it as being in the local bar, rather than on TV. She's not looking to convince her opponent as much as the audience. And she keeps the option of saying I won't come to be the token feminist and decline the invitation. While she may look preternaturally calm, inside she's boiling with rage.
On the matter of unexpected questions, she mentions being taken by surprise by Augustin Trapenard asking her What is brazenness? In such a case, she can't just drive on autopilot. But when she heard Céline Sciamma in the same situation and struggling as well, it helped reassure her that she wasn't alone. And she does appreciate complex questions that make her think about it. For instance, she was asked whether the boy at the beginning of The Witches plays with toy cars because that is how his parents died, and she never thought of it that way! That kind of questions can make her rethink herself.
On the matter of whether she told these stories about women as a way to cure her impostor syndrome, she answers she didn't see it that way, and it was always a personal project, but it couldn't help but influence her in the end. Telling such stories of women who take their destiny into their own hands was bound to galvanize her and filled something in her, she absorbed it like a sponge. Furthermore, each one did it in their own way.
On the matter of whether female reader reactions make her feel she is helping them, she answers the ones who write her already belong to a favorable environment, with many having teacher parents for instance; she already belongs to their environment. She has a lot of appreciation for parents who prod their children into writing her letters, send these, etc. These motivate her to keep going. She keeps them in a box, and answers them on paper.
On the matter of her role in the Brazen animated series, she answers having had very little. She validated them of course, but when she first met the team she knew the project was in the right hands. Her main contribution was reviewing the scripts and pointing out when they had missed something which she felt important, but otherwise she did not have any reproach. She cried for each episode of the final product, especially when considering it was to air during children's prime time.
At this point Lise fetched question from the chat log:
On the matter of sharing her first works, she answers they look like run of the mill children drawings.
On the matter of advice for beginners, she advises showing your work often first of all, even if it's the hardest thing in the process, and paradoxically not take too much into account any feedback, which is not necessarily constructive. Indeed, it's important to show in order to get into the habit early.
On the matter of her selection process for comics project ideas, she answers she is always having sprouts of a book idea, and she waits and sees which ones stick and keep obsessing her: either she gets bored with the idea eventually, or she keeps following it.
On the matter of the lockdown hampering her artistically, she confirms being completely blocked on all fronts, and ended up doing nothing but eat. At the beginning she put pressure on herself to use this opportunity, and in the end nothing came out of it, including after the lockdown by inertia of the block. She has zero remorse, as this is a difficult time.
On the matter of finding her style between Pénélope Jolicoeur and The Witches, she answers you do not so much find your style as having one already and refining it. There is not secret about it, you have to draw a lot, and thank God she did improve on the technical front. It's important to copy first, it's OK, and then keep drawing and it will affirm itself.
On the matter of the indispensable comic book according to her, she points towards her Instagram recommendations, then all of Anne Simon published by Misma, for having a complex universe, incredible characters, and stunning artwork; they can be read in any order. And of course her reviews on MadmoiZelle.
On the matter of her current book projects, nothing, as discussed. But despite the unfavorable context, she does have an idea that is eating at her, so it will end up having to be done.
On the matter of a feel-good podcast recommendation, she answers the Distorsion podcast, made by people from Québec, so their accent is surprising at first but she got used to it after one episode.
_______________
As always, we at Fleen thank FSFCPL for his efforts to share what's going on in the world of Eurocomics. We'd literally have had no idea about this interview without his hard work translating and summarizing.
---
Spam of the day:
CAREDOGBEST™ – Personalized Dog Harness. All sizes from XS to XXL. Easy ON/OFF in just 2 seconds. LIFETIME WARRANTY.
Got a harness, and Martingale collars. And a thing I learned recently: the French word for greyhound is levrette and that position de levrette is the French term for doggy style. Fun fact!