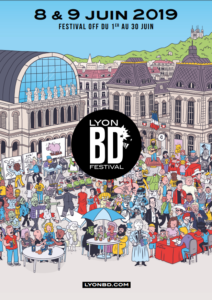 [Editor's note: Today, Fleen concludes the recap of last week's bandes dessinées festival in Lyon, courtesy of Fleen Senior French Correspondent Pierre Lebeaupin.
_______________
Lyon BD has always been an international festival, but it was particularly visible this year with the presence, hot off their appearance in NCSFest, of Charlie Adlard, Bill Morrison, and Steve and Luke McGarry, the latter of which was responsible for this edition's poster. Their lines were packed whenever they were signing, unfortunately precluding me from meeting these big names, but I was able to meet other international creators such as Ariel Vittori and Natalie Nourigat on Sunday; I was especially interested in the latter's I Moved To Los Angeles To Work In Animation (which I ate up on the trip back, very interesting even though I has little relationship with my trade of software engineering, you should check it out), and we were able to chat and discuss differences between the Euro and North American comics signing systems, since she has experience with both. I also had Jim Jourdane sign his Fieldwork Fail: while not an international creator, his book is available in English, though it seems you'll have to catch him to get a copy after his online store had to close.
Another Sunday highlight was the Badass (sic) exhibition: Sandrine Garage, who has been helping organize Lyon BD for some time already, took it upon herself to see whether there were now enough comic book heroines to be worth showcasing, 6 years after the first Héro-ïne-s exhibition, and there were. Rather than commission imaginary covers, she was able to showcase 10 actual, published comic book heroines that have in common that they don't conform to stereotypes, including that of the strong female character: instead, they do what they want to do; one may be bold, while also being empathetic (and they made sure to display the pages showing that), while another heroine may be friendly to everyone while having a tendency to take responsibility to solve every single problem in the valley. Akissi and Aster were featured, but also Ben Hatke's Zita the Spacegirl and Cece Bell's El Deafo, giving it a worldwide scope. In between the various heroines, pages of Miron Malle's comic book on feminism concepts, The League Of Super Feminists, were featured. However, they did solicit visitors in creating their own badass heroines, and they obliged.
But Sunday was most interesting for its interviews, beginning with that of Pénélope Bagieu. Of particular interest were these bits:
While she has to focus on one project at a time, she likes to alternate between personal projects and boring ones, the latter of which to allow her to recharge and remind her why she sets out to plunge on multi-year personal projects. In fact, at the end of a project she tends to be unable to work on much, trying to start new stories but failing, though by no mean remaining unoccupied as she devolves some time to the promotion of the just completed project (book tours, etc.), until such time as the sparks strikes again and she dives back in a new project.
No one has so far managed to publish Brazen in Arabic; the only publisher who was interested started demanding a long list of absurd changes which she gave up on reading halfway through, such as not showing women who smoke, at which point she told them she might as well remove all women and avoiding them the trouble of publishing the book. She did mention breasts having to be covered and the story of Phulan Devi having to be removed from the U.S. edition, explaining to the audience the particularity of the young adult positioning of the book in the U.S., in no small reason because comics books are still thought as being for children there and are hard to sell to adults, relating feedback such as I bought it for my daughter, and couldn't believe I was enjoying it myself. But she was proud to mention she successfully fought back more meaningful censorship, such as when the Polish publisher wanted to remove any mention of abortion, while she refused, and she won as it ended up being published there without any cut in that regard. Ironically even when censorship happens there is no mention of it: the only disclaimer that was added to the U.S. version was a warning that elements in the books should not all be taken literally, due to the duality in the U.S. market of fiction/non-fiction and Brazen being sold as non-fiction, and the fear of fact-checkers coming e.g. for the campus restaurant background gag in Agnodice's story. On the other hand while there was less censorship there Russia made sure to physically slap the book with a forbidden to minors badge, due to the references to homosexuality.
She is currently working on a comic book adaptation of Roald Dahl's The Witches, which she is very excited about: she takes it to be the best Roald Dahl book. The idea of a comic adaptation of a Roald Dahl book came from Dahl's estate, which proposed it to Gallimard, their French publisher, and that is how she was proposed the job. However, Gallimard initially proposed adapting Matilda, and while she loves the book, its relative lack of action did not strike her as making it particularly suited for a comics adaptation (that, and people's idea of the universe tend to be shaped by the 1996 movie, not to mention Quentin Blake's illustrations), so she made a counter-proposal to Gallimard of adapting The Witches, which the Dahl estate accepted. It will simultaneously come out in French and English beginning of 2020, which means she's glad it is going to beat the Zemeckis movie to market and not be taken to be the book of the movie.
Then later in the afternoon, as the last event of the day, it was Boulet's turn to be interviewed in a similar setup, and … wait, what are these people queueing in the stairs for? Oh, come on, it can't be for the room where the Boulet interview will take place, it's too far!? Well, turns out that is what it was for that. I swear, I never intended for the Lyon BD festival to conclude with the sight of Boulet's mile-long line to be a running gag, but here we are; except that in the case of a panel/interview/etc., it's not that you have to wait hours for your turn, it's that the room is full before you have a chance to enter. So I am unfortunately unable to report on anything that happened there. I'm going to have to start showing up 15 minutes early whenever Boulet is involved from now on …
[Editor's note: Nobody tell him about the Hall H camp-out lines in San Diego.]
---
Spam of the day:
It's 2019 and yes! you can now burn fat without exercising!
I do that all the time, unless you count trying to put out a grease flash on my stovetop as exercise.