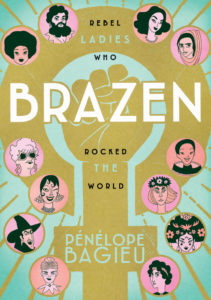 Once upon a time, I didn't have a favorite book designer, but that's cool; I imagine almost everybody who's ever lived didn't know enough about book designers existing to have a favorite, and of those that remain, 99% just say Chip Kidd by reflex. But it was hard not to notice the work that Colleen AF Venable¹ did on the first hundred or so titles that :01 Books put out, and pretty soon I was paying close attention.
I remember complimenting her on the design of Anya's Ghost and her face lighting up; much like the famous story of Chuck Jones and his artists stealing time from a Road Runner short to have enough animator-hours to make What's Opera, Doc?, Venable had fought for the budget to give Anya's Ghost both an embossing (sections of the cover sunken below the normal plane) and debossing (same deal, in reverse)², but couldn't find a way to stretch the funds to include spot gloss.
I learned in that conversation that you can judge books by their covers, that the willingness of a publisher to spend money and design time reflects their confidence in the ability to earn back the expense, but also the degree to which they want to make it stand out because they believe that what's inside is important. Which brings us to Brazen (book design by the very capable Danielle Ceccolini, who succeeded Venable at :01, with Chris Dickey).
:01 must think the world of Pénélope Bagieu's latest, because the cover features embossing, debossing, locations of both kinds of bossing given spot gloss, and a rough (almost flocked) texture to the rest of the cover, all arranged in an unbelievably complex pattern that must have taken roughly forever to design, do test prints of, and finally approve. It's a marvel.
And what the hell — the inside is more than worthy of the love lavished on the cover.
In her trademark style that sits midway between Kate Beaton and Larry Gonick, Bagieu tells the story of 29³ remarkable women who changed the world in large ways and small. Women that you possibly learned about before (Nellie Bly, inventor of investigative reporting; Josephine Baker, endless champion of equality; Temple Grandin, translator between the worlds of humans and animals), and some you might have known based on your personal interests (Hedy Lamarr, revered in my discipline for her invention of spread-spectrum signal encoding; The Shaggs, reluctant pop stars; Mae Jemison, who is so impossibly broad in her spectrum of interests and expertises that she's normally reduced to the single word astronaut4).
Then there are the ones you'd never have know about, women who showed up every damn day and did the work to save a lighthouse (Giorgina Reid), run off invaders (Nzinga), hold a country together (Wu Zeitan), stop women dying in childbirth (Agnodice), and forcing a nation to come to peace (Leymah Gbowee). Betty Davis is sometimes remembered as one of Miles Davis's second wife, but she was Beyonce and Rihanna thirty years before that was allowed (Jimi Hendrix knew how good she was, and Prince spent years trying to meet her). Jesselyn Radack fought the overreaches of the security state when the US government declared her an enemy, and continues fighting for transparency today. Sonita Alizadeh fled the fate of a trafficked marriage in Afghanistan to become an advocate against childhood marriage for girls — and a rap star.
Some died for what they believed in. Josephina van Gorkum married in defiance of the religious norms of nineteenth century Holland and built a tombstone to carry on her defiance after her death. Maria Teresa, Minerva, and Patria Mirabal, Las Miraposas, fought the dictatorship in the Dominican Republic until they were murdered on the orders of the dictator Trujillo. Katia Krafft (and her husband/scientific, Maurice) studied volcanoes up and close, codifying knowledge that has saved the lives of thousands, until they were killed in a lava flow in Japan.
The lover of modern art (Peggy Guggenheim) and the warband leader (Lozen), the athlete (Annette Kellerman, Cheryl Bridges) and the actress (Margaret Hamilton) are equally honored. No one's story is more important than that of unashamed bearded lady Clémentine Delait, explorer Delia Akeley, cartoonist Tove Jansson, transgender trailblazer Christine Jorgenson, utopian Thérèse Clerc, revolutionary and suffragist Naziq al-Abid, or promoter of formal crime forensics Frances Glessner Lee.
And to back it all up, Bagieu provides a list of thirty more women — dancers, pirates, samurai, groupies, painters, poets, reporters, photographers, teachers, and more. I long to read her take on Aisha Bakari Gombi, Hunter of Antelopes and Boko Haram Militants, Laskarina Bouloulina, Admiral, Ship Builder, and Harem Liberator, and Margaret Hamilton (the other Margaret Hamilton, Computer Scientist of the Apollo Space Program5). I want to see what she's got to say about Rosalind Franklin, Ching Shih, and Grace Hopper.
She's got other stories that she wants to tell for now, some will probably be biography again (like her stellar California Dreaming) and some fiction (like her equally stellar Exquisite Corpse); I'll read everything she puts on paper and suggest you do as well. Only do me a favor — don't skip the last story in the book, a brief two-pager about a girl born in Paris in 1982, who dreamed about selling her drawings and becoming Queen of America. She's doing quite well on the first, and if the second is out of reach, she's living a pretty cool life in New York City, listening to rock music, drawing what she wants to, and playing drums just because. I think she's going to go places.
Brazen releases tomorrow, 6 March, and Pénélope Bagieu will be marking the occasion with an eight-city book tour. Fleen thanks Gina Gagliano — who has a staff to help her now! — for the review copy provided.
---
Spam of the day:
Is Your Wife Getting Calls Late at Night?
Dear dudes who are spamming me about a creepy phone spying app, if anybody woke my wife with a late-night call they had better be dying or she will kill them for interrupting her sleep. So, no.
_______________
¹ AF being her actual middle initials, and not the internet-born linguistic intensifier.
² The cover of the book is a tactile delight.
³ As recently noted, one entry was left out of the North American edition due to a need to keep the book YA-friendly.
4 She also is (or has been) a chemical engineer, physician, speaker of Russian and Swahili, student of sub-Sarahan politics and dance, Peace Corp medical officer, CDC vaccine researcher, science camp director, sci-fi geek, guest star on Star Trek: The Next Generation, college professor, poker shark, and LEGO minifig in the Women of NASA set I have.
5 Who is also a LEGO minifig.