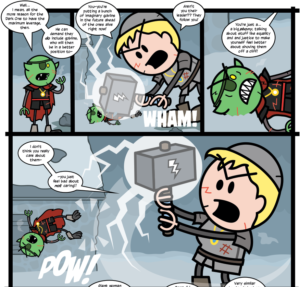 Got a couple of things to mention today, starting with a prime example of how science fiction and fantasy are ultimately always about the society you live in now. Let's just say you don't need to know 1200+ strips of complex (somtimes very complex) plot to get how the latest update of Order Of The Stick could apply to all kinds of situations today. Well done, Rich Burlew.
Readers may recall that :01 Books have had a couple of con-like virtual events under the title of Comics Relief, the first in April and the second in June be sure to check out the replays of the sessions — the various process events are interesting from a craft perspective, and the three that involve :01 creative director Mark Siegel are a masterclass in how to conduct an interview that flows like a conversation.
Readers may also recall how this page has discussed the impact that :01 Books has had on comics beyond its own backlist of authors, on account of :01 alumni have gone on to other publishers and imprints and how Siegel's vision of what comics could be is now essentially the mission statement for the entire industry.
Finally, readers had damn well better recall that one of those alumni is Gina Gagliano, a woman not only tasked with launching a new graphic novel imprint in a too-brief timeframe, but also with a debut season beset by a worldwide pandemic. Okay, that last bit wasn't planned, but she's got to deal with it all the same. Gagliano knows you have to roll with the punches, and if there's not been a third Comics Relief in a while now, she's just gonna have to pitch in with something similar:
Random House Graphic is announcing an exciting kickoff to the fall season with "Falling for Graphic Novels," a series of virtual events in September hosted by five indie bookstores across the United States.

The panels will feature Random House Graphic's creators and allow attendees to discover and virtually visit new stores around the country. Each panel will focus on a theme in kids and YA comics, allowing readers to immerse themselves in stories of magic and heroes, queer and diverse representation, and even an interactive art class.

The celebration will give attendees an in-depth look at this exciting medium that continues to grow in popularity and show the power and breadth of visual storytelling. The series begins Wednesday, September 2, with a new event each week.
The five events will be:
Click on any of the five titles to go to the reservations page.
There are some great names in there, but I'm particularly interested in the first one because Oliver Sava is one of the very best writers about comics working today. The LGBTQ+ session also looks great, but I'll have to catch whatever replay is available, as Tuesday is EMT duty night. And did you notice Gagliano's old boss is a panelist on the last session? Siegel doesn't just publish graphic novels, he makes them, and the Five Worlds series has been at Penguin Random House since before RHG was formed as a single gathering point.
I was going to talk about one thing more today, but I think I'll let it sit until tomorrow; it's getting late to hit Publish and also I want another day to absorb before I'm ready to talk about Shing Yin Khor's latest meditation in comics form.
---
Spam of the day:
I have been waiting for you since to contact me regarding your winning amount of US$2, 100, 000.00 (Two Million One Hundred Thousand United State Dollars) loaded on your ATM Visa Card which we discussed. We are duly interred switched, therefore you can make withdrawal in any location of ATM Machine Center Cash point of your choice in any part of the world and the maximum you can withdraw a day is $5,000 US Dollar.
A good, old fashioned 419 scam? That takes me back.