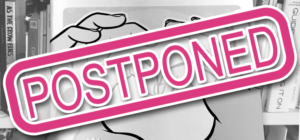 :01 Books held a day-long series of online chats on Saturday, and a couple hundred people came. Titled Comics Relief, it was bookended by casual talks between :01 creators and imprint director Mark Siegel, with a series of how-to sessions in the middle. Given the limitations of the format, Siegel's casual talks, which went wherever the conversation preferred, were the most successful parts of the day, with the exception of some technical glitches¹ of the sort that we're all becoming accustomed to these days.
Speaking for myself, I found a particular comfort in several things that Gene Luen Yang said in the conversations; in the first, he spoke how he was doing mini comics, sleeping twelve to a room at cons and losing money on everything he published at the time he met Siegel, and eighteen months later I had to rent a tux for the National Book Awards ceremony, where American Born Chinese was the first graphic work to be nominated.
And in the last session, as Yang, Siegel, and Ukazu were talking about how much of an influence Avatar: The Last Airbender has become, Yang talked about being a high school computer science teacher, listening to students talk about A:TLA instead of working and thinking it sounded cool, but not getting in on the conversation. After Derek Kirk Kim loaned him the DVDs of the first two seasons (and watching the third as it aired); a few years later, the creators came to him to write the comics that would bridge Aang's story and Korra's.
He didn't come out and say it, but the lesson is inescapable: there's a lot that's getting ready to happen, no matter how behind the curve we are at the moment, and some of it will be doing something you love a lot. We can't all be Ambassadors or MacArthur Fellowship geniuses, but there's still stuff out there to take joy from coming down the pike.
In other news:
Brad Guigar, sexy man about town, is jumping into the web-presence game, and he's doing it in the form of a professional development seminar for the Graphic Artists Guild. His teaching gig may be on hold what with all the colleges being closed, but you can hear what twenty-plus years of cartooning online has taught him.

If you're a GAG member it's free, and non-members can connect for US$45; if you're a subscriber to Guigar's Webcomics Dot Com, he's got a coupon in the members area good for US$15 off. The session kicks off at 2:00pm EDT (GMT-4) on Wedensday, 22 April. The seminar will last an hour, with Q&A to follow.

Speaking of Guigar, the latest episode of Comic Lab has a pretty extensive discussion about keeping a cartooning business going in times of quarantine. For a different view, check out Erika Moen and Matthew Nolan's announcement about their delayed Oh Joy, Sex Toy Kickstarter; they run one about this time every year, and they've looked at the uncertain climate (particularly the unsettled state of the US Postal Service) and decided putting it off for a month is the most responsible thing they can do.

So this is your reminder that if you like comics, it's probably time to not just toss what you can afford to your favorite creators², but also to call your elected officials and insist on measures to ensure the ongoing stability of the USPS. Repealing the nakedly antagonistic requirement that they pre-fund pensions and insurance 75 years in advance — they have to pay today for the retirement of employees who won't even be born for a decade! — would be an excellent place to start.
Spam of the day:
Urgent news about metformin
Yes, spammers, I am quite certain that my old friend Jim (who was best man in my wedding, 27 years ago next week), is urgently emailing me with your bullshit. Thing is, you misspelled his name, in a way that particularly annoys him. So yeah, you kind of pooched that one.
_______________
¹ Ngozi Ukazu's audio was unreliable and delayed, and Lucy Knisley never got her connection quite working (although we all got to see her rather disinterested cat snoozin' in the background. Hi, Rhino!).
² I haven't received it yet, but I've decided that when I get the stimulus check, it will all be going to comics creators.