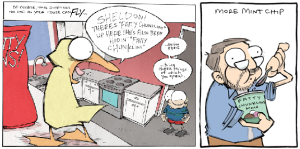 As the various year-end holidays loomed, I looked out daily at the Wide World o' Webcomics and saw a bunch of crickets putting away their instruments and heading home early cause wasn't nobody around to listen to 'em. It was a dead ten days or so for news¹, but I said to myself, Self, I bet things pick up as soon as January rolls around. And hoo boy, was I ever right. In no particular order then:
And there's even more if you look at what got hit the net in the last 24 hours or so:
Los Angeles resident Dave Kellett announced that he's cutting back Sheldon to three days a week in order to concentrate more time on Drive. Now I stand second to no man in my love of Drive, but fact is that LArDK has not yet provided canonical proof that Fatty Chunklins exist in the Second Spanish Empire (as opposed to, say, Denny's) and therefore Sheldon is — by some infinitesimally-small interval — the superior strip. Until we find out exactly what Fatty Chunklins are, I'm going to have to call this one a wash.
For what is I believe the first time in its nearly ten year history, Three Panel Soul has broken the format declared there in the title. Always it's been three panels, although not always equal-sized and side-by-side, and breaking the format today comes with a very good — not to mention heartbreaking — reason. Our condolences to everybody that knew and loved Jess McConville's Poppy, and to everybody that deals with the bastard of a disease known as Alzheimer's.
Oh, and then there's this, fresh from the New York Times, the School Library Journal, or anybody else that's paying attention: Gene Luen Yang has been appointed by the Children's Book Council, Every Child a Reader, and the Center for the Book in the Library of Congress to a two-year term as the fifth National Ambassador for Young People's Literature. He will be inaugurated into the role by the acting Librarian of Congress on Thursday, 7 January 2016, in a public ceremony at the Library of Congress.

Yang is the first graphic novelist to be appointed National Ambassador for Young People's Literature, but then again he has a history of being the first graphic novelist to do things (first to be nominated for a National Book Award and the first to win the ALA's Michael L Printz Award, both for the masterful American Born Chinese). He basically hasn't slowed down since ABC, releasing (either alone or with an art partner) Level Up, Boxers & Saints, The Shadow Hero, Secret Coders, The Eternal Smile, Prime Baby, a stack of Avatar tie-ins, reprints pre-ABC work, and much, much more. Oh, and he's writing something called Superman these days, too.

Point being, you could hardly find anybody that's written more for readers of all levels, approaching more different topics, in more different genres, and with a greater level of penetration into the the world of young readers4. The next two years are gonna be great for fans of YP lit (not to mention all those YP), and should Yang go mad with power and stage a coup to declare himself National Ambassador for Young People's Literature For Life, we at Fleen would like to point out that any good benevolent overlord needs good PR and we would be up for the job.
---
Spam of the day:
Subject: Benachrichtigung
The rest of the spam appears to be a lottery scam in German; I'm just entranced by that wonderful, wonderful subject. Could any other language cram as many awkwardly-sounding syllables into such a randomly-discordant order?
________________
¹ Unless you want to count as news the ongoing attempts of a very large corporation to get me to want to keep giving them money by withholding services and pulling no-shows on repairs. But that word implies something novel or unique, and this was anything but.
² Go here and scroll to the bottom of the page.
³ Because all you have to work with in DC is dialogue, which means you're not really messing with the form. Besides, he already has a comic for that. I also feel that I should note here that as an electrical engineer, this new endeavour should really be called jToons.
4 Okay, yes, Raina Telgemeier, but I would argue her contributions are fewer and more concentrated, whereas Yang's are greater in number and broader in scope. I still think she's probably the most important person working in comics today.